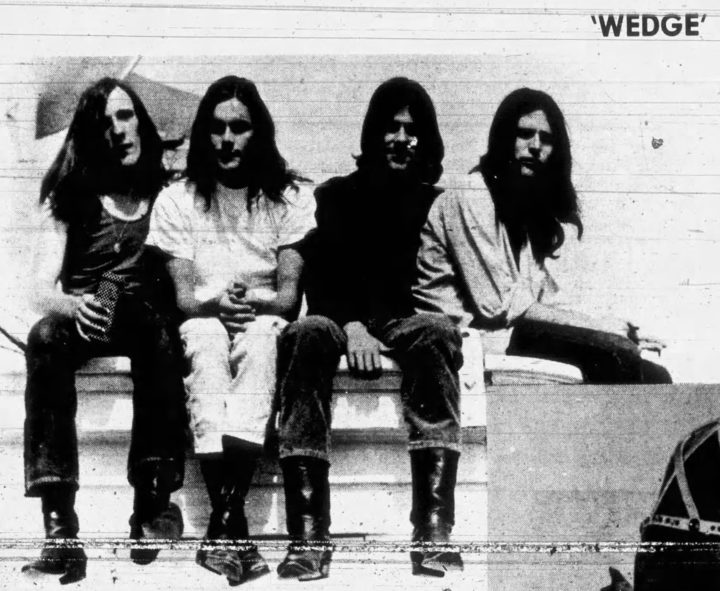 Wedge was based in San Francisco but was notable for including two musicians from Santa Maria, California, a small city near the coast, north of Vandenberg Air Force Base. Santa Maria is 150 miles northwest of Los Angeles, and part of Santa Barbara County.
Members included:
Howard Miller – lead guitar
Kal X. Blue – drums (?) and vocals
John Nicholas
Kirk Patrick

An article in the Santa Maria Times from May 4, 1968 announced their participation in a teen dance at the Convention Center with the James Brothers Circus (a real circus, not a band name!) Other bands included Hunger, Giant Crab, and the Paper Fortress:
"Wedge" features two former Santa Maria musicians, Howard Miller and Kal X. Blue. This group is from San Francisco and recently returned after performing in Hawaii.

Miller was the former lead guitar player with the "Impacts," now known as the "Hammermille Butter." Kal sang with the "Something Wild", and was a hit performer last summer at the county fair rock band contest.

They are being joined by John Nicholas and Kirk Patrick in the new organization. They have played at the Matrix and Avalon Ballroom in San Francisco and have appeared many times at the Ark in Sausalito.
Something Wild is known for their excellent 1966 single "Trippin' Out" / "She's Kinda Weird" on Psychedelic Records. Kal X and Bill Evans of Something Wild would continue in the Kal-X-Blues Band, playing a show at the Fillmore on Halloween, 1966.
I suppose the Impacts the article mentions was the group from San Luis Obispo who recorded on Del-Fi Records and had included Merrell Fankhauser on lead guitar until 1963. I haven't seen Howard Miller listed as guitarist with the Impacts anywhere else.
Wedge did not record to my knowledge.
The Wedge became a trio featuring Kal X Blue (going by the name Linus) and Jason (real name LaVerne Miller) on lead guitar. The group traveled to Germany, where they added a bassist and drummer, changed their band name to Life, and made an album of original songs titled Spring, released in Germany by CBS in 1971.
Kal X Blue's birth name was Karl Heinz Gebhardt. He was born in Germany in 1946, and died in Sweden on January 7, 2016.
Any more info on Wedge would be appreciated.