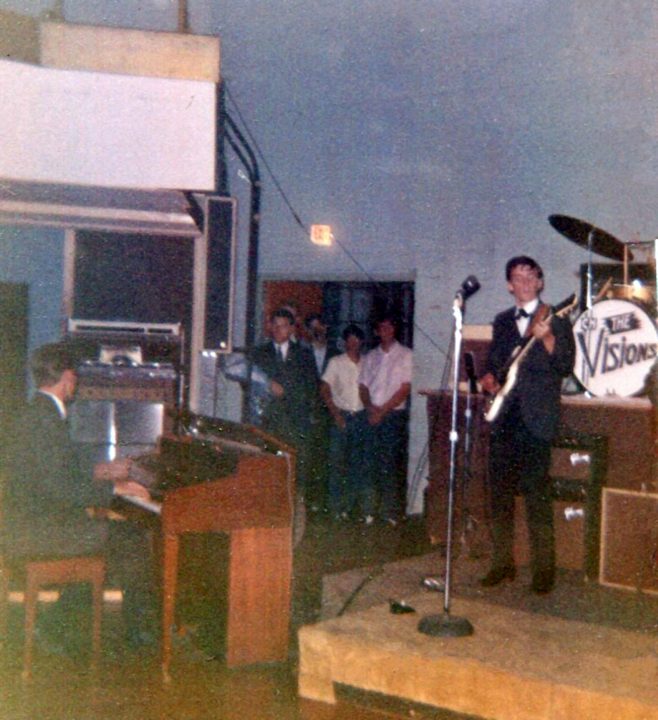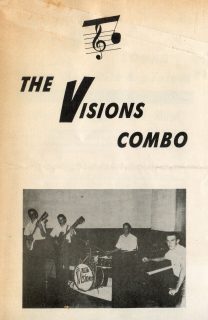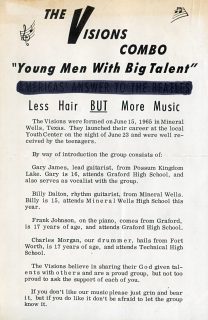 "Young Men With Big Talent"

Less Hair BUT More Music

The Visions were formed on June 15, 1965 in Mineral Wells, Texas. They launched their career at the local Youth Center on the night of June 23 …

Gary James, lead guitarist, from Possum Kingdom Lake. Gary is 16, attends Graford High School and also serves as vocalist with the group.

Billy Dalton, rhythm guitarist … is 15, attends Mineral Wells High School…

Frank Johnson, on the piano … is 17 years of age and attends Graford Hight School.

Charles Morgan, our drummer, hails from Fort Worth, is 17 years of age, and attends Technical High School.
The Visions played their first show a week after forming, and soon after, a major battle-of-the-bands at Panther Hall in Fort Worth, 50 miles east of Mineral Wells.
On July 25, 1965 the Visions were one of eleven groups at the Panther-a-Go-Go "Battle-of-the-Rock N Roll Bands" with Larry & the Blue Notes, the Jades, the Images, the Kasuals, the Motovators, the Naturals, the Barons, Chas Christy & the Crystals, Jack & the Rippers and the Coachmen. Emcee was Bill Warren of WXOL and Fred Slater hosted the show.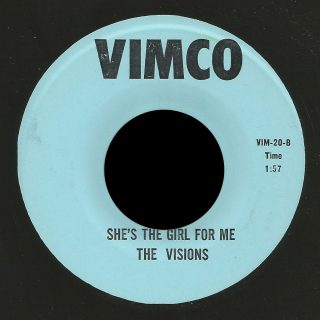 Thanks to an amazing scrapbook created by the mother of Motovators bassist Terry Hungerford, I can present a photo of the group, their promo card and even a partial set list.

Panther-a-Go-Go had three stages, the main one being on the central balcony, plus stages left and right on the floor. The Visions were the sixth of the 11 bands, they played on the right side stage, and their nine songs included "Twist and Shout", "Summertime", "What'd I Say", "Walk Don't Run" and "The McCoy".
The Visions came in last in this particular competition, but would have lasting success in the future.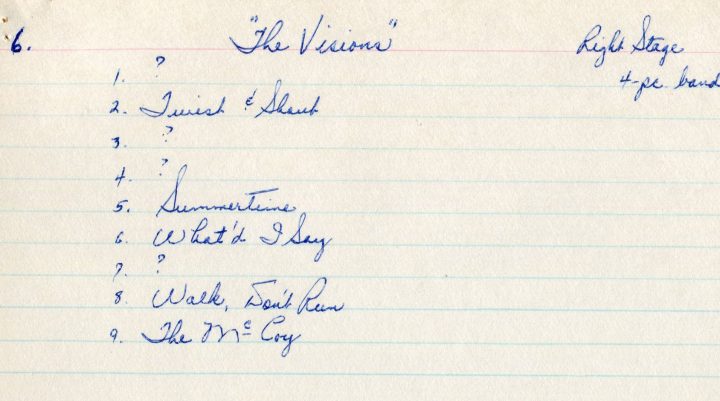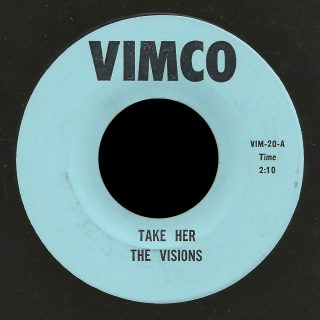 Of the three Texas records on their own Vimco label, my favorite is the fantastic "She's the Girl for Me", with the moodier "Take Her" on the other side.
In November the Visions would re-release "Take Her", this time with a great version of "Route 66" on the flip. In March of 1966, they made their last Texas single, the heavy "Humpty Dumpty" backed with a version of the Beatles' "You Won't See Me".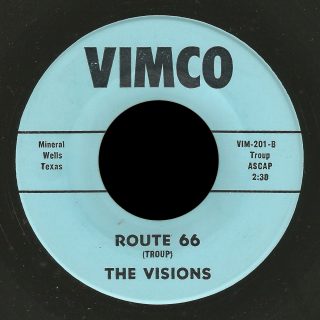 That summer of 1966, the group moved to Hollywood, CA, where they would record for Warner Bros. and UNI, make some TV appearances, and sign to Buddah Records with different group names, Sugar Canyon, and the Rock & Roll Dubble Bubble Trading Card Co. of Philadelphia.
More information, videos, and many very small photos can be found at Billy Dalton's website.
Thank you to Wm. Lewis Wms. and Andellyn Purvis-Hungerford for sharing this material.