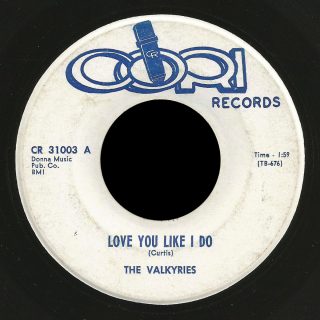 The Valkryies may have come from Franklin, Massachusetts. I don't have much info on the group other than two song writer names: Francis Curtis (Francis Wesley Curtis, Jr.) and Domenic Palumbo.
"Love You Like I Do" is excellent garage rock, with sharp drumming and good guitar and sax solos. "Blues for Cookie" is a slow saxophone instrumental.
F. Curtis, Jr. registered "(That's Why) I Love You Like I Do" on September 29, 1965. Domenic C. Palumbo registered "Blues for Cookie" on August 9, 1965. Donna Music BMI published both songs.

The Valkyries recorded at Continental Recordings in Framingham, which released the single on Cori Records CR 31003.
A friend has suggested a possible connection to the Bondsmen, who came from Concord-Sudbury, and recorded at Fleetwood Studio in Revere in 1966, but I haven't found any connection in names or location.