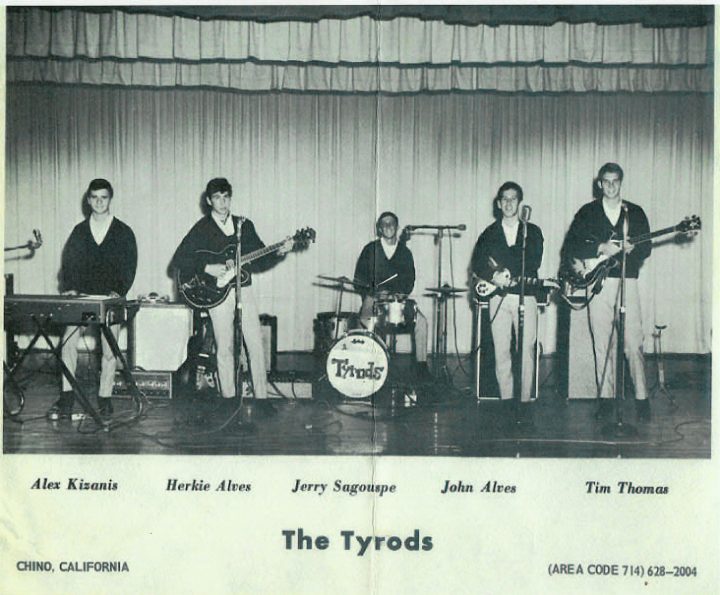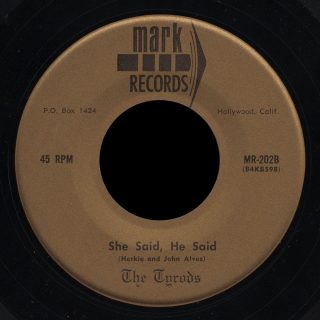 The Tyrods formed in high school in Chino, California in 1965. Chino is in San Bernadino County, just east of Los Angeles.
Members were:
Herkie Alves – guitar
John Alves – guitar
Alex Kizanis – keyboards
Tim Thomas – bass
Jerry Sagouspe – drums

Winning a battle of the bands at the Hollywood Palladium in 1967, earned them recording time to produce a single on Mark Records MR-202.
Brothers John and Herkie Alves wrote both sides of the single. "She Said, He Said" has lyrics worth puzzling out:
She said he said it's all wrong,
But I don't believe her at all.
She said he said it's all wrong
But I said …. (?)

She says that I look like I'm dead,
'cause I never smile any more.
I say that I can't …. (?)
There's so many things in my head.

There's so many things in my head.
Everything around I can't see.
Head's to the sky,
Eyes to the floor.

(?) …. all that riches and fame.
"Girl Don't Know" includes harmonies that the group would develop in their later recordings.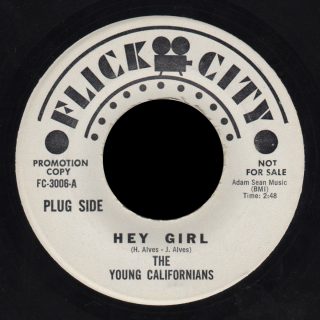 About the beginning of 1969 the band made a second single, "Hey Girl" / "In a Garden" this time on Flick City. The label changed the band's name on the single to the Young Californians, but for live shows they continued to use the Tyrods name, as seen on posters opening for the Strawberry Alarm Clock, Giant Crab, and the Sunrays.
Once again Herkie and John Alves wrote both songs. Released in February, 1969 on Flick City FC-3006, the record did not hit, despite a very favorable review from Cash Box on February 22. The band had developed their sound, and both sides are well-made songs.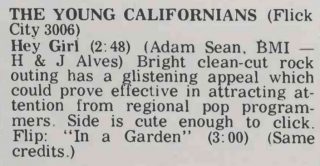 Adam Sean Music, BMI published both songs. The brothers registered another song with Adam Sean Music in November, 1968, "Everyone Loves a Sunday Morning", which has not been released to my knowledge.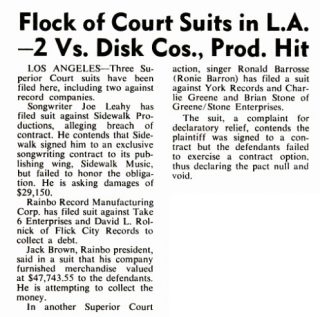 David Rolnick owned both Adam Sean Music and Flick City, as well as Take 6, which was known for packaging hits into albums for local radio stations. In 1967, Take 6 had a number of interesting releases by the Nervous Breakdown (Rusty Evans), the Giant Sunflower and others. Rolnick may have started Flick City to distinguish original releases from the repackaged Take 6 product.
A Billboard article from April 1969, shows Rolnick being sued for over $47,700 by Rainbo Record Manufacturing.
I've seen mention that Creed Bratton, guitarist with the Grass Roots, was in this group, but I believe that must have been a different Young Californians.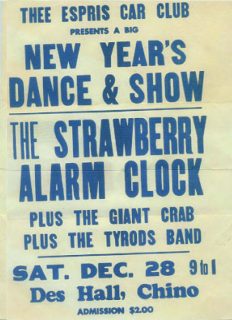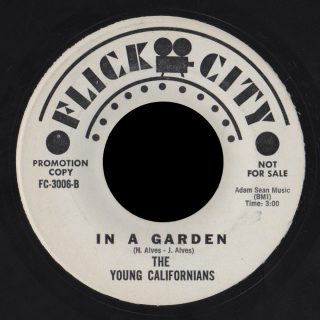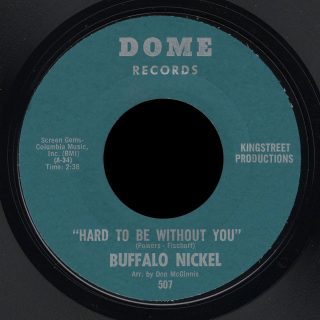 In 1969 they had their last single, this time as Buffalo Nickel on Dome Records 507. The sound is even more polished than the Young Californians single, but this time they didn't use their original songs.
Tony Powers and George Fischoff wrote "Hard to Be Without You", and this may be the original version, as copyright registration shows February 1969. The more well-known versions are by the Book of Matches on Bell in June, 1969, and by Joey Powers Flower on RCA in December.
Jack Nitzsche and Greg Dempsey wrote "I Could Be So Good to You", which was originally done (I think) by Don & the Goodtimes in 1967. Don McGinnis arranged the songs and Kingstreet Productions has a credit on the label.
I believe the group broke up shortly after this release.
Jerry Sagouspe would join Merrell Fankhauser, appearing on a number of albums beginning in the 1990s.
There was a Johnny Alves who was in Manuel & the Renegades with Manuel Rodriguez, Corky Ballinger, Roger Anderson and Mike Le Doux but I don't believe this is the same person as the John Alves in the Tyrods.
Info & images on the group forwarded to me, originally from Jerry Sagouspe.
Info on Take 6 from Billboard and also Lisa Wheeler's Radio Use Only.