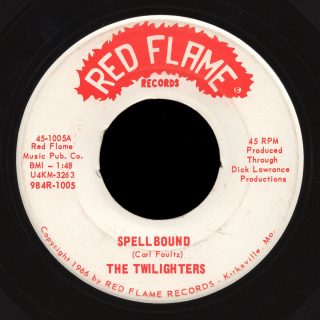 The Twilighters came from Kirksville, Missouri, a small city about 165 miles from Kansas City and 200 miles from St. Louis. In 1967 they cut two originals, "Spellbound" / "My Little Angel" at Technisonic Studios in St. Louis.
Members included:
Randy Elmore – guitar
Gary Blurton – guitar
Everett Cassady – bass
Dave Daniels – drums
Carl Foultz wrote both sides of their only single, but I am not sure if he was part of the Twilighters. I guess he played the organ or sang on the record. Carl was a member of an r&b group called the Del-Fis or Del-Phis with Ed Corte, Frank Gantt, T.J. Jackson, Mac Pendelton, Nick Romanetz and Gary Smyth, some of whom were students at Northeast Missouri State Teachers College (now known as Truman State University).
"Spellbound" is a fast-paced rocker, driven by Dave Daniels's fantastic drumming. There's a great guitar break and a double-time ending, and it's over in less than two minutes.
The chant of "Spellbound" has a distinctive sound that may come from some other song but if so, I can't think of it. It reminds me of a later cut, Steve Miller Band's "Living in the U.S.A." where the group chants "Stand Back". I'd be interested if anyone has heard something very similar in another song from the era.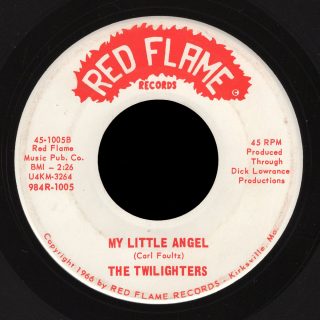 The B-side, "My Little Angel" is a ballad with fine vocals, and good recording production.
Released on Red Flame Records 45-1005, the labels show a 1966 copyright date, but the U4KM indicates a pressing date in the first half of 1967.
Dick Lowrance owned Red Flame Records which released three singles by the group he was a member of, the Red Blazers, usually with Ike Haley as leader.
In 1966 Lowrance released a single by Friar Tuck and the Merrymen's "Peanut Butter" / "Try Me" (Mike Barger) on his Sherwood Forest Records subsidiary. That band may have been from western Illinois though I'm not sure which town. I've found newspaper ads for a "new Friar Tuck and the Merrymen" playing at the Wayside Inn in Moberly, Missouri, about an hour south of Kirksville; not sure if this is the same group.
Sources: A research paper by Dylan Pyles has more info and a couple small photos of the group: download the Word doc, and Sweatshirts and Rock 'n' Roll by Nicholas Romanetz in the Truman Review.