The Triumphs "Better Come Get Her" on Pacemaker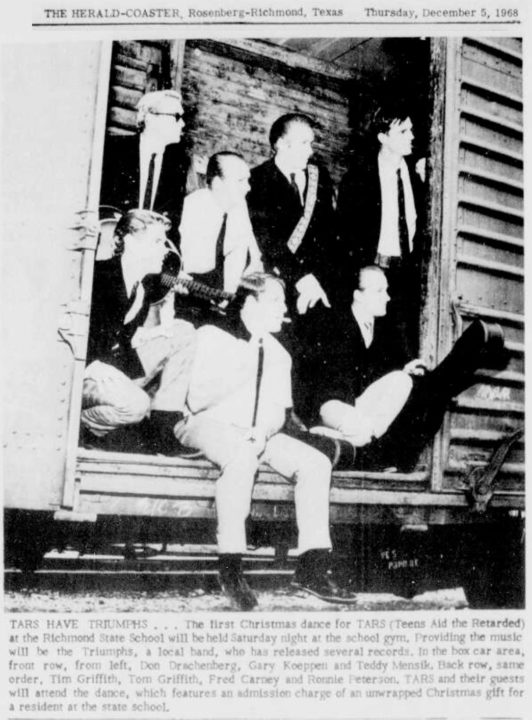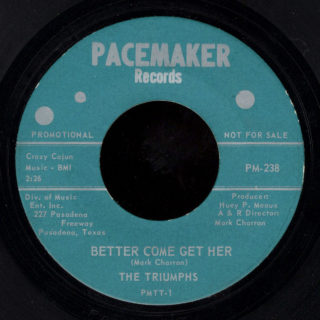 The Triumphs "Better Come Get Her" is a stomping rocker, with lines like "she wants to cheat, and I'll give her the chance"! The flip is the bizarre blues novelty "Morticia Baker"; the single was released on Pacemaker Records PM-238 in early 1966.
The Triumphs came from Rosenberg, TX, just southwest of Houston. Billed as the Triumphs of Rosenberg, I can find notices of their live shows as early as March, 1961, and they started recording in 1962, with singles on various labels such as Dante and Bragg.
For "Better Come Get Her", the Triumphs consisted of:
Don Drachenberg – usually saxophone but lead vocals
Tim Griffith – guitar
Tom Griffith – bass
Fred Carney – organ
Teddy Mensik – drums
Denver "Denny" Zatyka – backing vocals
Gary Koeppen – backing vocals
Mark Charron was a prolific song writer who composed both sides of this single, as well as other songs for the Triumphs, like "Candy Baby" (the flip of their Pacemaker hit "I'm So Lonesome I Could Cry"), and "Keep It Up" on Joed Records, which is now sought after by soul DJs.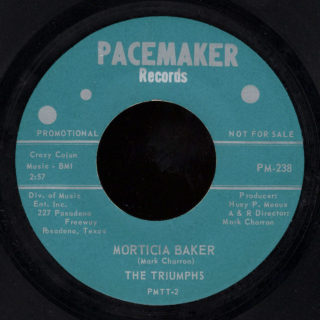 The Triumphs had been backing B.J. Thomas, but I've read the band wouldn't tour after "I'm So Lonesome I Could Cry" hit, so Thomas dropped the group. His solo career was already underway, "Tomorrow Never Comes" / "Your Tears Leave Me Cold" on Pacemaker PM-239, credits B.J. Thomas alone.
Huey Meaux owned Pacemaker Records. A Crazy Cajun album Gotta Keep My Kool includes some unreleased music I haven't heard yet.
Other members of the Triumphs included Doug Griffith on keyboards, John Perry on bass, and Ron Petersen.
The Triumphs would continue, but not releasing more music until 1969 and 1970, when they made two singles on Master Record Co., based out of Jones Sound Recording Studio at 1523 Blair in Houston. Wand picked up one of these, "Houston Won't Call Me" for national release. I haven't heard their first Master single, with the intriguing titles "Hang My Mind Out to Dry" / "The World Is Dying".
Source: Alec Palao's notes to Don't Be Bad! (60s Punk Recorded in Texas) which digs deeply into Crazy Cajun's tape vaults.