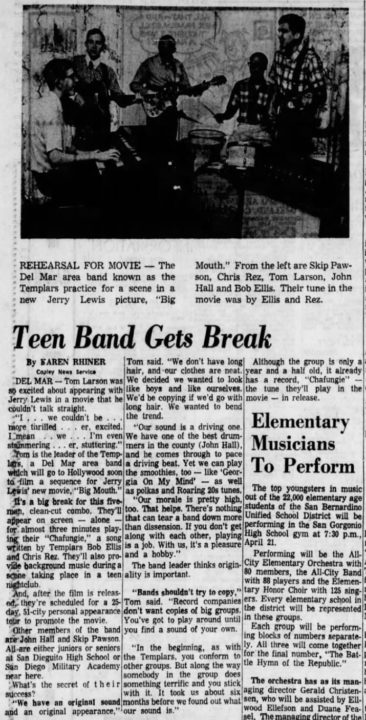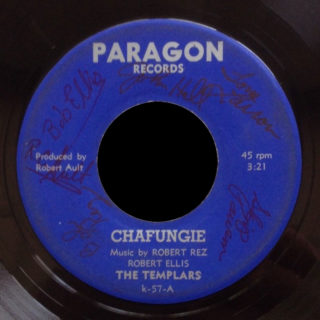 The Templars came from the Del Mar area of San Diego County. They cut one single, "Chafungie" / "Get Out of My Life" on Paragon Records k-57.
Members were:
Bob Rez – guitar (bass?)
Tom Larson – guitar
Bob Ellis – guitar
Skip Pawson – keyboards
John Hall – drums
Both songs on the single were originals by the group. "Chafungie" is an organ and fuzz guitar instrumental by Robert Ellis and Robert Rez (though the article above gives his name as Chris Rez). "Get Out of My Life" is a half-spoken vocal, written by Skip Pawson and Robert Ellis.
Robert Ault produced the single and signed the copy pictured here, along with the band.
The San Bernardino County Sun ran a feature on the group on April 14, 1967 about their upcoming appearance in the Jerry Lewis movie, The Big Mouth:
Teen Band Gets Break by Karen Rhiner
Tom Larson was so excited about appearing with Jerry Lewis in a movie that he couldn't talk straight …

Tom is the leader of the Templars, a Del Mar area band which will go to Hollywood soon to film a sequence for Jerry Lewis' new movie, "Big Mouth."

It's a big break for this five-man, clean-cut combo. They'll appear on screen – alone – for almost three minutes playing their "Chafungie," a song written by Templars Bob Ellis and Chris Rez. They'll also provide background music during a scene taking place in a teen nightclub.

And, after the film is released, they're scheduled for a 25-day, 51-city personal appearance tour to promote the movie.

Other members of the band are John Hall and Skip Pawson. All-are either juniors or seniors at San Dieguito High School or San Diego Military Academy near here.

What's the secret of their success?

"We have an original sound and an original appearance," Tom said. "We don't have long hair, and our clothes are neat. We decided we wanted to look like boys and like ourselves. We'd be copying if we'd go with long hair. We wanted to bend the trend.

"Our sound is a driving one. We have one of the best drummers in the county (John Hall), and he comes through to pace a driving beat. Yet we can play the smoothies, too like "Georgia On My Mind" as well as polkas and Roaring 20s tunes.

"Our morale is pretty high, too. That helps. There's nothing that can tear a band down more than dissension. If you don't get along with each other, playing is a job. With us, it's a pleasure and a hobby."

The band leader thinks originality is important. "Bands shouldn't try to copy," Tom said. "Record companies don't want copies of big groups. You've got to play around until you find a sound of your own.

"In the beginning, as with the Templars, you conform to other groups. But along the way somebody in the group does something terrific and you stick with it. It took us about six months before we found out what our sound is.

Although the group is only a year and a half old, it already has a record, "Chafungie" – the tune they'll play in the movie in release.
I've only seen a few clips from The Big Mouth, so I'm not sure if the band actually appeared in the film.
At least a couple members of the Templars became a group called the Magical Mist, who had an excellent single, "When We Use Our Minds" / "Time Out to Fly", both songs by Robert P. Ellis, George Pawson and Alan Decotes (Alan Decoates according to BMI's records). Robert Ellis produced the single, released on Cross-Winds CW 105 out of Wildomar, CA in June of 1968, publishing by Rolling Wheels Music.
Thank you to Jonas Carlsson for his help with the article.