The Telstars "Hold Tight" on Columbia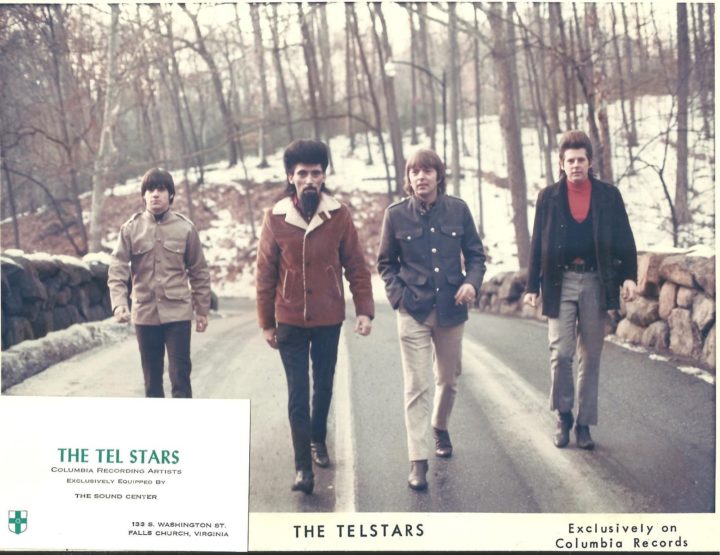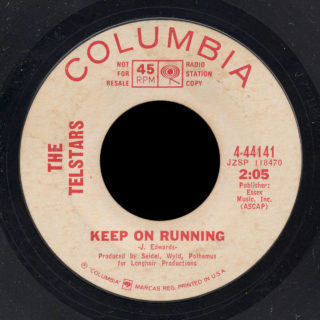 The Telstars were a big draw in the Washington DC area, playing at the Bayou among other venues.
The band was based in Falls Church; members included:
Jimmy Maddox – guitar
Gary Johnson – guitar
Terry Gorka – bass
Ronnie Wilson – drums
Bud Becker sent in the photo seen here, and remembers two vocalists with the band, Jerry Burke, who went into the Army, and a second named Mick. He also remembers Terry's wife Sherry Gorka was a seamstress who made costumes for December's Children, and that Barry Siedel managed the band.
The Telstars put a lot of fuzz behind "Keep on Running", a song written and originally performed by Jackie Edwards, and made famous through the Spencer Davis Group. It's a good version, but I like their take on "Hold Tight" even more. Sylvia Fricker of Ian & Sylvia wrote "Hold Tight", registering copyright in September, 1966.
"Hold Tight" appeared on Ian & Sylvia's 1967 album So Much for Dreaming, which I don't have a release date for, but I believe it shortly precedes the Telstars single on Columbia 4-44141 in May, 1967. I'd be curious if the Telstars heard "Hold Tight" on the album or from a songwriting demo.
The production credit is interesting. Bob Wyld and Art Polhemus of Longhair Productions created many great singles with the Blues Magoos, including "Tobacco Road" and "(We Ain't Got) Nothin' Yet"; the Magicians ("An Invitation to Cry", "About My Love" and more), the Blue Beats and others, usually on Columbia Records.
Barry Seidel (with Tom Traynor) produced records by the Mad Hatters and the Fallen Angels. The Telstars record is the only time Seidel worked with both Wyld and Polhemus, but Bob Wyld would later produce albums for acts that Seidel managed, Steel Image and Exuma.
Bud Becker thought the Telstars recorded at either Rhondell in Georgetown or Edgewood. Bud managed various groups, such as the Winds of Change and the Yorkshires.
Terry Gorka would go into the Age of Reason with Tommy Didly, Bill Manning, and Billy Windsor, releasing an album on Georgetown.