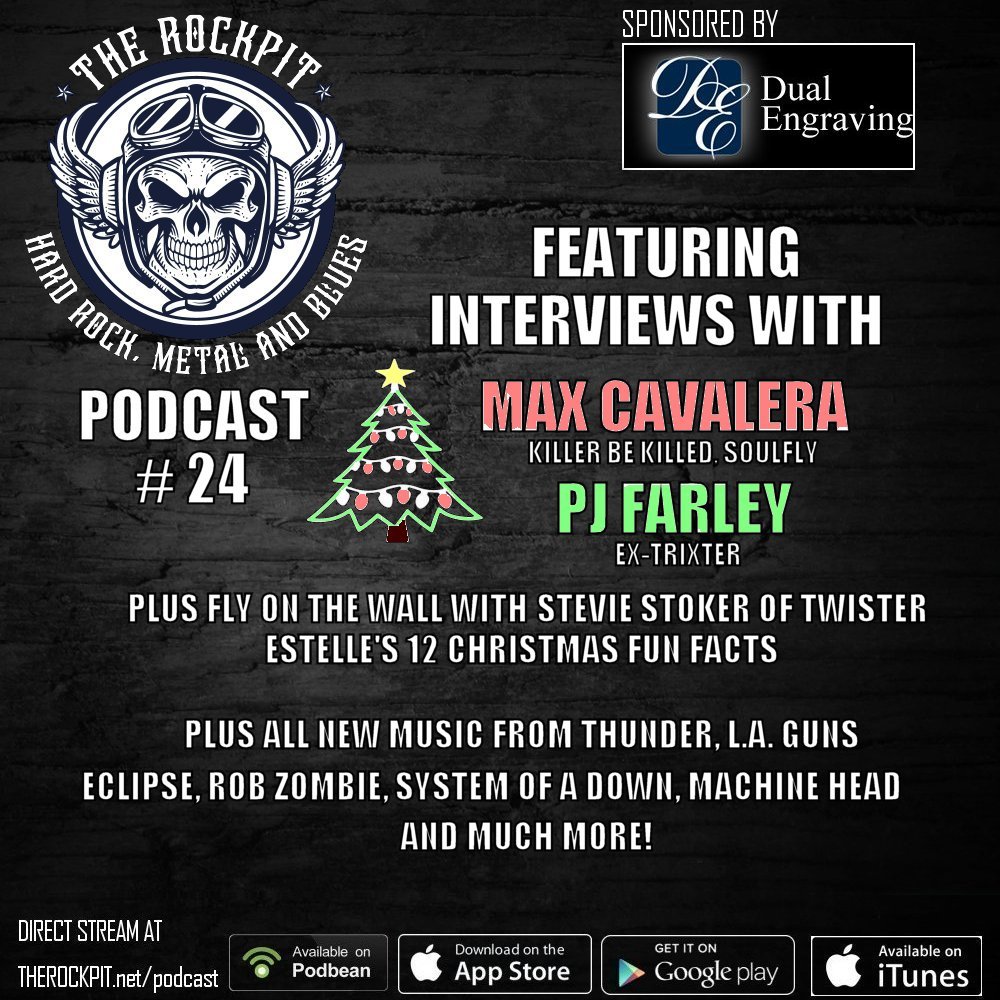 Episode 24 of The Rockpit Podcast – sponsored by Dual Engraving.
Featuring Interview segments with Max Cavalera of Killer Be Killed / Soulfly, Ex-Trixter's PJ Farley, Stevie Stoker of Twister plus 12 Christmas Fun Facts with Estelle Artois of Echo Del Tusker

Launching new episodes every month, The Rockpit Podcast is hosted by the team at The Rockpit and features all new music and discussions from the world of hard rock, metal and blues along with interviews and exclusive segments through out the show.

Each episode is split into 2 main segments – The first hour represents the hard rock and blues and the second hour showcases the heavier side of music. The podcast is available to listen by direct stream below, through iTunes or by the Podbean App available for free download via the Google Store and the Apple Store.
Download the app at the links below, install and then search for "The Rockpit". Subscribe to be notified for early access to each show every month! Hit the links below for streaming options.
TRACKLIST
Intro song: Warbirds – "Contain The Rage"
Thunder – Last One Turn Out The Lights
Shades of Gray – Take Me Higher
Da-sh – See You Later
Blackbird Sons – Wild & Free
L.A. Guns – All That You Are
Rich Kid Express – Cross the Line
Eclipse – Downfall of Eden
Dellacoma feat. Tracii Guns – Kill Your Idols
Band of Missfits – Crickets
Sister – Primal Rage
Rob Zombie – The Triumph of King Freak (A Crypt of Preservation and Superstition)
System Of A Down – Genocidal Humanoidz
Morgan Rose – The Answer
Machine Head – My Hands Are Empty
Killer Be Killed – Inner Calm From Outer Storms
All This Filth – I Still Hate
Scour – Propaganda