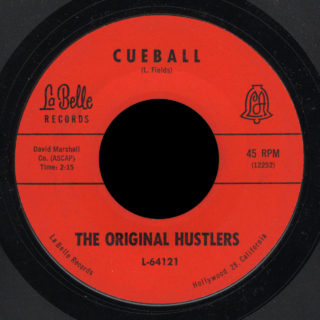 The Hustlers included Chauncey Romero, Doug Grantz, and John Tavaliogne, plus two members I do not have first names for, Roach and Bedwell.
The Hustlers first cut "Hangin' Five" and "Barefoot Adventure" on the House of Note Records label, as early as December, 1962. I haven't heard either song yet. They were cut at Paul Buff's PAL studio, and an alternate version of "Hangin' Five" exists on tape.
Sometime in 1964 they made their next single, changing to the Original Hustlers, probably to differentiate the group from the Hustlers with Grant Baker who recorded two excellent R&B/exotica instrumental singles on Downey, "Inertia" / "Eight Ball" and "Kopout" / "Migraine".

"Cueball" was written by L. Fields, with publishing by David Marshall Co., I'm not sure what the original source was for this song, but it's a fine surf instrumental.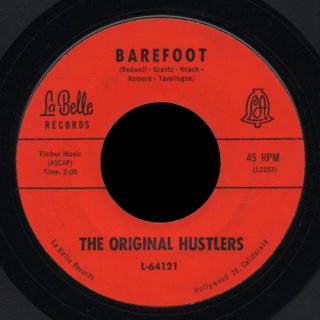 "Barefoot" is an original by the Hustlers, released on LaBelle L-64121.
LaBelle mainly released records by the folk group the Countrymen, but it also issued the Swords "Raunchy" / "Fibreglass", which I haven't heard yet (and could use label scans of).
Chauncey Romero first managed, then owned the House of Note music store in Redlands. The Redlands Daily Facts from July 18, 1966 wrote:
The House of Note music store at 20 N. Sixth street is now operating under the new ownership ot Chauncey Romero, former manager. Romero, a native and lifelong resident of Redlands, managed the House of Note here for four years. For the past six months, he has served as manager of the House of Note music store in Riverside. He purchased the Redlands facility, which had been a branch of the Riverside store, from owner Ted Peckles of Riverside.

The House of Note in Redlands is a franchised dealer for such well known musical instruments and accessories as Fender guitars and amplifiers, Grctsch drums and guitars, Gibson guitars and amplifiers and Martin Guitars …

Romero noted that members of several local musical groups, including the Hustlers, Tem­plars, Tornadoes and Never So Few, received musical training at the House of Note. He said there currently are more than 100 students enrolled. The teaching staff is composed of Norman Sanders, Greg Tomquist, John W. Sessums III, C. P. Woods, Warren Wheeler, Dean Pickard and Casey Cunningham.
The House of Note closed in 1968.
The Tornadoes included Norman (Roly) Sanders, Gerald Sanders, Leonard Delaney, Jesse Sanders, and George White, and would cut "Bustin' Surfboards" among other singles on Aertaun and an album on Josie.
The Templars included Garry Brier, Glen Hellman, Dave Gruver, Ron Norcross and Mike McGrath, but I do not believe they recorded (they're not the Templars who cut Chafungie" / "Get Out of My Life" on Paragon).
I don't have any info on Never So Few.