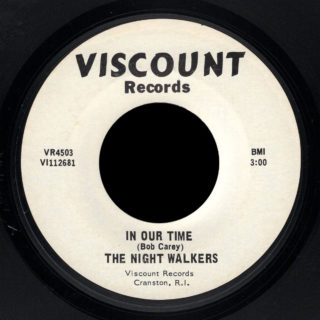 Viscount Records was based in Cranston, Rhode Island, releasing three singles in 1968.
I don't know anything about the Night Walkers other than Bob Carey wrote the band's original song, "In Our Time", which is slow, moody and a little psychedelic.
The flip is a somewhat busy version of "Things We Said Today". The Basement Walls site lists Warwick, just south of Cranston, as their base.

Released on Viscount VR4503, about 1968, this is a styrene record. The labels include a six-digit code 112681/2.
Prior to the Night Walkers, Viscount Records released Ken Lyon "Lonesome Trip" (Lyon – Bill McQuade) / "Rock Island Line" with his brother Don Lyon on harmonica. The picture sleeve has notes by the Rev. Donald Lavallee suggesting he was the owner of Viscount Records. Ken Blumberg took the photo and Leonard Hardisty designed the cover.