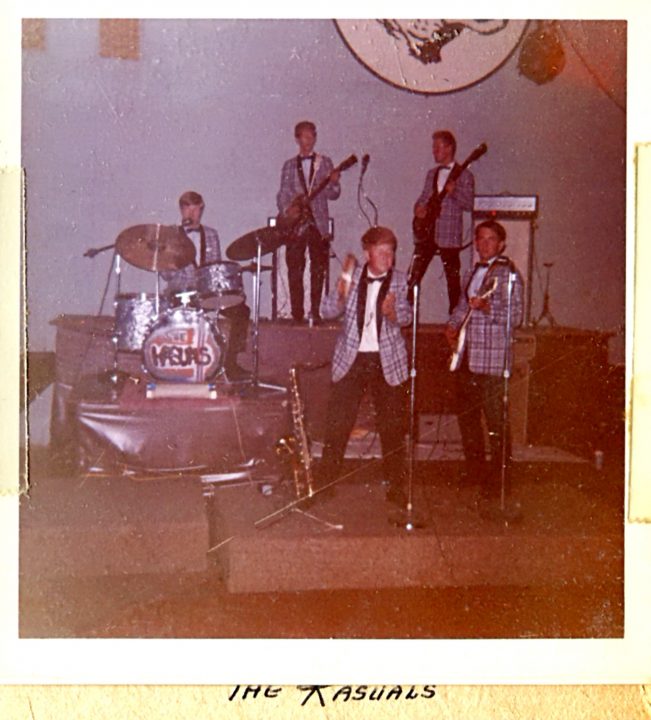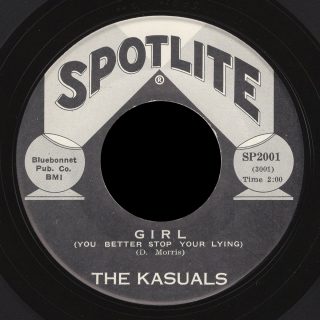 The Kasuals who cut "Girl (You Better Stop Your Lying)" / "You're Gonna Break My Heart" were from Fort Worth, Texas. They are not to be confused with the Dallas group Kenny & the Kasuals.
Members were:
Ronnie Wright – lead vocals
David Morris – lead guitar
Mike Thomas – rhythm guitar
Tom Myers – saxophone
Larry Boynton – bass
Charles Bassham – drums

David Morris wrote both sides of their only single on Spotlite SP2001. Publishing by Bluebonnet Pub. Co.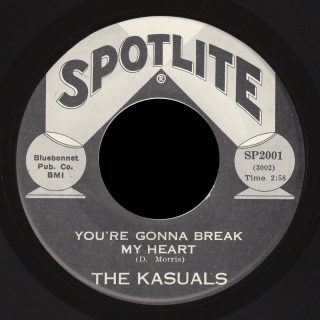 Spotlite issued singles by other Fort Worth artists like the Chocolate Moose.
The photo comes from Panther Hall's Panther A-Go-Go on July 25, 1965, where the Kasuals competed with 10 other bands.
An article by Sarah Harris in the Georgetown Megaphone from February 25, 1966 notes that the Kasuals appeared at Club 62 in Chickasha, Oklahoma. The band seems to have been popular in Georgetown, 160 miles to the south of Fort Worth. They played a Zeta Tau Alpha "Pop Art" dance at a steak house,
Thank you to Wm. Lewis Wms. and Andellyn Purvis-Hungerford for sharing the photo from Panther Hall.