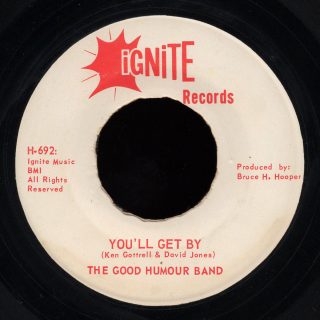 The Good Humour Band came from Austin, Texas, starting in 1968 according to gig notices, which always billed them as The Good Humor Band.
The only band member names I have at this point are Ken Cottrell and David Jones from the song writing credits.
The Good Humour Band played a number of shows at the New Orleans club in June and July, 1968.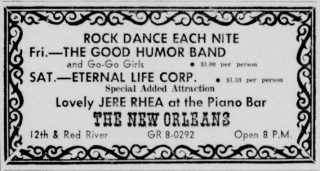 A September 19, 1968 article in the Austin Daily Texan describes a talent show of UT students:
"The hypnotic throb of the Good Humor Band assailed the eardrums of a packed Hogg Auditorium audience Wednesday night as the Forty Acres Talent Show stages its ninth annual performance."
Unfortunately the article fails to note any names of the band's members. It includes some solo performers at the show, Wayne Holtzman, Roger Woest and David Flack.
In January, 1969 the band played three nights at the Pusi-Kat in San Antonio with Joe Thomas and the Virgil Foxx Group.
Ken Cottrell and David Jones wrote both songs on their only single on Ignite Records H-692, "You'll Get By" / "The Man". Library of Congress registration on March 28, 1969 lists words by Jones and music by Cottrell.
The man's been driving by my house today,
I think it's time I got away …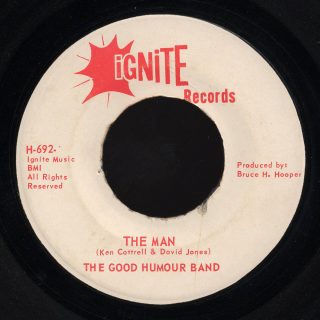 Bruce H. Hooper produced the single. He also produced the Shiva's Head Band single on Ignite, but not the Richard Dean 45, which was C.F. Rowsey (Fred Rowsey). Ignite Music BMI published the songs.
A Brite Star Promotions ad in Billboard on May 24, 1969 lists both the Good Humour Band and the Shiva's Head Band singles on Ignite.
Billboard listed in Buyer's Guide of August 30, 1969 lists Ignite as label, publisher and recording studio at 308 W. Sixth St., Austin, with President Bruce H. Hooper, and Vice President C.F. Rowsey. The 1970 guide drops Rowsey and adds Richard Gembler as General Manager.
One interesting note about the studio is 308 W. Sixth St. became Odyssey Sound, Ltd., owned by Jay Aaron Podolnick and Steve Shields, from February 1972 until August 1978. In 1978, John Ingle and Larson Lundahl purchased Odyssey and renamed it Pecan Street Studios after remodeling.
I'd like to know what other recordings were made at 308 W. Sixth St. in those early days before it became Odyssey.
Ken Cottrell passed away on July 9, 2009 at the age of 60, according to a website devoted to him, www.kennethcottrell.com
More info or photos of the group would be appreciated.