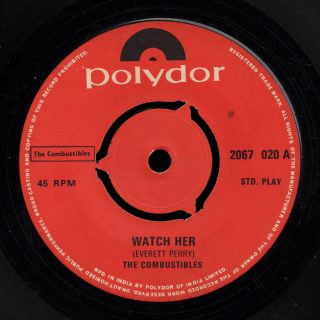 The Combustibles came from Bombay, India, and recorded "Watch Her" / "Some Peace of Mind" in 1970. Vocalist Everett Perry wrote both songs. "Watch Her" has vocals and rhythm that reminds me somewhat of the Velvet Underground. The songs saw release as Polydor 2067 020 in 1971.
Members on the single were Everett Perry on lead vocals, brothers George Taylor on bass and Lionel Taylor on lead guitar, Nissim Ezekiel on rhythm, and Bobby Furtado on drums.
The group participated in the Simla Beat contests in 1968 and 1969 and did well, but unfortunately those years did not see LP releases like the '70 and '71 contests. I would like to have heard that band at that stage, as the group had a partly different lineup, which included Christopher Valles on lead guitar and Croyden Maben on drums.

The Combustibles have a great website, www.thecombustiblesband.com with lots of photos and information on the band and the Bombay music scene. I highly recommend taking a look.
Thank you to Jörgen Johansson for providing this copy of the single.