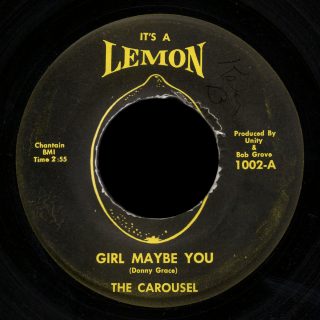 The Carousel recorded in Birmingham, Alabama in 1969. Members were:
Carl Williams – lead vocals
Richard Studdard – vocals, keyboards
Ronald Naramore – vocals, guitar
Donny Grace – vocals, bass
Mike Patton – vocals, drums
"Girl Maybe You" and "Gonna Hide My Face" are fast-paced pop originals by Donny Grace. Bob Grove and Unity produced for It's a Lemon 1002.

Bob Grove ran Prestige Recording Studio in Birmingham, where he had recorded artists for his own Unity Record Company label with its beautiful logo of black and white fists with a dove.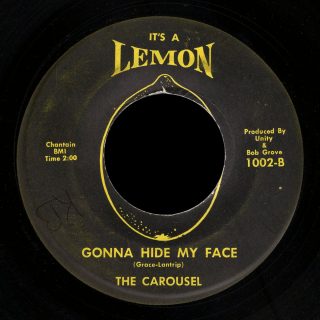 I know of two releases on Unity, Candy Stanton's "Now You've Got the Upper Hand" / "You Can't Stop Me" (both written by Bo Fowler and produced by Bob Grove and Richard Dingler), and Underground Euphoria featuring Keisa Brown "What Can I Do About You" / "Let's Go Back (To Our Little World)".
The Carousel single came a couple years after these. I assume it was also recorded at Prestige. The Carousel 45 was preceded on the It's a Lemon label by a hard rock single by The Brood "Virginia Neal" / "The Roach". The Brood was Dale Aston of the Torquays along with Steve Salord, George Landman and Bobby Marlin.
I suppose there's another release on It's a Lemon between the Brood and the Carousel, but so far I haven't found it.
Anyone have a copy of the It's a Lemon singles, or a photo of The Brood?