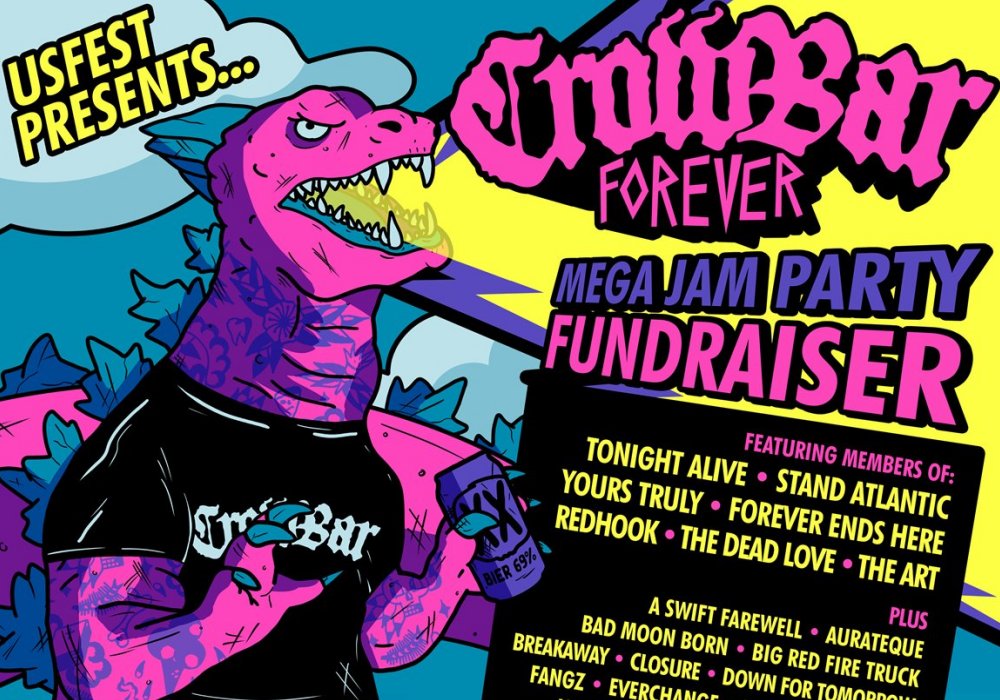 Sydney's punk, rock & emo community is banding together for one night of musical mayhem to help keep local live music venue Crowbar alive and kicking.
Members of Tonight Alive, Stand Atlantic, Yours Truly, Forever Ends Here, RedHook, The Dead Love, FANGZ, Down For Tomorrow, Closure, A Swift Farewell, The Art, Wicked Things & loads more will be joining forces next Saturday, 5th June for a mega jam party stacked with live collabs, punk rock singalongs, tasty bevs and good vibes, with 100% of the proceeds going toward keeping the lights on and the amps up loud at Sydney's beloved home of heavy music.
Event organiser, RedHook vocalist and UsFest founder Emmy Mack was inspired to get on the blower to her mates in the Sydney heavy music community and rally performers to support the COVID-ravaged Crowie, after hearing the venue was at risk of shutting down without a $200K lifeline.

Mack says, if it wasn't for punters' support over the past few months, the venue would already be yet another headstone in Sydney's burgeoning live music graveyard.
"It's nuts that Crowbar had to resort to crowdfunding donations and auctioning off priceless pieces of rock memorabilia just to keep the lights on during this pandemic. But the fact that they smashed their fundraising target is testament to the strength and resilience of Sydney's heavy music community.
Still, we're not taking any chances. We're already losing Frankie's Pizza to a metro train station and we'll be damned if we're gonna lose the Crowie as well.
This is our home, so we're inviting you to come celebrate it with us. It's gonna be a wild and wacky night filled with camaraderie, laughs and live music as Stand Atlantic's Bonnie Fraser leads a pop-punk supergroup, Lachie Cronin from Yours Truly shreds Motley Crue and Tonight Alive's Jake Hardy and I risk it for the Bizkit. This is a one-night-only event that will never be repeated, regardless of how much fun we have embarrassing ourselves. Crowbar forever."
Limited tickets are on sale now via OzTix.