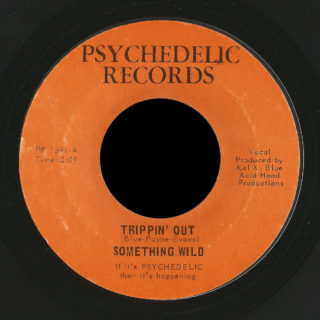 Something Wild is known for their excellent 1966 single "Trippin' Out" / "She's Kinda Weird" on Psychedelic Records.
The group started as the Hustlers in 1962. By 1964 the lineup included Bill Evans on lead guitar, Tim Leach on rhythm, Joe Geppi on bass and Micky Moshier on drums. This lineup opened for the Byrds at Righetti High School. They won a battle-of-the-bands at the Blue Dolphin club in Solving, and appeared on a local TV dance show on KCOY-12.
Kal-X-Blue (Karl Gebhardt) asked to be their vocalist, and in early 1965, the group changed their name to Something Wild.

Micky Moshier left the group, and was replaced first by Bill Peckham, and then Ronnie Libengood (known in the band as "Red" Libben or Libbon), who played on their single. Ronnie Libengood passed away at a very young age.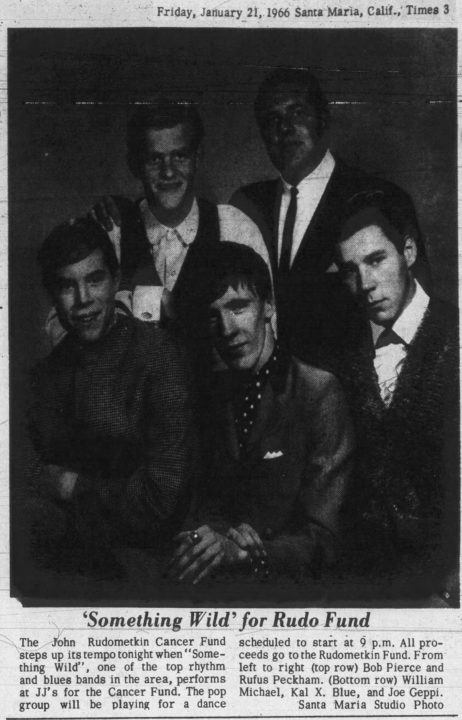 A couple of photos refer to Bill Peckham as "Rufus Peckham" in the captions. One that ran on January 21, 1966 lists Bob Pierce and William Michael in addition to Rufus Peckham, Kal X. Blue and Joe Geppi.
In 1966 Tim Leach left, and Bill Payne joined on guitar and keyboards.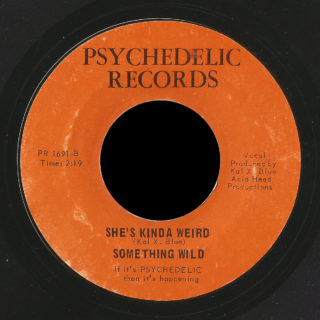 Also in 1966 Something Wild did two recording sessions, including one at Stars International Recording in Hollywood. The first demo, "She's Got a Hole in Her Soul" / "The Blues", was unissued. Anyone have pics of the labels of demo?
The second session featured the awesome "Trippin' Out" written by Blue, Payne and Evans, backed with Blue's original, "She's Kinda Weird". The group released it on their own Psychedelic Records PR-1691 in July, with the credit "Produced by Kal X. Blue – Acid Head Productions" and the tag "if it's PSYCHEDELIC then it's happening".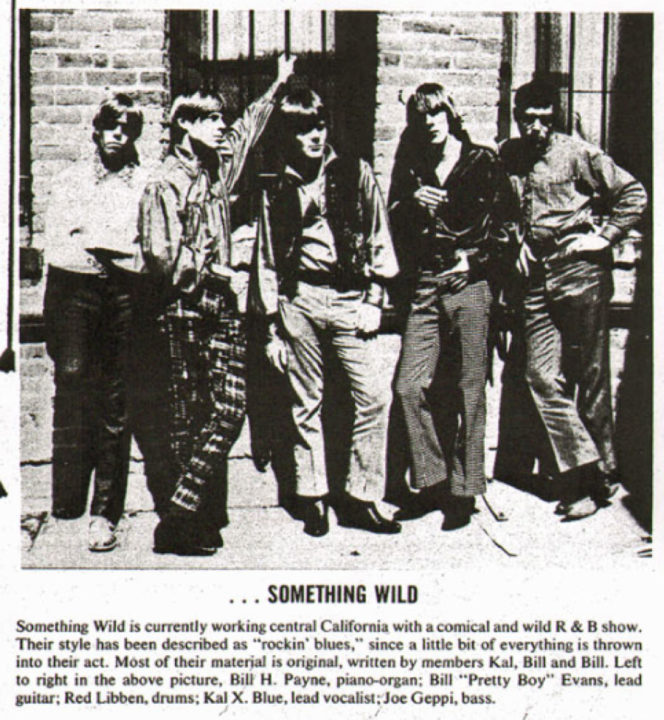 On August 27, 1966 KRLA's newspaper The Beat featured Something Wild in the Beat Showcase, but in September the group split. Kal X and Bill Evans would continue in the Kal-X-Blues Band, playing at the Fillmore on Halloween 1966.
Kal X. would then form Wedge, profiled on this site. Bill Payne would become a founding member of Little Feat.
Much of the information in this article came from Beverly Paterson's excellent interview with Bill Evans.