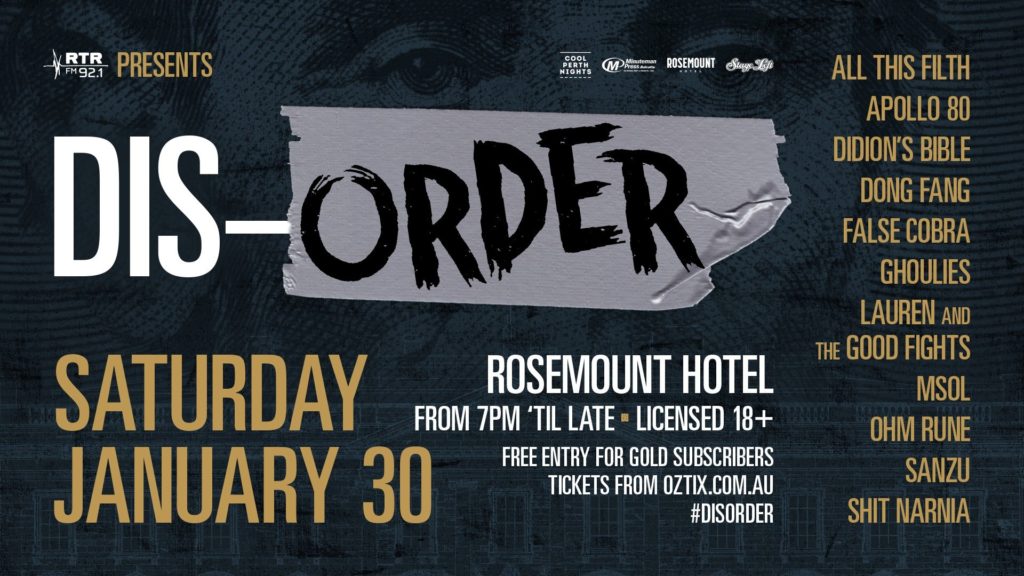 In 2021 RTRFM start with something heavy, loud, rawkus and dis-orderly as Dis-Order takes over two stages at Rosemount Hotel as some of Perth's finest heavy and punk acts start the year right, or maybe wrong.
On the front stage of Rosemount Hotel we go heavy and loud with the fast and furious sounds of False Cobra, the intensity of DONG FANG, the sludge of Apollo80, the doom of OHM RUNE, filthy sounds of All This Filth and the heaviness of SANZU
And up the back we go punk with Lauren And The Goodfights, garage jangle of Ghoulies, the rawkusnes of Didion's Bible, straight punk rock of MSOL and the presence of Shit Narnia.

Dis-Order celebrates the heavier sounds of Perth as RTRFM kicks off it's fundraising events calender in the 2021. All proceeds go to RTRFM.
RTRFM Fundraiser DIS-Order
Saturday January 30, 2021, 7pm 'til late
Rosemount Hotel (Main Room)
Featuring
All This Filth, Apollo 80, Dong Fang, Didion's Bible,
False Cobra, Ghoulies, Lauren and the Goodfights, MSOL, Ohm Rune, Sanzu and Shit Narnia.
TICKETS: $10 for Subscribers and $15 for General Admission
from rtrfm.com.au and Oztix.