Psychedelic Porn Crumpets are amped for the New Year with brand new single "Pukebox"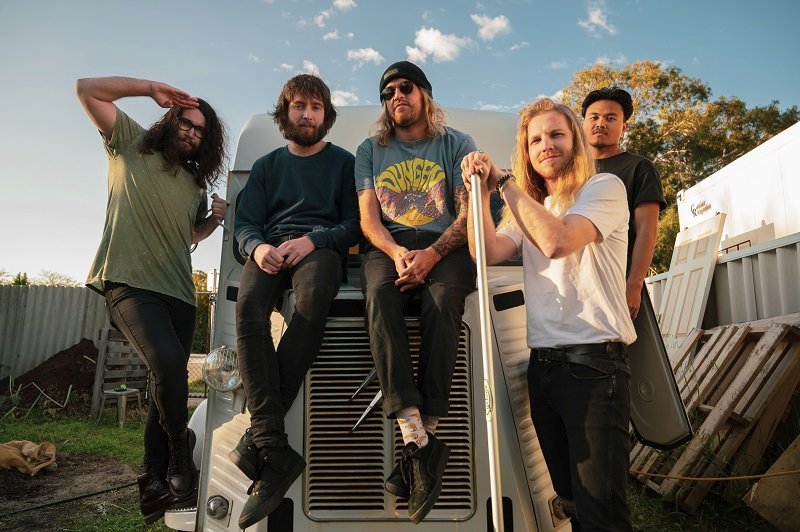 Stepping back into the spotlight for a brand new year, Psychedelic Porn Crumpets hit the ground running with the release of their latest single, 'Pukebox'.
At just over three minutes, this new slice of Psychedelic Porn Crumpets chaos is the latest installment of the band's forthcoming new studio record, SHYGA! The Sunlight Mound, due for release February 5th. Hectic and relentless in pure unadulterated Psychedelic Porn Crumpets fashion, 'Pukebox' is one ride that fans will want to be on as brighter horizons look promising for 2021.
Recorded between songwriter Jack McEwan's home studio and Tone City Studios in WA, 'Pukebox' is a delicious example of how tight the Psychedelic Porn Crumpets sound has become over their last few years of writing and touring.
Receiving its worldwide premiere on BBC Radio 1 with Annie Mac, 'Pukebox' captures the essence of SHYGA! The Sunlight Mound and sits as a great insight into the new era ahead.
"'Pukebox was the first song I used as a reference while creating the flavour for the record. I'd had the idea for the track for a while but I never thought it fit the style of our previous albums. I wrote the first part in first person, talking about my time at home drinking moonshine and wondering who else was doing the same. Then I compared that in the second verse with a secondary version of myself who I wrote about as a character, a little bit lost, waking up with a hangover in random cities trying to find a meaning while it sailed right past me. Both unaware of each other's existence while slowly going mad through repetitive consumption."  Jack McEwan, Psychedelic Porn Crumpets
Psychedelic Porn Crumpets will return to live shows, supporting Ocean Alley on their national tour throughout August and September.
PSYCHEDELIC PORN CRUMPETS TOUR DATES
Friday 16th January Mini Fest Mandurah Tickets
Supporting Ocean Alley
Friday 6th August John Cain Arena Melbourne  Tickets
Friday 13th August Thebarton Theatre Adelaide SOLD OUT
Saturday 14th August Thebarton Theatre Adelaide Tickets
Friday 20th August Fortitude Music Hall Brisbane SOLD OUT
Saturday 21st August Fortitude Music Hall Brisbane SOLD OUT
Sunday 22nd August Fortitude Music Hall Brisbane Tickets
Friday 27th August Hordern Pavilion Sydney SOLD OUT
Saturday 28th August Hordern Pavilion Sydney Tickets
Saturday 11th September Fremantle Arts Centre Fremantle Tickets