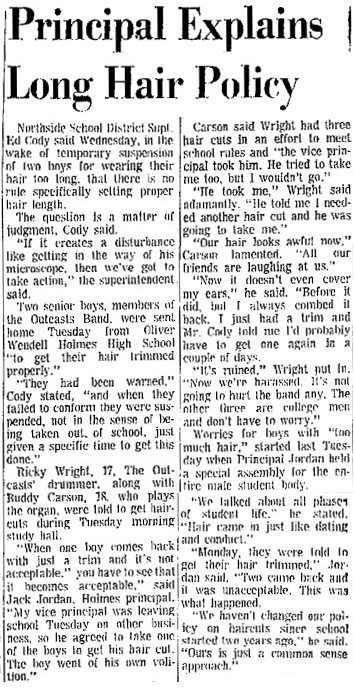 The Outcasts were one of the top bands in San Antonio, and Texas in general. They cut several fine singles, including two absolute classics, "I'm in Pittsburgh (and It's Raining)" and "1523 Blair".
Two members of the band have sites on the band, which I've included below. I have found some interesting news clippings to add to their story.
The Outcasts were children of Air Force servicemen. By late 1964 they had become a quintet with:

Jim Carsten – guitar, vocals
Buddy Carson – keyboards, harmonica, vocals
Denny Turner – lead guitar
Jim Ryan – bass
Ricky Wright – drums
In June of 1965 they made their first record, "Nothing Ever Comes easy" / "Oriental Express" recorded at Texas Sound in San Antonio, produced and written by Mike Post, released as Outcast 6865.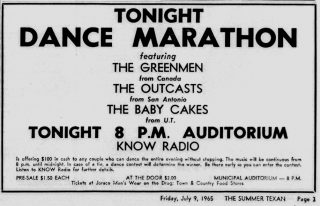 In 1966 they had three singles on Askel. Jim Carsten was their main song-writer. Jim wrote both sides of their first Askel single, "I'm in Pittsburgh (and It's Raining)" and "The Price of Victory". It was their best-selling record, supposedly getting airplay on various stations around the country.
Jim Carsten wrote the top side of their next single, "Everyday", while Carsten and Denny Turner wrote "I'll Set You Free", both good original songs. Askel reissued "Everyday" with a great version of "Route 66". A 45 label I've seen has "Buddy is singing" written on the "Route 66" side.
All of their Askel 45s had Ron Newdoll producing, recorded at Accurate Sound Inc in San Antonio, publishing by Sangelo Music BMI.
During two summers when Jim Ryan returned to Oslo, Norway, where his father was stationed, he had two fill-ins, John (surname?) in 1965, and Kurt Linhoff in 1966.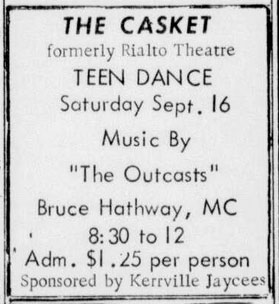 Denny Turner left the band in late 1966, and the Outcasts found Galen Niles of the Pandas, to replace him. Jim Ryan wrote "[Galen] switched to a vintage Les Paul in late '66 and recorded with us on our last single."
"1523 Blair" / "Smokestack Lightning" came out in January 1967 on Gallant GT-101. Jim Ryan and Buddy Carson wrote "1523 Blair", produced by H & H Productions at 243 Southill St in San Antonio.
1523 Blair was the address for Lelan Rogers' studio in Houston, where the band did some other recordings that were not released at the time.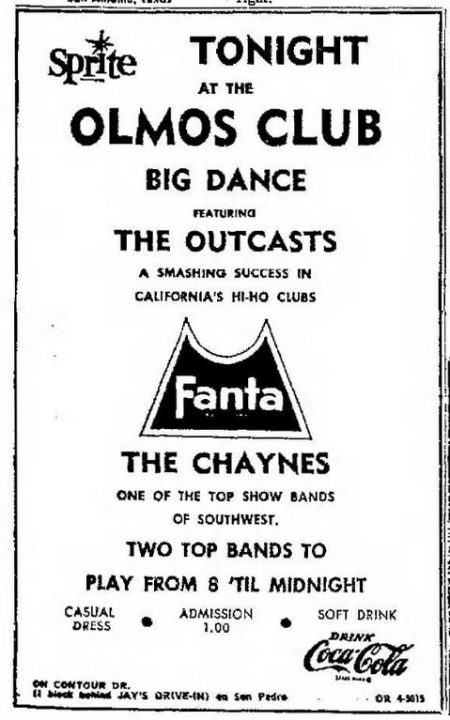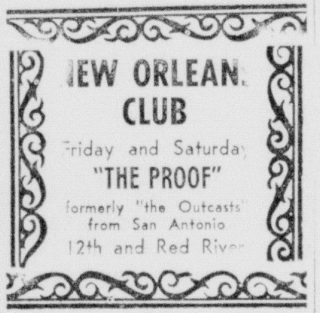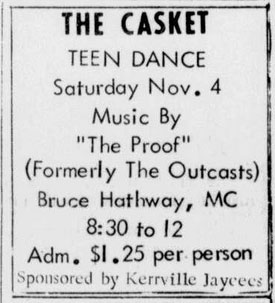 In October 1967 at the New Orleans club in Austin, and then in November at The Casket in Kerrville, ads bill the group as "The Proof" (formerly the Outcasts).
One member wrote: "sadly, the group dissolved in a psychedelic haze in 1968".
Jim Ryan would play with the Swiss Movement, then move to Los Angeles in 1969 for a couple of years.
Galen Niles would join Homer.
The Outcasts story is told in some detail on various members sites, that are remarkably still active as of 2021. The photos unfortunately are mostly very small in size.
Denny Turner's site has several pages on the Outcasts, try this one and this one.
Jim Ryan's band page also has info on the Outcasts.
Mike Lowell's site mikesbandarchive.com has been out of commission for about eight years now but is still partially available on the Internet Archive.
If anyone has better quality photos of the Outcasts, or more info on the members & group, please contact me.