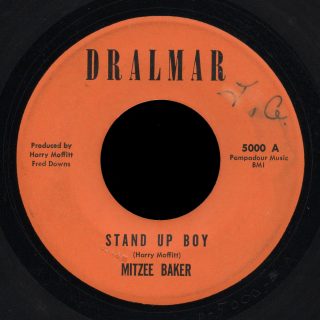 Mitzee Baker's "Stand Up Boy" is early '60s pop, not garage but it has a strong beat and crude production. I'm posting because it seems to be unknown, and there are some deadwax codes I am not familiar with.
The flip is a ballad with some orchestration, "No One Can Love You (More than I)". Harry Moffitt wrote both songs and co-produced with Fred Downs, released on Dralmar 5000. Pompadour Music published the songs, but I can't find them in BMI's database. A Philadelphia origin is likely.
The runout codes are: "D-5000-B A" / "D-5000-B". Both sides have "A.M.S." followed by something that looks like a D with a couple short horizontal lines in front of it. In very small lettering on the A-side is "TV 33166". All are etched.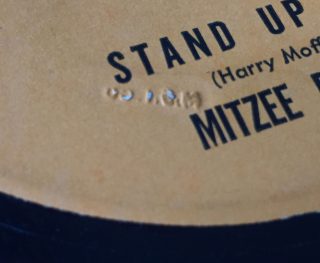 An embossed stamp on both sides seems to read backwards, beginning with, possibly M.O.I. and ending with CO – but I may not be reading that correctly.