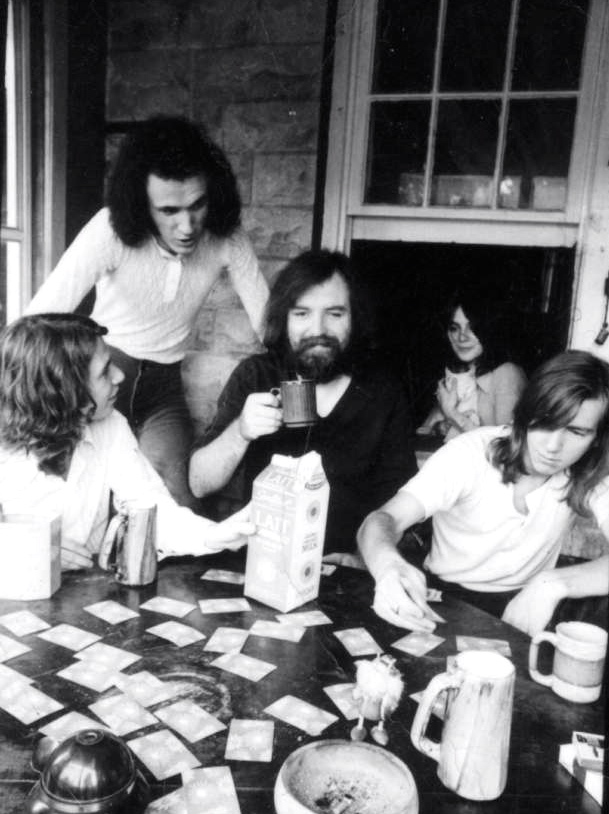 Mary Lou Gauthier (Lead vocals) 
Louis McKelvey (Guitar, Vocals) 
Malcolm Tomlinson (Guitar, Flute, Drums, Lead vocals) 

Ron Frankel (Drums) 
Ronnie Blackwell (Bass) 
+
Jack Geisinger (Bass, Vocals) 
This fascinating Anglo-Canadian group was put together by former Influence and Our Generation member Louis McKelvey (b. 31 October 1943, Killorglin, County Kerry, Republic of Ireland) with ex-King Curtis sideman Ron Frankel (b. April 1947, Montreal, Canada).
Frankel had previously played in The Soul Mates (and with his wife Mary Lou Gauthier) in the lounge band, Five of a Kind, before joining King Curtis & The King Pins in 1968. (Ed: McKelvey may have met Frankel at the Hawk's Nest on 23 July 1968 when King Curtis & The King Pins played there).
McKelvey approached Frankel and Gauthier about putting a new band together in September 1968 after leaving Influence, but the group didn't form properly until early March 1969.
During the interim, McKelvey returned to England for around five months and reunited with his old friend Malcolm Tomlinson (b. 16 June 1946, Isleworth, Middlesex, England), from the early 1960s west London band Jeff Curtis & The Flames.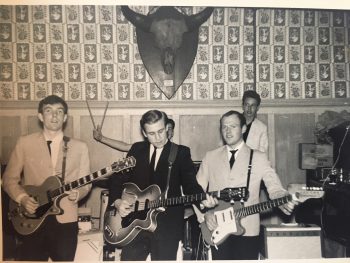 Tomlinson was currently playing with Gethsemane (featuring future Jethro Tull guitarist Martin Barre), and had done a BBC radio session with Elton John in October 1968.
McKelvey and Tomlinson both auditioned for the guitar position in Jethro Tull, but when Barre was offered the place and Gethsemane split up, Tomlinson returned to Toronto with McKelvey around March 1969 to put together Milkwood.
Adding ex-Five Bells bass player Ron Blackwell (b. 27 July 1948, Montreal, Canada), the band played at the Penny Farthing in Toronto in early May. They also played regularly at the Electric Circus.
The band sent a four-track demo to Polydor Records around this time and, according to Billboard, the label signed the band before it had played a single show.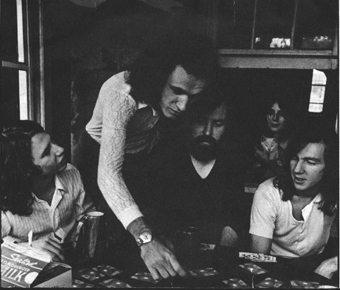 In mid-June 1969, former Influence member Jack Geisinger (b. March 1945, Czech Republic) joined replacing Ronnie Blackwell in time for sessions at the Hit Factory in New York.
Kicking off on 20 June, the week-long sessions were overseen by famous producer and song-writer Jerry Ragavoy who produced the LP and also played piano on some tracks.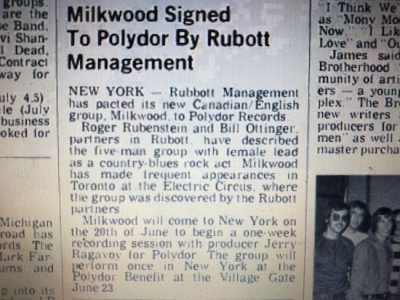 While in New York, the band took part in the Polydor Benefit gig at the Village Gate with Dutch band, The Golden Earring on 23 June.
Sessions were completed in July. Members of The Band were at the Hit Factory when the group cut "There's A Man" and complimented Mary Lou Gauthier on her vocals.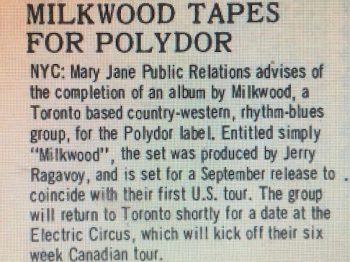 Back in Toronto, the band signed to the Frederick Lewis booking agency and embarked on Canadian dates.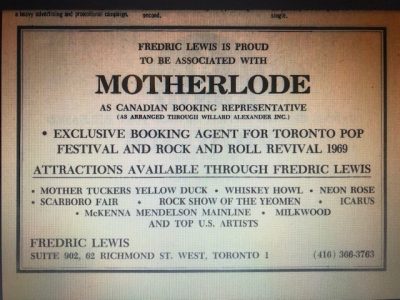 Meanwhile, the LP was slated for release in September to coincide with an American tour, which never happened.
A disagreement between Milkwood's manager and Polydor resulted in the LP being shelved. In November 1969 the group split up.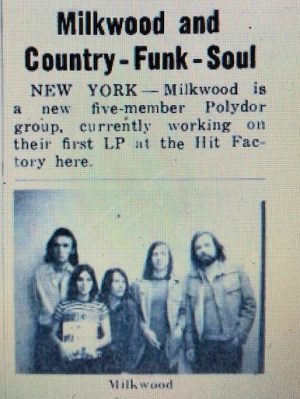 The band's greatest claim to fame is that it appeared at Toronto's Rock 'N' Roll Revival concert on 13 September. Although the group wasn't billed, they performed just before John Lennon & The Plastic Ono Band, according to roadie Dave Mandel.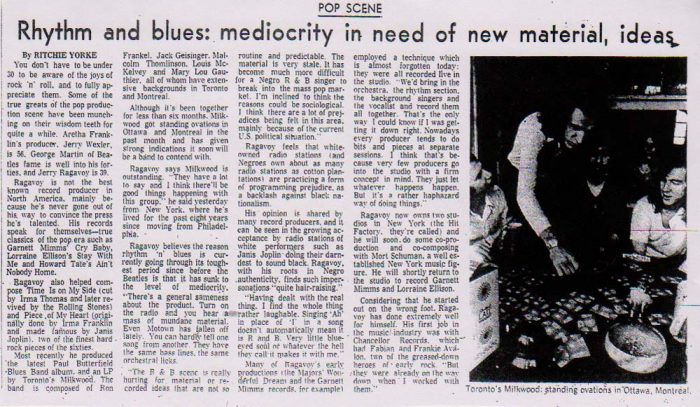 McKelvey and Tomlinson (and later Geisinger) stuck together to work in Damage during 1969-1970.
McKelvey also briefly worked with Powerhouse in late 1970, before retiring from the music business.
Tomlinson later recorded with Rick James and Bearfoot and issued two solo LPs. Geisinger played with Charlee and Moonquake among others.
Frankel later did sessions for Jesse Winchester while Mary Lou Gauthier recorded a solo single, "In The Summertime" c/w "Come Run" for Polydor and later sang with Celine Dion at Caesar's Palace in Las Vegas. Blackwell is a computer consultant and lives in Las Vegas.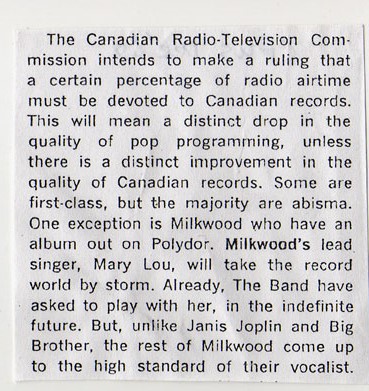 Malcolm Tomlinson died in April 2016. Louis McKelvey died in November 2017 and Jack Geisinger has also passed away.
Advertised gigs
3 May 1969 – Penny Farthing, Toronto (possibly when Jimi Hendrix dropped in to listen)
25 May 1969 – Rock Pile, Toronto with Kensington Market, Grand Funk Railroad and Leather
June 1969 – Electric Circus, Toronto (this is where Rubbott Management spotted them)
21 June 1969 – Rock Pile, Toronto with Brother Brent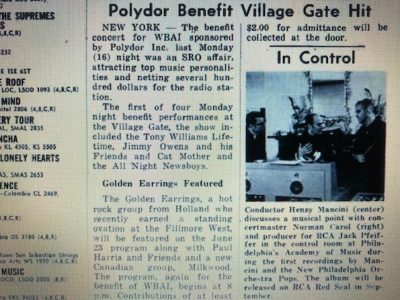 23 June 1969 – Village Gate, New York with The Golden Earring
18 August 1969 – Penny Farthing, Toronto (Led Zeppelin played this night at the Rock Pile and Robert Plant and John Bonham dropped in at the club afterwards)
13 September 1969 – Toronto Rock 'N' Roll Revival, Varsity Stadium with John Lennon & The Plastic Ono Band, Gene Vincent, Alice Cooper and many others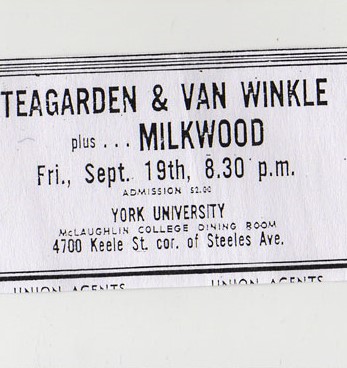 19 September 1969 – York University, Toronto with Teegarden and Vanwinkle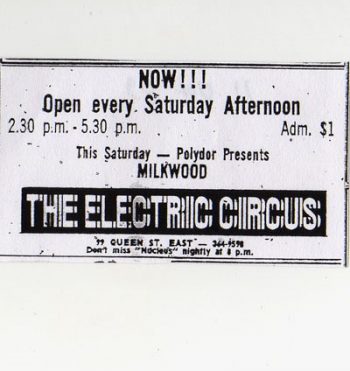 11 October 1969 – Electric Circus, Toronto
17 October 1969 – The Hawk's Nest, Toronto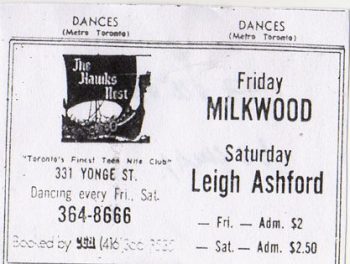 Many thanks to Louis McKelvey, Mary Lou Gauthier, Ron Frankel, Ronnie Blackwell, David Mandel, Malcolm Tomlinson and Jack Geisinger for information. 
Toronto gigs were taken from the After Four section of the Toronto Telegram.
Copyright © Nick Warburton. All Rights Reserved. No part of this article may be reproduced or transmitted in any from or by any means, without prior permission from the author