Music and beer: the classic combo. It's a mixture at the heart of everything London brewery Signature Brew does. From the names of their core beers – Studio, Roadie, Backstage, Nightliner – to using their taproom and brewery sites to give back and host events, they're the friend of band and fan alike. They've made collab beers with loads of killer bands, and pioneered a new way of tying music and suds together. So successful have they been in their quest that they've done the drinks at gigs by no lesser bands than Metallica and The Killers, and when Foo Fighters hosted their pop-up pub in 2017 to celebrate the release of the Concrete And Gold album, it was Signature Brew they wanted on tap. Clearly, no other beer house does their business quite as loud as they.
The idea to start up in 2011 even came from music, after founders Tom Bott and Sam McGregor became fed up at the state of beers at festivals. Why, they reasoned, should so much hard work go into the music and the show, while the bar gets neglected? Why should fans have to put up with plain beer, when it's possible to put so much passion into a brew and make it really special?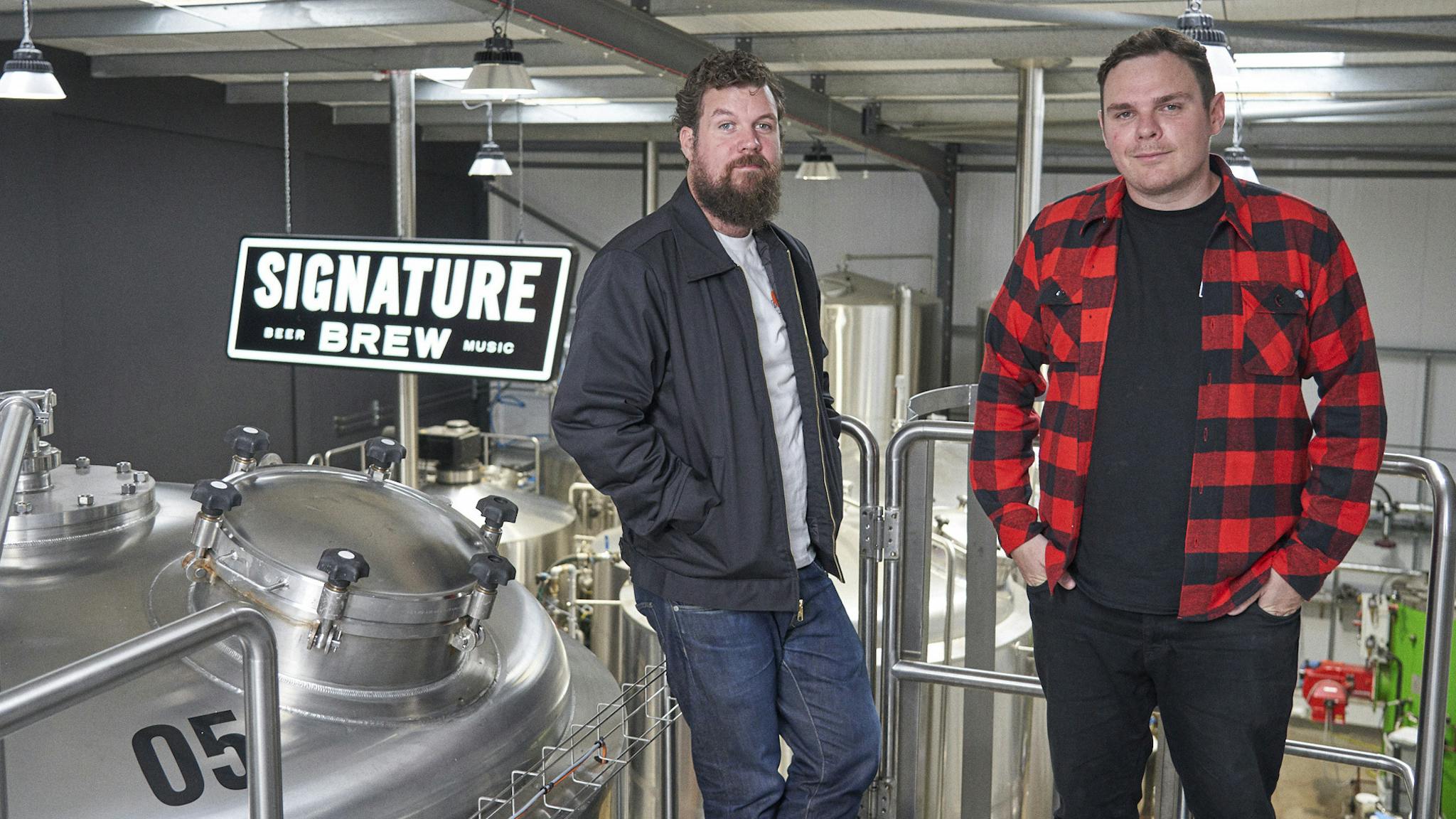 "Music and beer go hand in hand," explains Signature Brew's John Longbottom. "People are increasingly as passionate about the beer they drink as the bands they love. We marry the two together in a way that's never been done before. At heart, everyone who works for Signature Brew, from the brewers to the drivers, are huge music fans or even musicians themselves."

With this in mind, they went about putting together a beer company with a difference. Setting up shop at festivals like 2000trees, ArcTanGent and Slam Dunk, Signature Brew's name quickly became known for its strong ties to music. With a staff made up of folk who have done time in bands, at labels, in venues and as music journalists, their plans soon led them to begin working with bands on their own tipples – a tradition that's now seen them working with over 25 acts, including Enter Shikari, IDLES, Frank Turner and Mogwai. Even Mastodon teamed up with them early on, and enjoyed the tasting session for their 2013 Black Tongue IPA collab so much that one of them ended up trashing their dressing room at Leeds Festival, as members of At The Drive-In and Billy Talent looked on in mirth.
But there's more to Signature Brew than just sinking beers with bands, and not just with Jamie Lenman's no-alcohol Lenmanade for all the teetotallers in the audience. In 2018, they opened their taproom in Haggerston, London, and have used it to host music photography exhibitions, movie screenings, and a live Enter Shikari Q&A.
"Signature Brew are a fantastic team of people," says Shikari drummer Rob Rolfe. "We've known them for a few years now and have gotten close to them because they feel like very like-minded people. They have a real passion for good beer and live music, which is why their business model works so well for them! They're relaxed and easy to work with but also hard working and constantly striving to do new things, support live music and create good times."
Just as music will get you through hard times, in 2020 Signature Brew have been using their business as a way to support and give back. Working with the women of Manchester Punk Festival for International Women's Day in March, as COVID took hold the beer they concocted together became Nightingale ale, and was used to help raise money for NHS charities. Meanwhile, seeing road crew out of work due to cancelled tours, the brewery hired them as delivery drivers for their ingenious Pub In A Box (beer, snacks, pub quiz, coasters – as they say, a pub in a box). For Christmas, they're ramping this up to make sure the special Christmas Pub In A Box gets out in time for December 25, and they've hooked up with The Darkness for a special seasonal ale – Bells End.
"I think we hit it off pretty well as they take the brewing seriously but not themselves, which made the tasting sessions particularly fun, from what I can remember," says Darkness guitarist Dan Hawkins. "Their brewery was a lot bigger than I'd imagined, and it's just a great place to hang out in itself. They're really doing something unique, and the Bell's End brew couldn't have come out any better!"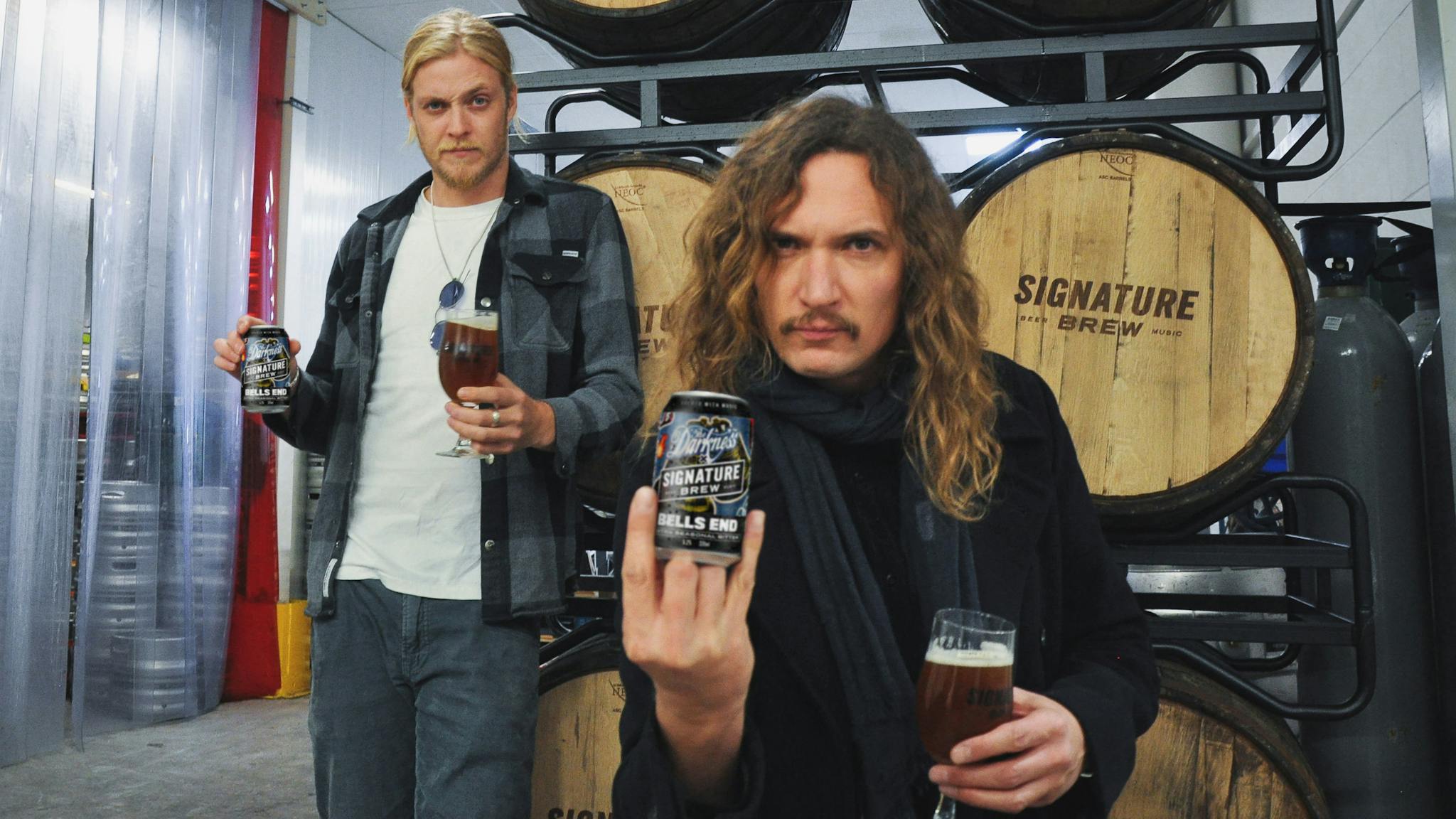 And as a ray of hope and a simulation of better days, through the summer they've done their best to keep the spirit of live music going by hosting socially-distanced gigs at their Walthamstow brewery. In the socially-distanced outdoor courtyard of the home of the brew, lucky fans could get a taste of normality with their beer watching sets from Black Honey, Jamie Lenman and singer-songwriter Rob Lynch, among others. For next year, when normality returns, they'll be celebrating by hosting shows from Black Peaks and The Skints. And the people of Signature Brew want this, as fans, as much as everyone else.
"Live music needs our support more than ever," says Signature Brew's John. "If lockdown has taught us anything, it's that the things we love are worth fighting for. We love great music and great beer, so we'll do whatever it takes to support musicians and venues."
Well said. We'll drink to that.
Signature Brew's collab beer Bells End, brewed with The Darkness, is available here. Grab their Xmas Pub In A Box package, containing everything you need for the festive period, here.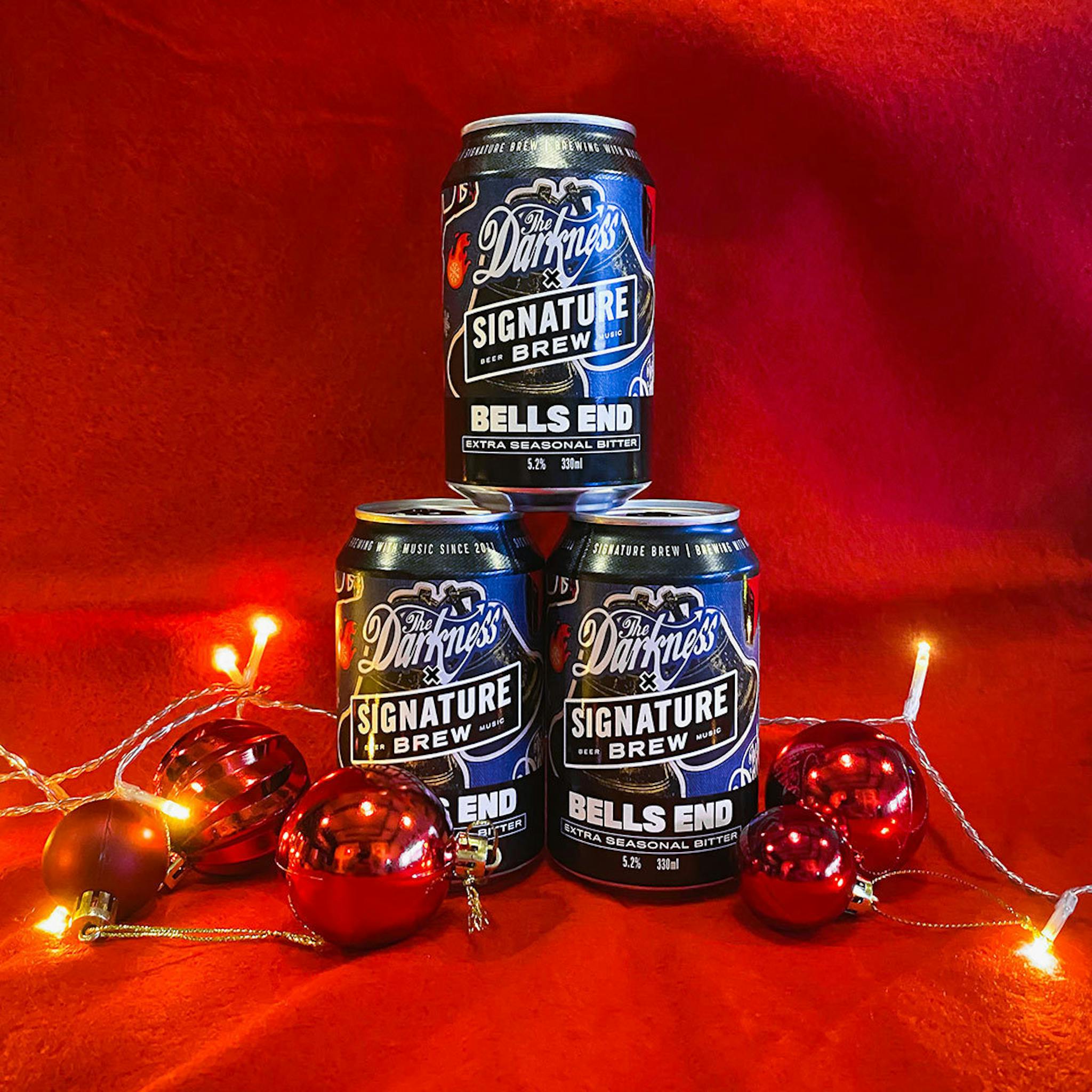 Posted on November 23rd 2020, 6:00pm