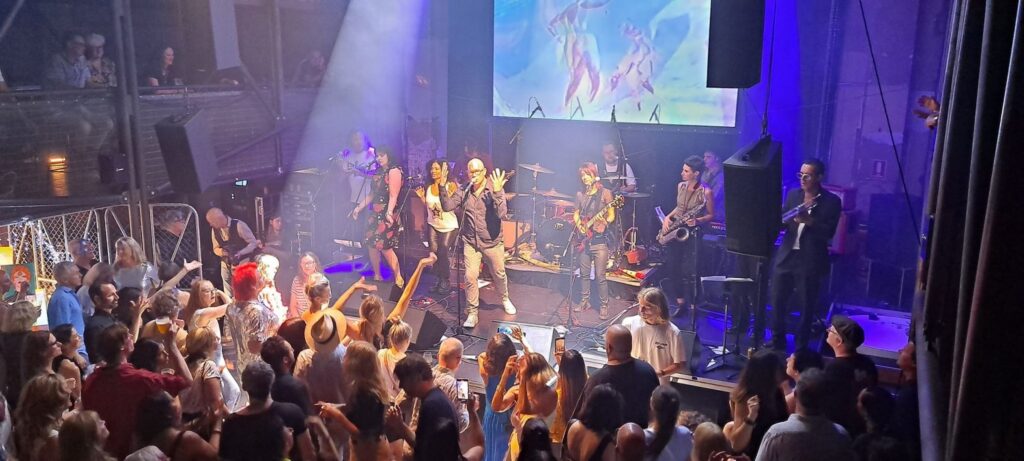 A line-up consisting of some of the Perth's finest musicians & vocalists from across a multitude of eras & genres descended on The Rechabite Hall in Northbridge to entertain a crowd almost as diverse as the performers themselves.  The Mind-Warp Pavilion has become an annual pilgrimage for fans of the iconic Starman, David Bowie and with the world seemingly in a downward spiral since his passing, tonight was about shutting ourselves away from the real world and immersing ourselves in the spellbinding back catalogue of the British born singer songwriter.
Firstly, a little bit about the venue.  Entering through double doors located on William Street you are immediately greeted by a wide sweeping staircase which, as you ascend, splits to take you either left or right, leading you to a level with a small bar, which tonight was jammed with people.  Walking through one of two entrances you enter into a high-ceilinged hall with two levels of steel balconies that wrap around three sides of the Rechabite Hall, which is visually quite spectacular.  Underneath one of these balconies were The Glitter Girls who spent the evening decorating faces in Bowie-like styles of colours & lightning bolts.  Local artist Rahalie McGuirk was there once again to create a stunning live painting during the evening, which eventually sold for an incredible $2200 in the silent auction, with part proceeds going towards Cancer Council WA.
The stage was set for a celebration of all things Bowie and the evenings musical performances were split into three sections.  MC for the evening & Mind-Warp Pavilion regular Bob Gordon took to the stage to introduce a haunting choral opener of 'Five Years' before returning to introduce his co-host, Bowie expert Dr Adam Trainer.  The first 'home' band of the evening consisted of Filth Wizard's Jess June (Drums), Jenna Hardie (Bass) & Clayton Brown (Lead Guitar) along with Cissi Tsang (Guitar) and opened the set with Damien Goerke impressing from the off with a stella version of 'Diamond Dogs'.  The evenings backing vocals were covered faultlessly throughout by Matthew de la Hunty, Susanna Morley Wong and Riyaana Harman. 

Co-organiser Greg Dear was next to take vocal duties with a strong performance of 'Queen Bitch' before Caballeros front man Jake England literally launched himself off the stage and into the crowd during his energetic rendition of 'The Jean Genie' while Adrian Hoffman, accompanied by his acoustic guitar, had the honour of performing a crowd favourite, the anthemic 'Starman'.  Sami had the job of taking on another classic in the form of 'Rebel Rebel', which again had the crowd punching the air in joyful unison.  Goerke reappeared to close the first of the electric sets with 'Moonage Daydream' before we finally managed to catch our breaths, as a three-song acoustic set by Shaun Corlson had the crowd at times mesmerised, as we were treated to 'Letter to Hermione' from Bowie's self-titled second studio offering sandwiched between two songs from 'Hunky Dory' in the form of 'The Bewlay Brothers' and 'Kooks'.
Our hosts Gordon & Trainer returned to divulge more tales & anecdotes about David's life & career before introducing the second of the evenings 'home' bands: Luke Dear (Drums), Cliff Kent (Bass), Kenji (Lead Guitar), Tara (Keyboard) & Greg Dear (Guitar) took to the stage as former Fear of Comedy vocalist Laith Tierney led the way with 'Quicksand' and 'Word on a Wing'.  Adam Trainer took the mic for a solid performance of 'The Motel' from 1995's 'Outside' album.  Rose Parker's 'Life on Mars' was simply stunning with the crowd encapsulated with every word, before joining Parker to sing the chorus as the entire hall became a powerful choir.
Tall Tales and True's Matthew de la Hunty moved from backing vocal duty to lead for 'Song for Dylan' before Damien Goerke returned for another solid performance with 'Lady Grinning Soul'.  The Limbs front man James Redman entertained with 'Cracked Actor', the first of his two numbers for the night before our MC for the evening Bob Gordon took to the stage in a Covid-safe hazmat suit, throwing facemasks out to the crowd during 'Fashion'.  Tommyhawks lead singer Addison Axe is never one to shy away from showcasing a spectacle and tonight belonged to her.  The first of her three outstanding performances, Axe strode to the stage dressed in Union Jack suit and gold sparkling buzz cut hair before absolutely nailing 'I'm Afraid of Americans'.  This seemed to push everyone harder as Tierney returned with a fantastic version of another Bowie classic, 'Heroes'.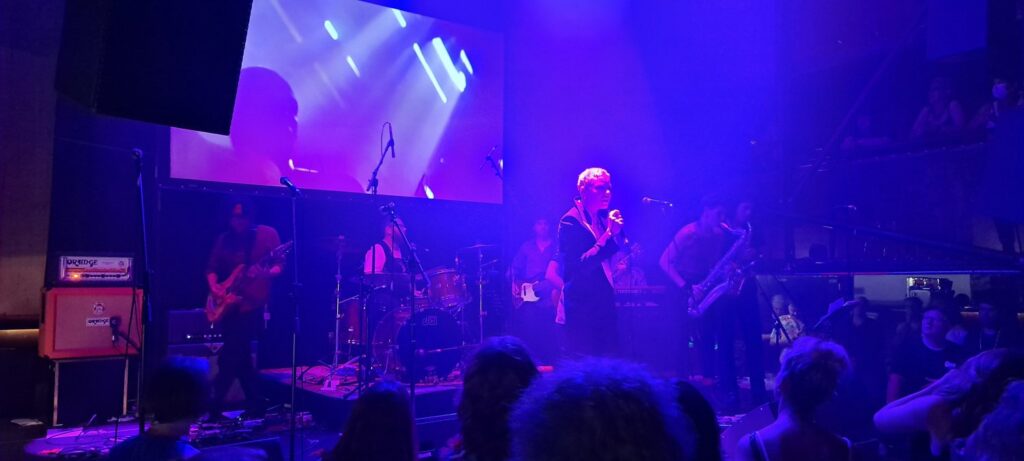 Intermission time, pee-break and recharge your drinks because the best was yet to come with a set laced with hits.  Home band number three was yet another Pandora's box of talent with Kieran Murphy (Drums), Selina Paul (Guitar), Shaun Street (Bass), Kenji (Guitar), Greg Dear (Acoustic Guitar), Mark Ralph (Keys) & Tommyhawks Thea Woodward (Sax) all squeezing onto the stage to be joined by Clayton Bolger, who was unable to play guitar tonight due to a home injury involving a very sharp knife (get well soon).  Bolger set the standard to bring the party home early on with a wonderful version of 'Changes' before Redman returned with 'The Man Who Sold the World', which we were reminded was not written by Nirvana.  It was crowd participation time as Bolger belted out 'All the Young Dudes', made famous by Mott the Hoople before taking a breather after 'Breaking Glass'.  'Space Oddity' was followed by Addison Axe's welcomed return, this time dressed in a grey blue baggy suit, as she tore into 'Ashes to Ashes' with utter conviction.
The charismatic & animated Laith Tierney's 'China Girl' had everyone boogying and dancing around the entire venue before Bolger returner with 'Ziggy Stardust'.  There was no stopping this steam train anytime soon as Jake England once again found himself neck deep among the frenzied audience as he strutted around in the crowd during 'Suffragette City'.  Another Bolger double bill, this time with 'Rock n Roll Suicide' and 'Let's Dance', which made sure that everyone in the room did!  A rare opportunity for Kieran Murphy to slip from behind the drums as he joined Clayton Bolger for 'Under Pressure'.  The night finished with an emotional bump as Axe returned (and another costume change) this time in black suit with white lapels and an utter spell-binding rendition of Bowie's last ever release 'Lazarus', with the great man himself appearing on the big screen above the stage as we were played the video that accompanied the single, to stunning effect.
Albeit an emotional end to the night, we couldn't end it on that note, as we were reminded that this event fell in between David Bowie's birthday and the date he left us.  With Gordon inviting as many performers as physically possible back to the stage, we all sang happy birthday to the late legend.  This was my second year at Mind-Warp Pavilion, and I can say with confidence it most certainly won't be my last.
Congratulations must go to Leanne Casellas & Greg Dear for the incredible organisation & work that must go into this event, as well as to Selina Paul for her constant sound tech work when she wasn't on stage performing.  All in all a wonderful night of music from the songbook of one of the world's brightest stars.  Shine on Mr Bowie, shine on…
Set One:
Five Years, Diamond Dogs, Queen Bitch, The Jean Genie, Starman, Rebel Rebel, Moonage Daydream
Acoustic Set:
The Bewlay Brothers, Letter to Hermoine, Kooks
Set Two:
Quicksand, Word on a Wing, The Motel, Life on Mars, Song for Dylan, Lady Grinning Soul, Cracked Actor, Fashion, I'm Afriad of Americans, Heroes
Set Three:
Changes, Man Who Sold the World, Sorrow, All the Young Dudes, Breaking Glass, Space Oddity, Ashes to Ashes, China Girl, Ziggy Stardust, Suffragette City, Rock n Roll Suicide, Let's Dance, Under Pressure, Lazarus