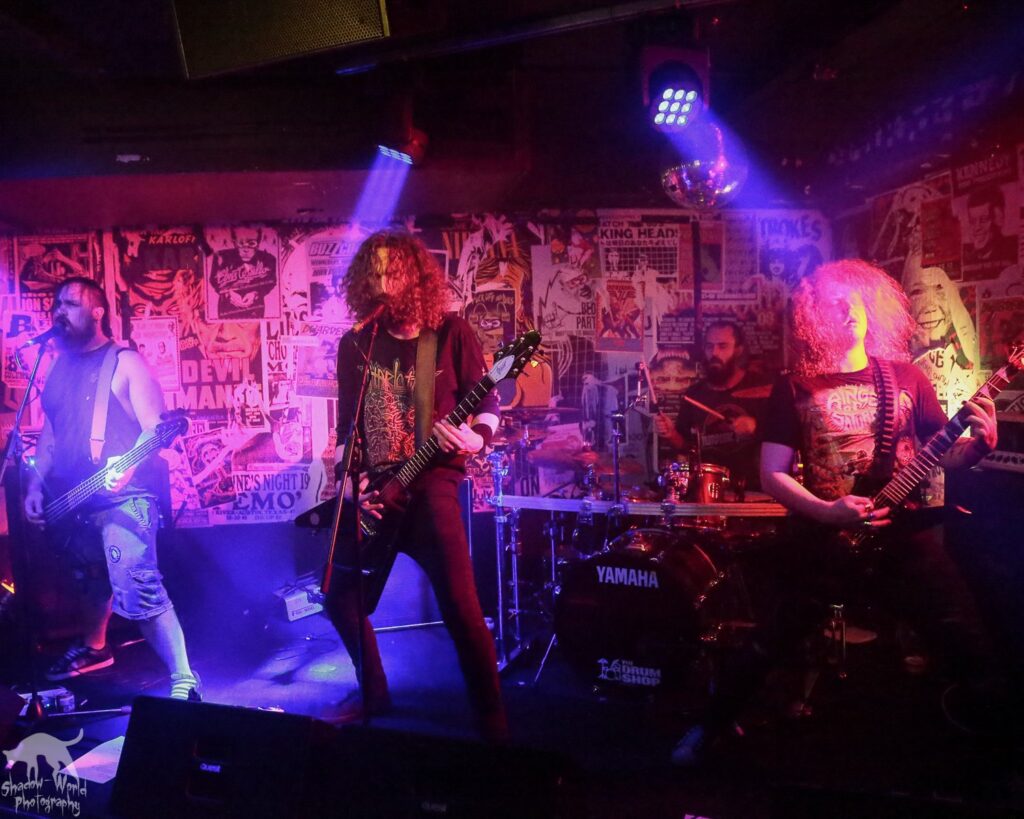 Perth's monthly metal club, Hornography finally returned this past weekend after an extended hiatus for most of the year including cancelled events due to covid lockdowns and clashes with major events. Clearly metalheads of Perth missed it as they rocked up at Lucy's Love Shack for it's much anticipated return which also saw Sydney's Flaming Wrekage join the show for it's first interstate band in quite some time.
Kicking things off were newcomers Infinite Exile, although it should be noted various members of the band are well experienced in previous projects which was evident in tonight's solid performance for their first Hornography show. The band recently dropped their debut EP "The Path Of Most Resistance", a meaty slab of melodic but heavy riffs, beats and roaring vocals, a concoction of the members various influences resulting in something uniquely attention grabbing which also translated to the live stage very well.
One of Perth's heaviest death metal bands, Iniquitous Monolith rolled up next and it was as expected, a complete onslaught of brutality from start to finish. Despite a couple of technical hitches, the band assaulted the crowd both with the music and with their usual stage banter that equals nothing but a fun and entertaining experience. Gotta love the sense of humor these guys have!
Flaming Wrekage came all the way from Sydney for their first ever show in Perth and despite the covid stuff playing all kinds of mess arounds with the travel stuff, the band luckily snuck in without a hitch and made their brilliant debut on WA shores, and at Hornography too! Having witnessed these guys a couple of times before over east, it was good to see them over our way and not surprising they finally did make it as Flaming Wrekage are by far one of the hardest working bands on the tour circuit in Australia. No doubt many punters over east, whichever town they may be in may have come across them one or twice before.
The Sydney road dogs showed Perth fans how all that touring has paid off with a blistering set of melodic death/thrash songs including material from their most recent album "Cathedral Of Bones", which may be their best release yet. "Thrown To The Wolves" from their previous album "From Flesh To Dust" was one of the highlights of the night with frontman Dave Lupton rallying the crowd which were right into it once the gears starting clicking into the set.
Not only was it a great set from Flaming Wrekage as with all the bands but the night was a welcome return for Hornography. Now let's see if we can get to the next one without the pesky virus getting in the way!
PHOTO GALLERY
Photos by Shadow World Photography
Flaming Wrekage
Iniquitous Monolith, Infinite Exile