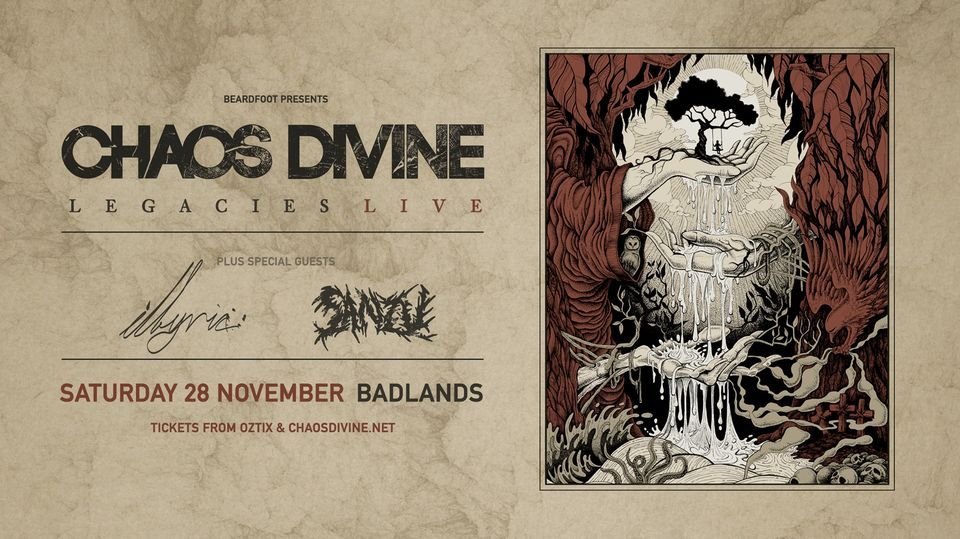 The year 2020 may be a year of broken dreams for millions, but in reflection it is also a great opportunity for new beginnings. Walking through Perth city on a surprisingly cold and windy November evening, I couldn't help but reflect on how lucky we are as musicians here in WA. With vibrant colours projecting across building walls and scores of happy people passing by, I could have easily forgotten about the world-wide pandemic currently inflicted upon humanity. As I approached the warm friendly atmosphere at Badlands Bar, I took a deep breath and prepared myself for an evening of world-class live entertainment right here in our isolated little city. Catching up briefly with a few friends in the beer garden, we could hear the very first sound checks rumbling inside the venue and so a few of us decided to make our way inside. I stopped by the bar, ordered a nice glass of St John Brook Shiraz and found a comfortable spot in full view of the stage. Like everyone else, I was eager to finally experience Chaos Divine's long-awaited 'Legacies' album launch.
SANZU kicked off the show as the crowd streamed in from the beer garden like a swarm of moths attracted to a searing flame. Drummer Dan Grainger's relentless double kicks set the pace for the first song "Old Orchard Floor" and I had to smile as a bloke in a red flannelette enthusiastically gripped his beer while moshing on his own like his life depended on it. Heavy guitar distortion boomed through the speakers as vocalist Zac led the charge in a button up shirt which gave these local death metal warriors a sophisticated look that they truly deserve. As the set list progressed, we were treated to a new song called "Learning Slowly" which seemed to match the vibe of the crowd as they stared silently in amazement. Zac has a unique way of connecting with the audience and we could feel the metallic energy flowing through our veins as he announced an all time favourite "Those Who Sleep In The East". The set list was well thought out as another new song "We've Eaten Reason" was dropped on our ears and as the brutality absorbed my entire being, I just had to stop and appreciate how much SANZU have somehow enhanced their groove since I last saw them.
I must say that Jarod and Mikey's guitar tones, complimented by bassist Fatima's monstrous thunder rumbles, is the ultimate package deal. As the song descended into a barrage of blast beats, bright rays of light pierced through the smokey stage and projected directly into the crowd like spotlights in search of prey. I love the way Dan stood up between songs and saluted the crowd while ringing out his cymbals too. The audience reacted gleefully as another new track was presented with a trippy ambient introduction which was reinforced by ear piercing distortion and gut wrenching feedback. Zac screamed out "I'LL LET YOU DIE IN COMFORT" which invoked a wave of headbanging and set the scene for the rest of the performance. The song "Union" sounded so brutal and it wrapped up with a huge scream from Zac which seemed to last forever as the crowd raised their horns with respect. My personal favourite "Heavy Over The Home" was the last song to be played and I felt goosebumps down my arms as guitar feedback and haunting war drums resonated through my body. Man, these seasoned campaigners know how to put on a solid show and their signature sound was a fabulous choice to begin the night. SANZU, you are brilliant!

As the dust settled, I headed back to the bar only to be tempted by the infamous and delicious dark and stormy that we all know and love. The choices are always difficult at Badlands Bar but I couldn't say no to a refreshing Single Fin Summer Ale from Gage Roads after a good mate put me on to them a few months ago. Either way, there is literally something for everyone including cheap $10 cocktails!
Up next were Illyria, Perth's very own local progressive post black metal band who were ready to add their flavour to the evening's proceedings. I hurried back towards my spot to the sound of Daniel's crunching bass tone which echoed through the venue as he made some final adjustments. I had not seen this band live yet and I was very keen to see the creative energy of 3 guitarists (Ilija, Stephen and Andrew) who had already lined up menacingly and were preparing to launch an ear battering assault on the crowd. An easy listening ambience started playing from their first song "Resurgence" which was accompanied by soft high hats and ride strokes by their drummer Matt to introduce the song. The audience slowly drifted into a trance and I also closed my eyes and felt as though I had been transported into a dark long-forgotten Carpathian Forrest. Just as I started feeling hypnotized by these musical snake charmers, we were smashed by a volley of heavy post-hardcore guitar riffs that made my eyes water and before I could realise what happened, the song grinded to a halt and changed back into ambient keys and dreamy atmospherics. It was like a rollercoaster ride and I just didn't know where to begin as there were so many genres flowing through the mix. My mind was left scrambled after several mouth- watering solos as the guitarists worked as a tight unit to produce the perfect emotional sound.
The set progressed into another track called "Wilderness" and we were again taken on a dark voyage complete with 90's style blackened vocals, soft ambient interchanges and progressive instrumental sections. I loved the combination of low death metal growls and high-pitched black metal screams as lead vocalist Ilija dominated the stage with his own style of emotional vocals and catchy guitar rhythms.  I remember telling myself "this is definitely something I could listen to" and I'm sure I wasn't the only one. Just shut-up and take my money, guys!
Anyway, by the time the song "Frostbite" was announced, Illyria had the audience right in the palm of their hands. Everyone was clapping along to the start of this beautiful melodic piece which was soft enough for one punter to be heard shouting "SPEED IT UP" which was hilarious. His prayers were quickly answered by these Metal Gods and the rest of the song was as heavy and brutal as anything I had heard that night. After the song (or should I say journey) had ended, the band announced that they were working on a 3rd album over the coming months, so I will be keeping my finger on the pulse for that one! The last track "Final Bastion" was catapulted at the crowd with plenty of headbanging and moshing until the end of the song. I could see why Illyria chose to end their set with this one considering the wide variety of heavy riffs, punchy bass lines and super-fast double kicks. In summary, Illyria create an epic, powerful live show to be enjoyed by anyone and I expect to see big things from them in future. Well done!
What a jaw dropping evening so far! How is it that Perth can hold so much hidden talent? Either way, the night had only just begun and the time had arrived to finally experience the might of CHAOS DIVINE playing their new album to an almost sold-out show. As we hustled back toward the stage, the lighting suddenly went dark and all we could see was the giant Chaos Divine banner glowing proudly amongst the smoke like a phoenix rising from the ashes. You could cut the tension with a knife as the audience protested loudly for our homegrown heavyweight champions to hurry up and make their entrance. Finally, our heroes Dave (vocals), Mike (drums), Tim (bass), Ryan (guitars) and Simon (guitars) appeared on stage to the sound of their intro track "legacies" which filled the air with raw anticipation. There was an unmovable look of concentration across their faces as they set themselves up and prepared for their hard-earned moment of triumph.
After a lengthy applause from the crowd, the band sprung into action at full throttle as Dave's vocals ripped through the mix with a level of fury and conviction that is dynamic to the Chaos Divine sound. Dave and Tim jumped around on stage while Ryan and Simon produced endless hooky riffs which could only be described as memorable, creative and authentic. Mike's neck must have been pretty sore the next morning from all the neck breaking windmills after each groovy break down. He never missed a beat though and smashed those skins like a machine. The crowd screamed with satisfaction as Dave announced the next track "Rise and fall" and we all started chanting the chorus with him while that legendary punter in the red flannelette thrashed around with the same energy levels from the start of the night. During each song, we were treated to a mesmerizing visual display which was synchronized perfectly with the music. A huge shout out to the talented efforts of the lighting operator, Justin, for such a brilliant presentation. It was unmistakable just how much preparation was involved including the sound quality itself which sounded like we were listening to the album from the comfort of our homes.
The crowd interacted with the band as Dave sipped on a glass of wine and shared a few war stories about the making of their debut album Avalon back in 2008. The fans were completely warmed up at this point and when the track "Contortion" was dropped, a chaotic mosh pit erupted to the sound of soul-crushing double kicks, diverse vocal lines and chunky guitar shredding. Everyone was either jumping around, chanting the lyrics or just standing back and appreciating the music. The next song "Beacon" followed with a melancholic tune that quickly evolved into thumping drums, more shredding guitars and some very catchy ballad vocals between Dave and Ryan. You could feel so many emotions in these songs and the audience danced, moshed and locked shoulders like brothers in arms. One dude was just standing there in the middle of it all with his eyes closed and arms folded. The onslaught of songs continued with "Only Son" which started out as a warm lead melody and I was surprised that nobody stopped and pulled out their lighters. The guitar work seemed very technical and Mike carried the riffs with tight offbeat drumming while Dave sung his personal story of fatherhood to the crowd. Once again, the audience roared with applause and Dave pumped them up even more with the introduction of another song called "Behind the Seal" which went off like a nuclear blast. Punters were throwing themselves around everywhere and many more were punching the air and screaming the lyrics. Dave flipped the bird at the roof and another round of applause filled the room. As usual, the lighting was perfectly planned in between songs as Mike played a few drum rolls amongst the rising blanket of smoke and guitar feedback.
Much to our disappointment, the band announced their last song "Colours of War" and it was played to sheer perfection with Dave letting out another blood curling roar to announce the end of what was clearly the winning ticket for the night. After thanking their fans and supporters from the bottom of their hearts, the boys waved to everyone and slowly walked off the stage. However, the punters had discovered their second wind and started chanting loudly for an encore. After letting us stew for a few minutes, the demands of the crowd were met and we all shouted with delight as the lads reappeared with big smiles across their faces and walked back on stage to complete their mission. Beginning with the track "Instincts", this world class outfit sent the audience into a riot, switching from melodic to heavy distortion with blast beats and crispy metal vocals in between. Several more mosh pits erupted as a crowd surfer jumped amongst the chaos and floated above the crowd in an ocean of flesh, sweat and metal. Two more songs "Unspoken" and "One Door" were fed to the hungry masses and we lapped up every milli-second. After a trailblazing performance of crowd-pleasing riffage, their set columnated with a standing ovation and the band spent their last moments shaking hands and thanking everybody who had supported them over the years.
After 10 years and 4 fantastic albums, Chaos Divine is still fresh and ready to take on the world with their brand of progressive melodic metal. Thankyou so much for the brilliant night and killer tunes! See you at the next gig!