Little Richard Morton and His Musical Four "Sad, Sad Song"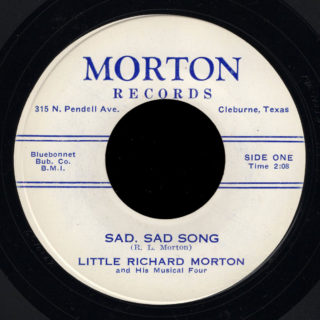 Little Richard Morton cut this one single on his own Morton Records in June of 1964, backed by "His Musical Four". Richard Morton wrote both songs, the rocker "Sad, Sad Song" and the slow "A Love I Once Enjoyed Is Now a Dream".
The crude recording quality, prominent organ and r&b backing help push "Sad, Sad Song" into what could be called 'garage'. His intonation is very country, so it's no surprise the same month he made this single, he played a western dance at Womack Hall in Clifton, TX as Little Richard Morton and His Rainbow Valley Tophands.
The dead wax etchings "Manco-Morton #1 6-10-64" show this was recorded and released through Manco Recording, a Fort Worth company that released over forty singles, including "She's A Doll" / "Kiwi Boogie" by Jim Jones & the Chaunteys.
The address of N. Pendell Ave, Cleburne was probably Morton's home address at the time. Cleburne, TX is 30 miles south of Fort Worth.
According to copyright records, his full name was Richard Lowell Morton. Bluebonnet Pub Co. published both songs.
Richard Morton has other copyright registrations for religious songs.