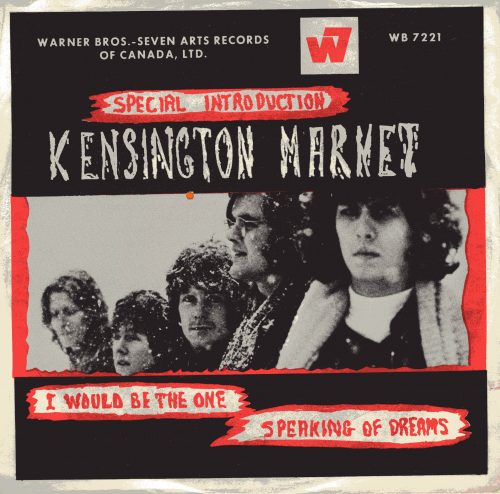 Kensington Market produced perhaps the most gentle, lyrical rock music to figure on the Toronto music scene during the 1960s.
Fusing folk, classical and jazz elements with attractive melodic phrasings, and anecdotal lyrics, Kensington Market (named after a street market in the city's west side) was formed initially to promote the song writing talents of English-born Keith McKie (b. 20 November 1947, St Albans).
McKie's musical abilities first came to prominence after his family had emigrated to Sault Ste. Marie in northwest Ontario in 1953 when he began singing in local church choirs. Learning the guitar in his teens, he formed his first band, The Shades, with fellow guitarist Bobby Yukich.

When The Shades broke up, McKie and Yukich next pieced together The Vendettas with three members of rival group, Ronnie Lee and the Five Sharps – sax player John Derbyshire, drummer Bob Yeomans and bass player Alfred Johns, who soon made way for Alex Darou (b. 6 January 1943, Sault Ste. Marie), a former student at the Oscar Peterson School in Toronto.
Several years older than the others, Darou had recently come off the road with a jazz trio helmed by Geordie MacDonald, later drummer with Neil Young's short-lived group Four To Go. Darou's intellect and musical abilities had a profound influence on the rest of the band and Keith McKie in particular.
"Alex taught us a lot about feels and jazz and kinda got us really aware of time," says McKie about his future Kensington Market band mate.
In the summer of 1965, The Vendettas accepted an invitation to audition for singer Ronnie Hawkins, who'd been passed the group's tapes by Mary Jane Punch, a female fan studying in Toronto.
The promise of a deal with the singer's Hawk Records never materialised but the band did get to play some dates on the local bar circuit.
By this point, John Derbyshire had made way for Toronto University music graduate, Scott Cushnie. An accomplished pianist, Cushnie ended up playing with Aerosmith's road band during the 1970s.
Towards the end of the year, Bob Yeomans also moved on to join The A-Men, and was replaced by a 15-year-old drummer from Thunder Bay named Ted Sherrill.
Returning to Toronto the following spring, the band gigged regularly at Boris' Red Gas Room and during June 1966 recorded two McKie-Yukich songs: 'Hurt' c/w 'You Don't Care Now' for a prospective single.
For some reason, however, the single never materialised, prompting Alex Darou's departure for New York to work with David Clayton-Thomas.
The group never really recovered from losing its inspirational bass player, and although Wayne Cardinal from Satan and The D-Men came to the rescue, McKie's thoughts turned towards forging a new musical path, one where he could promote his increasingly introspective and anecdotal songs.
Such an opportunity arose in the spring of 1967 when aspiring rock manager Bernie Finkelstein approached McKie and offered to build a group around him.
Finkelstein was on the look out to launch a new, progressive band after selling his interests in The Paupers to Bob Dylan's manager Albert Grossman. In fact, it had been Paupers' guitarist and lead singer, Adam Mitchell, who'd first told him about Keith McKie and encouraged him to check out the talented singer/songwriter.
"At one point I was living with Steve Gervais, who was later a successful actor, in a station wagon and he wanted to be my manager," says McKie.
"But it seemed like Bernie was the better deal. In retrospect, and in spite of the fact that Bernie was really good, I probably should have stayed with the guy I was with at the time because it would have been more fun in the long run and more organic. Bernie had a lot of experience and that was probably a smart move to make if you were being a business person."
First on the list for the new band was Gene Martynec (b. 28 March 1947, Coburg, West Germany), a brilliant guitarist with a Polish/Ukrainian background, who'd recently quit local folk/rock band, Bobby Kris & The Imperials after two singles for Columbia Records.
As McKie explains, it was Finkelstein's decision to link the two musicians together.
"I wasn't totally sure about Gene at first," admits McKie. "But he was nice guy and a good player and so we started playing a bit and started to gel."
"I heard Keith playing a couple of tunes in the back seat of a car one night and really liked what he was playing, so we started from there," recalls Martynec.
Searching for like-minded souls, McKie's former band mate Ted Sherrill pointed him in the direction of Jimmy Watson (b. 23 August 1950, Belfast, Northern Ireland), a self-taught drummer and a dab hand at the sitar. It also didn't hurt that the young Irishman happened to be Van Morrison's cousin!
"Jimmy was just this young kid and when I first saw him, well, I thought how can this person play, he's so young?" says Martynec.
Despite these initially concerns, Watson soon proved his worth and they began searching for a bass player to complete the band.
The musicians ended up trying out several players before McKie turned to former Vendetta Alex Darou. Having located a number for his friend in New York, McKie remembers Darou needing little persuasion. "He thought, 'Bernie Finkelstein', now I am interested."
In a city renowned for its gritty R&B and blues, the group's music tread a far more delicate path, closer in sound perhaps to early Jefferson Airplane or the Incredible String Band.
Finding an appropriate name that captured this diverse and eclectic blend of musical styles prompted the group to call itself after a popular street market in the city's west end because store owners "sell everything and we wanted to do everything".
Kensington Market did indeed seem quite fitting and after settling on the name, the band retreated to an old waterfront warehouse to practise for six weeks.
Emerging with an intricate and sophisticated sound, the band launched its new musical vision on the public at the Night Owl on Avenue Road on 4 June 1967.
Writing in the Toronto Star, Sid Adilman reported that the group was "the brightest and most inventive band ever grouped together in Toronto".
Another witness to the early group's live performances was journalist Peter Goddard who caught the band at Boris' Red Gas Room a few weeks later (possibly 17 June when they were billed as The Kensington Market Band).
Reviewing the show for the city's Globe and Mail, Goddard commented: "Unlike many West Coast-orientated groups the Market's primary concern is with music and not its supposed mind-expanding after-effects."
Such accolades were well deserved and in July Finkelstein negotiated a deal with the local Stone label, which resulted in four recordings, all Keith McKie compositions.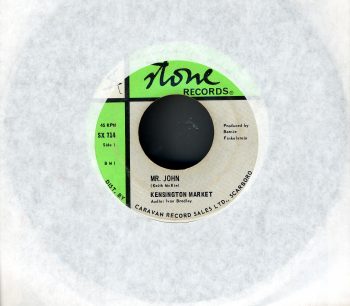 The fruits of these sessions were soon made public when the band's debut single, 'Mr John' c/w 'Kensington Market' was issued as a single in September 1967. Though the recording quality isn't great, the single has a certain charm and perhaps it was this that propelled 'Mr John' into the lower rungs of the national RPM chart.
Within a matter of months, a second single, coupling the more rock orientated 'Bobby's Birthday' with the original (fast) version of 'I Would Be The One' was issued to capitalise on 'Mr John's' success.
Like its predecessor, the two tracks reveal a rare glimpse of the early line up's raw energy and dynamic live sound. The public, however, wasn't impressed and the single died a quick death.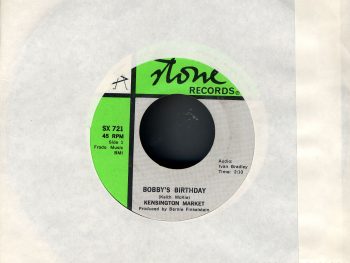 It didn't really matter as by then the group had developed a fuller sound with the addition of a fifth member, former Luke & The Apostles lead singer Luke Gibson (b. 5 October 1946, Toronto).
"We were always looking around for someone extra," explains McKie.
"We wanted another singer preferably because we wanted to get harmony. Gene and I had written some tunes that could do with a lot more harmony and Luke being such a great singer was out there. I think Bernie approached him."
When Finkelstein approached Luke Gibson to join the Market in early August, the singer had literally played one of his final shows with the Apostles, a performance at the O'Keefe Centre, opening for visiting US acts, The Jefferson Airplane and The Grateful Dead. Gibson's bluesier, soulful voice gave The Kensington Market an earthier sound and complemented McKie's vocals perfectly.
A week after Gibson's arrival, the band composed, arranged and recorded eight tracks for the soundtrack for Don Owen's highly acclaimed Canadian Film Board movie, The Ernie Game.
"Don Owen made a trilogy, Nobody Wave Goodbye, Donna and Gail and The Ernie Game," says McKie.
"I forget which one was the middle one, but the most popular one was Nobody Wave Goodbye. Leonard Cohen was actually in the one we did, he played in the movie."
"We were in Montreal at Expo '67 in the National Film Board," adds Martynec.
"We were there I guess for a week and it was like going for a job. We'd get up in the morning and go and work and we'd get out of there fairly late."
Among the songs Kensington Market contributed to the soundtrack are McKie's 'Colouring Book Eyes' and 'The Ernie Game'. "We wrote 'The Ernie Game' in our hotel room at the Hotel Des Artistes and then we did it the next day."
Around this time, the group also performed at the seventh annual Mariposa Folk Festival in a watershed year in which electric instruments were featured for the first time. Alex Darou and Jimmy Watson found time around the group's increasingly busy schedule to play on Ian and Sylvia Tyson's latest single, 'Candy Girl'.
While 'Mr John' had proved a minor hit, the group's fortunes were about to change.
Shortly after the group had appeared in the centre-fold of the popular MacLean's magazine, the band members participated in a jam session with former Gordon Lightfoot guitarist, David Rea.
Impressed by the group's sophisticated sound (McKie admits that Rea nearly became a member), Rea brought the band to the attention of US producer Felix Pappalardi, whose musical resume included Cream and The Youngbloods.
Pappalardi flew up to Toronto to check the group out and immediately offered a two-record deal with Warner Brothers.
"We were playing Le Hibou in Ottawa [most likely 29-30 September] and they came and signed the papers there," remembers McKie.
Flying down to New York in February 1968, the group played a series of shows at the Bitter End, running from 14-19 February. Over the next five-weeks, the group recorded its debut album at Century Studio, abetted by Felix Pappalardi in the producer's chair, to the tune of $30,000.
"It was our first introduction to a major studio," says Martynec. "I wish I had bought my amplifier from Toronto because I couldn't get a reasonable sound out of the amps that we rented, at least to play with comfortably, not enough distortion."
Back in Toronto, the band resumed its regular gig at Boris', with occasion forays to clubs like the Static Journey and El Patio. In early summer, the band headed west and played a show in McKie and Darou's hometown, Sault St Marie at the city's Memorial Arena on 5 July.
A few weeks later, on 21 July, the group got the opportunity to support Jefferson Airplane for a show at McMaster University in Hamilton alongside the obscure Bittergarden.
Reviewing the show for the Toronto Daily Star the following week, Stephen Dewar reported that he'd never heard the Market sound better instrumentally.
During this hectic period of gigging, the group's debut single for Warner Brothers, the slower version of 'I Would Be The One', was released in a picture sleeve and peaked at #18 on Toronto's CHUM chart on 22 July.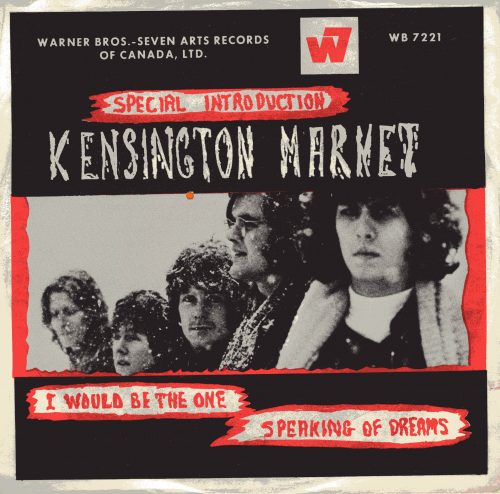 That same month, Kensington Market's debut album, Avenue Road, was unveiled at Warner Brothers' annual convention in Honolulu and contained a slew of musical gems.
Australian journalist Ritchie Yorke was moved enough to call it "probably the finest album ever cut by a Canadian group" in the Globe and Mail while the Canadian Hit Parader commented, "Pappalardi's masterful orchestrations; the Market's soft, melodic sound; and anecdotic lyrics mark it as one of the finest albums of this year."
With its shifting time signatures, sitar, horn and bell embellishments and vivid lyrical imagery, Avenue Road was a mini-psychedelic masterpiece.
McKie credits the influence of Bulgarian folk music for shaping the band's musical styles and particularly the band's harmonies.
"When we sang together, there was a kind of ecstasy to it. A nice blend would happen."
As Gibson readily admits, some of the songs were inspired by the band's experimentation with drugs. One of the first songs he ever wrote, 'Speaking of Dreams', is about an acid trip.
"I liked 'Speaking of Dreams' because I was ecstatic to sing the harmony on that," says McKie. "Singing with Luke was like Simon and Garfunkel. It was like a soft blanket or cloud."
"Luke had some great tunes and some interesting guitar concepts," continues McKie. "Luke was a real feel guy. I am really surprised that he was never a big, huge international star because when I first came to Toronto, The Rogues and Luke & The Apostles were the two absolutely best bands I had ever seen."
Some of the songs on the album dated from earlier times, such as McKie's 'Coming Home Soon', which was first performed by the Vendettas and was written in a hotel in Winnipeg when the band first met guitarist Lenny Breau.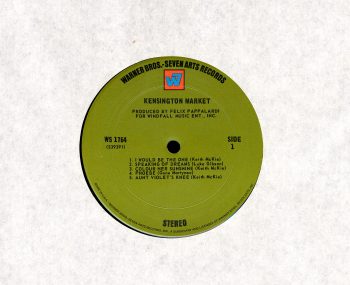 McKie hit a prolific writing streak during this time. Against better judgment, many of his songs, some of which he professes were among his finest, were either never recorded or were never finished – fascinating titles like 'Cobweb Room', 'Butterfly Mind', 'Rubber Socks', 'The Time of Man' and 'Ring On Good Times'.
Luke Gibson's compelling 'Suspension' was another popular live number that was never recorded.
"'Suspension' and 'Ring On Good Times' were our set closers," says McKie. "When we did those, it meant the set was ending because they were the most exciting tunes."
On 27 July, Stephen Dewar reviewed Avenue Road in the Toronto Daily Star and compared the band's sound to the old Lovin' Spoonful.
"It's an ambitious album, too," he noted. "'Aunt Violet's Knee', the best song on the album, comes complete with a 17-piece orchestra that [Felix] Pappalardi hand-picked in New York. I think he might be right when he says its [sic] only a taste of what the Market's Keith McKie can write."
Dewar saves particular credit for guitarist Gene Martynec, who "has as much technical skill as any rock guitarist needs, and he's got a fine sense of music and rhythm. He wrote two of the songs I like on the album ('Phoebe' and 'Presenting Myself Lightly') and he seems to have provided most of the inspiration for the arrangements." (Ed: Martynec calls "Presenting Myself Lightly" his Ringo Starr imitation piece and says that "Phoebe" was built around some techniques he was learning on classical guitar.)
The writer finishes off his review by telling the record buying public: "Just so you don't get the wrong idea: This is the best recording by a Canadian group I've heard. I think the Market are going to make it really big. The tunes are good, the lyrics are usually good. The whole thing is tastefully electric.
"I don't think the Market has completely sorted out where it's at yet – they're getting better all the time. Pappalardi really called it right when he recorded Cream. He dropped The Youngbloods, but he has faith in The Kensington Market. I think he's right."

Journalist Ritchie Yorke was equally impressed, after sneaking a preview listen of the album. Writing in the Pop Scene section (most likely in the Globe and Mail), he noted: Avenue Road, as a total entity, is subtle, uncluttered and almost poetical. The production and arrangement work is magnificent.
"But this album is not overwhelming. It has sexual sublety [sic], unlike the almost uncouth provocation of a Hendrix. Yet it is compelling and intense. And it is always lush, reminiscent of a soft green crop in spring, gently blowing in a light wind."
On 18 August, Kensington Market had appeared at the "Time Being" show at the Canadian National Exhibition before heading off for a US tour, which began with five nights at the Bitter End in New York, kicking off on 29 August.
A few days later, on 2 September, McKie's 'I Would Be The One', reached #59 on the national RPM chart.
That same month, Variety magazine in the States reviewed the album.
"Kensington Market is a new Canadian group which is hoping to do for Canada what the Beatles did for Britain. This combo has an excellent sound and the material in the kick off stanza contains some standout numbers." The magazine picks out 'I Would Be The One', 'Speaking of Dreams', 'Coming Home Soon', 'Looking Glass', 'Beatrice' and 'Colour Her Sunshine' as highlights.
"The music of Kensington Market is pleasant. And, oh, so civilised! You'll hear no toilets flushing on this record! Also no raunchy blues, no electronic dissonance, no lyrics praising drugs and rebellion," noted hip West Coast magazine, Rolling Stone later that year, in a review by David Butcher.
"'I Would Be The One' is an example of what might be called Granada-Rock," he writes. "All the ingredients are present: the bull-fight trumpets, the flamenco guitar solo, the bravado vocal with the mawkish lyrics – all held together with a driving rhythm section. Oddly enough, it works well."
Butcher saves special praise for Martynec's guitar playing on the album.
"As an accompanist, he is superb. He always seems to play just the right line, the most appropriate figure. His playing is crisp, but never detracts from the vocal or the arrangement. Very few pop guitarists display this degree of taste and restraint."
"Most guitarists in Toronto used to imitate Robbie Robertson," says Martynec. "He had a technique where he used two picks on his fingers but he also used a plectrum. You can get some sort of rolling folk thing."
Interestingly, Butcher argues that the weakest aspect of Avenue Road is the song lyrics. At best, there are some very good teenage songs, simple and lightweight, he says. The worse are bland or banal, or both. Even so, he recognises that "Keith McKie, who wrote most of the album's material has a genuine and impressive poetic talent."
Perhaps surprisingly, McKie admits that he was disappointed when the album came out.
"For some reason, I reacted very badly about it. It was so smooth compared to what I thought of the band. I remember at the time, thinking, 'it's not tangy enough'. At one point when we were doing the second album, I didn't want to work with Felix anymore. I am probably the most challenged musically and I definitely don't know what I want but I know 'this isn't it'. I wanted it edgier."
During the first week of September, the band traveled down to San Francisco for a show at the Fillmore West on 7 September with The Steve Miller Band and Chuck Berry, which as far as Martynec is concerned, marked the beginning of the end.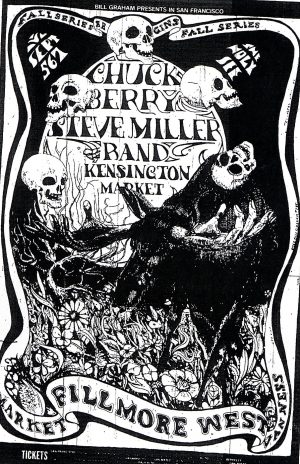 McKie agrees: "We started playing and we were all playing five different songs. It was like one of those great rock 'n' roll band fiascos. They must have thought we were amateurs. It's like Felix said afterwards, 'what happened?' I think in a way it kind of demoralised the band and I don't think we ever recovered from it personally."
Kensington Market next headed down to Los Angeles, sharing the bill with Spooky Tooth at the Whisky A Go Go in West Hollywood on 12-15 September.
"We played there and people were out dancing, which normally people never danced to our music at home because it was quite unusual," says Martynec.
"We weren't a very danceable band. We played this one tune that we normally finished a set with and it had one of those tacky speed up things at the end we looked down and the crowd was trying to keep up and at the end they were waving their fists at us."
"Everybody was on pills and I can remember we didn't have a really good time," remembers McKie.
"I had a bit of an attitude about the States when I was there. We got stopped by the police in L.A. It was just their attitude towards everybody."
From Los Angeles, the band flew up to Chicago to complete the US tour. Kicking off with a show at the city's Kinetic Playground, the band then played some suburban gigs with The Young Rascals and Paul Butterfield's Blues Band before heading home.
Back in Toronto, the group headlined a two-night stand at the Rock Pile on 11-12 October, supported by The Apple Pie Motherhood Band.
Local journalist Loren Chudy caught the group on the first night and came away largely disappointed. While the writer acknowledged that part of the blame lay with the concert's planners, who turned the volume so high that Kensington Market's "amplified equipment sounded off-balance, distorted and fuzzy", he noted that the group "still needs work, definition, before it lives up to is potential."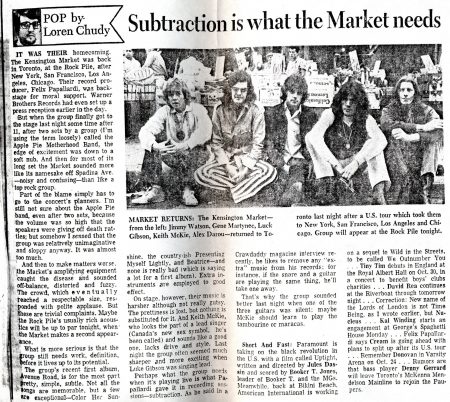 The Toronto Telegram's Peter Goddard, caught up with the band members that same week and wrote a long article for the newspaper's After Four section, published on Saturday 12 October. In the piece, he asks Gene Martynec whether the band's recent US tour was a success.
"Well, I think because this was our first one, we never got completely used to it," replied the band's lead guitarist. "You know, it was a little lonely, a little tiring. Often we would have a day or two in some strange city just to walk around to do nothing.
"All of us found it difficult to write on tour, and it wasn't until we got back that anything started to come."
As Martynec points out, the group was already planning material for a second album and that it had learnt a lot from recording its debut in terms of overall sound.
"Our experience in the studio made us much more aware of time," he added. "What people hear on stage will be pretty much like what will go on record."
The review lists a number of recent compositions such as McKie and Martynec's Beatleseque "Side I Am" and "Ow-ning Man", which would turn up the following year on the group's second album. Interestingly, it also lists "Fable Eleven" another composition that would ultimately be left in the can.
After playing the second night at the Rock Pile, Kensington Market headed across the border to play a show at the Grande Ballroom in Detroit on 18 October with The MC5 and Pacific Gas and Electric. Two more dates followed with only Pacific Gas and Electric sharing the billing.
As 1968 drew to a close, the expected sales of Avenue Road were not forthcoming. Part of the reason was that Warner Brothers had reportedly taken issue with the cover, a picture of the band huddled together in a fierce snowstorm and had done little to promote the record, despite its great potential. Work continued on a follow up with Pappalardi once again in the producer's chair.
Started at Yorkville's Eastern Sound Studios that winter and mixed at the Henry Hudson building in New York, Aardark is in many ways, the group's strongest collection and contains such gems as Martynec and Pappalardi's 'Help Me', McKie's 'Half Closed Eyes' and 'Think About The Times', and the aforementioned 'Side I Am'.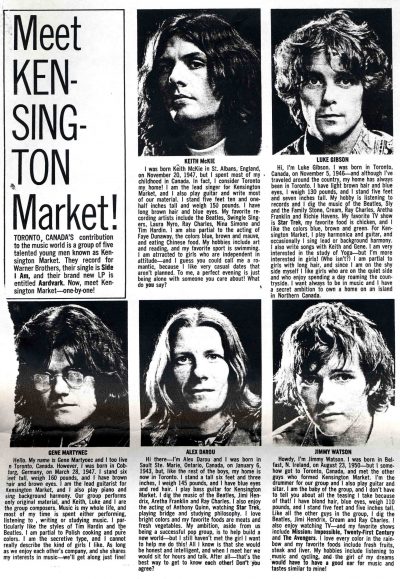 More experimental and progressive than its predecessor, several tracks feature new recruit Toronto University music student and Intersystems member, John Mills-Cockell (b. 19 May 1946, Toronto) who adds the unearthly sounds of his Moog synthesizer to the group's heady brew.
"The idea of using a sequencer that was like in its day very unusual and the way he used it," says Martynec. "I think John played a big role in that recording, more than people realise."
Looking back, McKie feels that Aardvark was a step forward musically.
Once again, McKie dipped into the past for some of the songs, notably 'Think About The Times', which he'd first performed with The Vendettas.
Of his more recent compositions, the singer explains that 'Have You Come To See?' (co-written with Martynec) was written on the way to California in September 1968 while under the influence of mescaline.
Listening to some of the tracks, there is a noticeable Beatles feel and McKie admits that the superb 'If It Is Love' was influenced by that band's White Album, in particular Lennon's 'Cry Baby Cry'.
To coincide with the album's release in early 1969, Warner Brothers issued the rare single, 'Witches Stone', which was a slightly different version from the one that appeared on the album under the guise of the 'Ow-ning Man', backed by 'Side I Am'.
Despite the promising second album, Kensington Market began to unravel in the spring of 1969.
"I think my problem with the Market was too much too soon too fast," says McKie.
"Creatively, things were starting to break down. There was no real creative direction. One of the problems we started having was, I was writing tunes that I think didn't really fit the format of where we were headed. In a sense, the Market would have been really wise to just take a sabbatical at one point. But in pop music if you take a two-week sabbatical, you're gone."
McKie says the first blow came when Bernie Finkelstein left as manager.
"It was [Bernie's] drive that kept the group going in many ways. He started it in a way. In a way, he should have been a band member. He had a better idea of where to go with things. The band had a musical vision but we didn't really have a vision that put the music into its perspective within that vision. When he left the band, it was kind of 'that was it'. The driving force had gone."
Others quickly followed Finkelstein out of the door. Jimmy Watson was first to bow out, and reportedly later suffered from a major breakdown. John Mills-Cockell and Gene Martynec dropped out soon afterwards.
"I think Gene wanted to get on to bigger and better things," remembers McKie. "He was pretty progressive and was studying all the time and I think production was sort of what was coming up for him anyway."
"After our second album, I just got a distinct feeling that it wasn't going anywhere," says Martynec.
"Jimmy was having a hard time. We were in limbo, so I decided that was the time to leave and I went to study.
"I ended up doing composition, orchestration and electronic music because I was always fascinated by the mechanics of whatever music had to offer," continues the band's lead guitarist on his post-Kensington Market career.
Martynec subsequently worked extensively with Bruce Cockburn, producing and playing on all of the singer/songwriter's albums up to the mid-1970s. Throughout this period, he also worked as a studio guitarist and producer for a variety of artists.
The biggest blow for McKie, however, was when his old friend Alex Darou left.
"I remember being really pissed off with Alex," says McKie. "I was particularly close to him because of the Sault St Marie connection."
Sadly, the band's inspiration bass player died in tragic circumstances in the early 1970s.
"He became a real recluse," explains Martynec. "Eventually, he just locked himself in a room and people we knew would throw some money under the door because we knew he wasn't doing anything. I think he caught Hepatitis and just passed away."
Stripped down to a duo, Gibson and McKie carried on with The Kensington Market name, headling a show at Toronto's Rock Pile on 17 May with Edward Bear and then returning the following week to provide support for visiting US act Grand Funk Railroad on 25 May alongside local bands, Milkwood and Leather.
The following month, the duo played at the Toronto Pop Festival, held at Varsity Arena with UK group, Man, former Blood, Sweat & Tears front man, Al Kooper, The Band and several other acts. The venture, however, was short-lived and a few weeks later, the pair had gone their separate ways.
After playing a one-off date with The Rock Show of The Yeomen on 5 December, Luke Gibson revived his former band Luke & The Apostles for a lone single, the superb "You Make Me High" for Bernie Finkelstein's True North label.
Turning down an offer to become lead singer with US band, Seatrain, he embarked on a solo career in 1ate 1970 and recorded two albums for True North, including the excellent Another Perfect Day. He currently lives in Toronto and still performs.
As for Keith McKie, the singer/songwriter made an appearance on an album by former A Passing Fancy member Jay Telfer, which was never released, before retiring from the music business to spend time building boats.
In 1977, he returned to the limelight with the short-lived Village, formed with former Maple Oak guitarist Stan Endersby and bass player Bruce Palmer from Buffalo Springfield fame. When that folded, he went solo and in 1981 released a lone solo album, Rumors at the Newsstand on the small Quantum label.
Over the years, McKie and Gibson have participated in a few Kensington Market reunions. The first get together was for the Toronto Rock Revival show, held at the Warehouse on 2 May 1999 and also featuring the Ugly Ducklings among others.
In 2007, McKie and Gibson reunited with Gene Martynec to play at a summer festival in Toronto to celebrate 40 years since the "Summer of Love". The show was a resounding success and has been captured for a DVD release.
All that is left now is a comprehensive CD release, pulling together all of the band's material for Warner Brothers but including the rare Stone singles.
Many thanks to Keith McKie for putting me up in Toronto and being the perfect host. Thanks also to Gene Martynec, who gave up an evening in London to reminisce about the group. Thanks to Luke Gibson, Stan Endersby and Carny Corbett.
Copyright © Nick Warburton. All Rights Reserved. No part of this article may be reproduced or transmitted in any from or by any means, without prior permission from the author
This article was originally posted on the Nick Warburton website on 8 February 2008.
Notable gigs: 
4 June 1967 – The Night Owl, Toronto
10 June 1967 – The Flick, Toronto
17 June 1967 – Red Gas Room, Toronto (billed as Kensington Market Band)
6-9 July  1967 – Red Gas Room, Toronto
13-16 July 1967 – Red Gas Room, Toronto
20-23 July 1967 – Red Gas Room, Toronto
28-30 July 1967 – Red Gas Room, Toronto
3 August 1967 – Boris' Red Gas Room, Toronto
6 August 1967 – Boris' Red Gas Room, Toronto
9 September 1967 – Boris' Red Gas Room, Toronto
15-17 September 1967 – Strawberry Patch,  Toronto
22-23 September 1967 – The Flick, Toronto
26 September-1 October 1967 – Le Hibou, Ottawa
13-14 October 1967 – Boris' Red Gas Room, Toronto
21 October 1967 – Boris' Red Gas Room, Toronto
28-29 October 1967 – Boris' Red Gas Room, Toronto
5 November 1967 – Boris', Toronto
14-19 November 1967 – Le Hibou, Ottawa
24-26 November – Boris', Toronto
8 December 1967 – Boris', Toronto
9 December 1967 – St Pascal's Church, Toronto
10 December 1967 – Boris', Toronto
16-17 December 1967 – Boris', Toronto
23 December 1967-1 January 1968 – Boris', Toronto
28-30 December 1967 – Purple Peanut, Toronto
5-7 January 1968 – Boris', Toronto
12-14 January 1968 – Boris', Toronto
19-21 January 1968 – Boris', Toronto
26-28 January 1968 – Boris', Toronto
2 February 1968 – North Toronto Memorial Hall, Toronto
3-4 February 1968 – Boris', Toronto (last show before US debut)
14-19 February 1968 – Bitter End, New York
23 February 1968 – Boris', Toronto (first show after back from US debut)
16 March 1968 – Boris', Toronto
23-24 March 1968 – Boris', Toronto (back to New York)
29-31 March 1968 – The Static Journey, Toronto
21-26 May 1968 – Le Hibou, Ottawa
17-23 June 1968 – El Patio, Toronto
27-30 June 1968 – El Patio, Toronto
5 July 1968 – Sault St Marie Memorial Arena, Sault St Marie
13-16 July 1968 – El Patio, Toronto
21 July 1968 – McMaster University, Hamilton, Ontario with Jefferson Airplane and The Bittergarden
26-28 July 1968 – El Patio, Toronto
1-14 August 1968 – The Bitter End, New York (unlikely)
5-9 August 1968 – El Patio, Toronto
10 August 1968 – Jubilee Auditorium, Oshawa, Ontario
11 August 1968 – Northern YMHA, Willowdale, Ontario
17 August 1968 – El Patio, Toronto
18 August 1968 – 'Time Being', Canadian National Exhibition, Toronto (last Toronto appearance before US tour)
29 August- 2 September 1968 – Bitter End, New York
7 September 1968 – Fillmore West, San Francisco with Steve Miller Band and Chuck Berry
12-15 September 1968 – Whisky A Go Go, West Hollywood with Spooky Tooth
11-12 October 1968 – Rock Pile, Toronto
18 October 1968 – Grande Ballroom, Detroit with MC5 and Pacific Gas and Electric
19-20 October 1968 – Grande Ballroom, Detroit with Pacific Gas and Electric
22-24 October – Boston Tea Party, Boston with Jeff Beck and Earth Opera
9 November 1968 – De La Salle, Toronto
12-17 November 1968 – Le Hibou, Ottawa
18 April 1969 – War Memorial Hall, Guelph University, Guelph, Ontario
17 May 1969 – Rock Pile, Toronto with Edward Bear
25 May 1969 – Rock Pile, Toronto with Grand Funk Railroad, Milkwood and Leather
21 June 1969 – Toronto Pop Festival, Varsity Arena, Toronto with Man, Al Kooper, The Band and others