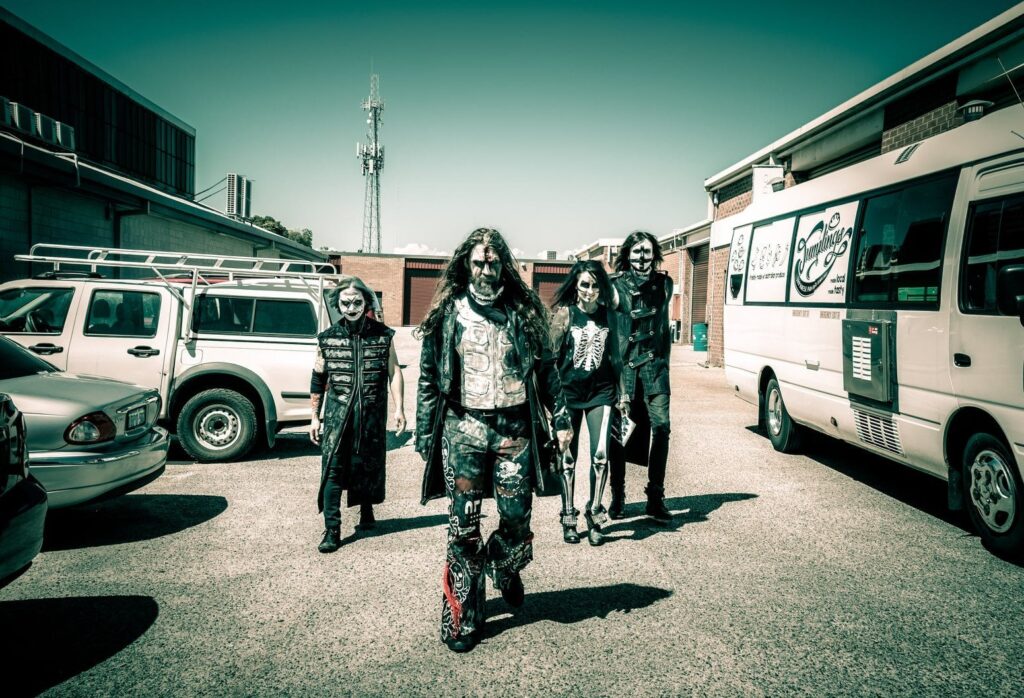 Rob Zombie is a name that is synonymous with Rock and Horror and all things weird. Starting out with White Zombie before reaching bigger success with his solo band, Rob Zombie is an enigma who captures the fun aspect of horror and spooky heavy rock in all it's groove based glorious form. It's been some time since the man himself has been in Australia but a group of hardcore fans and local musos in Perth decided to pay tribute to the legend by forming Australia's first and foremost tribute band named Super Beast. They make their debut live performance in Perth on January 16th so we caught up with the band to find out where this all started and what people can expect.
How did Super Beast start and whose idea was it?
This is a pretty funny story, Hatters original band, 'Two For Flinching' was supporting 'Private Function'.  As part of their promo they made a story on their Instagram page of Hatter playing but covered his face with Rob Zombie's.  It had Superbeast playing in the background and they said Hatter looked and sounded like him!  It was pretty funny and they played on it, Hatter just lent into it and the rest is history.

Who are the members and what are their backgrounds in terms of musically?
First and foremost is Mad Hatter, he is taking on the immense role of Mr Rob Zombie.  Mad Hatter grew up in England with a love for rock and punk, when he moved to Spain in his teens he started playing in a cover band.  He moved to Australia and started playing acoustic covers and tried to join a cover band where he failed haha.  So, he joined an original punk band and has been writing punk music ever since, bet that cover band is kicking itself haha.  When he's not performing with his original band or Super Beast, he is a music promotor, music venue owner and band manager.
Taking on one of the hardest shred roles is the formidable Bil10, theres a reason John 5 has played in some of the greatest rock and metal bands of our generation, he really is one of the worlds greatest guitarists.  Lucky for Super Beast, Bil10 is able to shred like a Mthrfckr!  He started playing guitar at the age of nine in Jakarta, Indonesia, he is heavily influenced by Eddie Van Halen, Steve Vai, Nuno Bettencourt and John 5.  All of which are apparent in his skill on the guitar and his stage performance.  Bil10 has played in both original and cover bands in Jakarta, Indonesia and has toured with Indonesian Recording Artists as a session musician.  Moving to Perth he joined cover and original bands and jumped at the chance to take on the role of J5 with Super Beast.
Elle Jay is taking on the role of Piggy D, growing up in Manchester, England music was never too far away, her Grandad was a Jazz trumpeter and music flowed through her Aunt and Dad.  Switching from classical music to indie and rock in her teens she found a love for the guitar. Moving to New Zealand and then Australia, the guitar was always there but something was missing, four years ago she listened to the calling, she picked up a bass and hasn't looked back.  Influenced heavily by Black Sabbath, The Doors, Rush, Iron Maiden and Guns N Roses, she has played in original bands and as a session bassist for various artists.
Our drummer is our home link to Australia, Scotty Maxx was born and bred in none other than Perth, Australia, so he is stoked to be playing at Badlands Bar.  He smashes into the presence that is Ginger Fish, the man and myth behind the kit for Zombie and Manson.  Scotty started playing drums around ten years old using boxes, pots and pans until his parents bought him a kit, he is heavily influenced by the punk era of Ramones and the sleaze rock of the eighties looking up to bands like Crash Diet and Hardcore Superstar.  He has played in various original bands across the years either on drums, bass or guitar within many genres but his roots are firmly placed in punk, sleaze and shock rock.
Why Rob Zombie?
Why not!  We like dark and fuckd up things and Rob Zombie hits the nail on the head with that, well Marilyn Manson does too but we don't need to see Mad Hatter in booty shorts and suspenders!
Has there ever been a Rob Zombie tribute in Australia?
Not that we are aware of and we've researched the crap out of this.  If there has been one though please let us know, we love chatting about music and RZ, we've spoken with the Argentinian SuperBeast and its great to swap stories.
Has there been any contact with Rob Zombie and his group/management team etc in regards to Superbeast?
Elle Jay has spoken to Matt Mongomery (Piggy D) a couple of times, at first it was about his black Fender Pbass as she was unable to source one of the stickers he has.  Turned out it was from around 15 years ago so we ended up recreating it.  Matt was very humbled about the project (Super Beast), hes a pretty down to earth guy.
How have you approached this tribute in terms of authenticity? Is it just about the songs or will there be costumes and production involved?
Yes definitely, there is a full production, costumes etc that you would expect from a Zombie show.  Our costume designer has been working tirelessly to create pieces that are as authentic as possible, some pieces are harder than others due to sourcing materials, Covid has hindered a fair amount due to freight and shipping, plus restrictions.  He has still attempted to recycle and reuse where possible, for example and this hasn't been spoken about outside of Super Beast before, Bil10's replica J5 full length coat has been adapted from an old Undertaker's over coat! We found that pretty cool that we could bring a creepy element to a creepy character.
We have scoured everything Rob Zombie to ensure we are moving like the individuals we are portraying, interacting with the crowd in the same way, everything possible to make it seem as much as a tribute to the band and crowd as possible.
Has it been difficult to put a setlist together?
MH: It was pretty simple, I looked at what RZ had been playing in his last tour and then tailored that to what I liked listening to.  Elle Jay wanted some White Zombie in there which matched with what I had and we ran from there.
We have taken one or two songs out of the set list which may make a return in a few shows time, they just didn't work with the feel of the show when we ran through in rehearsals.
Sadly, as always there are songs we don't play in this show that we know people will want to hear, there's songs that band members want in that we weren't able to accommodate (shut up Elle Jay we know you want Scum Of The Earth).
There are a few songs that we are already working on to add in for the next show too, the good part is RZ has just a vast back catalogue across the two bands that we are able to make every show unique.
What do you hope to achieve with Superbeast?
We definitely want to have fun first and foremost because of what has happened this year.  So many people have lost so much, the music industry was decimated and so much hope was lost.  Super Beast gives us as musicians a moment to pay homage to a band we have listened to for years, at the same time we get to have a ton of fun without worrying how many tours and shows we have individually lost.  It gives the Zombie fans a moment to sing along to songs they love with their mates whilst forgetting for a moment what's going on.
Australia last saw Rob Zombie in 2014 during the Soundwave Tour, if we look at it honestly he wont be here for another probable two years, that's a long time without a Spookshow!
If we can bridge that gap a little and make a few Zombie fans happy then we as musicians have done something right.
Have you done much in the way of research to achieve the end result for the performances?
Haha, like you wouldn't believe, its been endless!  The amount of research from every one involved has been immense and a testament to their professionalism.  We have had around six months in pre-production working on all aspects, one of the largest parts of research was for our backing tracks and samples, Rob Zombie is renowned for utilising old movie clips in his samples and we wanted to ensure that was the same for us.  Mad Hatter and Tom Beaumont (Sound Engineer) sat down and found all of the clips from movies and interviews and then incorporated them into our own backing tracks which we recorded as a band with Tom, so anything you hear played alongside our live performance, extra guitar samples even tambourine, that's all us.  The pre-production list didn't stop there, from our Costume Designers (Road Monkey and Looks To Quill) scouring photos and live videos to ensure as much authenticity, to our band photographer (Electric Shot) having pre-printed promo shots to work with to ensure continuity.
Any backing videos for the show that have been created by Drakoru Productions have all been meticulously matched and sourced so that they run like Rob's would in his live shows, obviously we can't be using his material, for example Sherri Moon Zombie's image in Dead City Radio, but we can add our own spin on it.
Other than that it has been individual research on the person they are playing, Mad Hatter and Bil10 were already huge fans of their counterpart so it was more working out those little moments and movements that make the character unique.  Hatter also perfected his 'Zombie talk' so that he doesn't drop character when hes talking during the show.  Elle Jay had strangely never heard of Piggy D before being asked to play bass in Super Beast so had a fair bit of catching up to do, she knew the music but not the character…….sorry Piggy, shes caught up now.  This was similar for Scotty, although he had a little more research after only knowing two of the songs coming in, he played a huge catch up learning the set list in four days then adding the Ginger spin as he went along.
Have you seen Rob Zombie live? Tell us a bit about your experiences at his shows if so.
Both Mad Hatter and Scotty Maxx have seen RZ in Australia at Soundwave and were in awe of his live performance, being a festival, you don't get the same production as you would if you saw him on a Zombie Arena Tour but still its one to remember.
Elle Jay has always been in the wrong country at the wrong time, for example leaving Manchester, England two weeks before he played, arriving back into England a month after he had played during another tour or being on holiday when he was in Australia, so if you ever want to see Rob Zombie live, don't be where Elle Jay is as you're guaranteed to miss him, haha.
Have you ever met Rob Zombie or any of his band members?
Sadly no, only brief chats across messages
What is your favorite Rob Zombie song and album and why?
MH: Superbeast, Hellbilly Deluxe 'cos its fuckin bangers y'alllllllll!!!!!!
B10: Dragula and Hellbilly Deluxe, due to the memories attached when the album came out.
EJ: Scum of The Earth and The Sinister Urge – I love how dark and heavy this album is and love Blasko's bass on Scum Of The Earth
SM: Sick Bubblegum or Get Your Boots On, drums are sick.
Are you looking forward to the new Rob Zombie album "The Lunar Injection Kool Aid Eclipse Conspiracy"?
Hell yes! Who isn't? Look at how heavy he has gone again with "The Triumph of King Freak (A Crypt of Preservation and Superstition)", everything is killer on the track from the guitar solo to the drums, a bass solo that Elle Jay keeps harping on about having the same feel as Grandfunk Railroad and a video to match.  Bring on March 12th!
Are you a fan of his movies as well? What's your favorite?
We've said Hell Yeah a lot in this interview but here's another! HELL YEAH!!!
MH: I first saw House of 1000 Corpses when it came out and that got me into his work, so I would have to say that as my favourite.
EJ: I've seen them all, I grew up on Freddie, Friday 13th, Halloween etc so I love that shock horror style of movie.  I loved his take on the Halloween series, to show the background of why a psychopath becomes one was pretty deep and gave a new dimension to a character that I had grown up watching.  I loved his cinematography within the movie too but just for shits n giggles cos I'm a little bit warped in the head I'd have to say El Superbeasto is my favourite, it's just so absurd and juvenile, it's so much fun and the sound track is hilarious.  My favourite character is Doom Head (31), Richard Brake really brought something to that character.  There's probably a shrink somewhere wanting to sit down with me and discuss these findings haha.
If you had to choose, White Zombie or Rob Zombie?
MH: Rob Zombie, other wise it would be a White Zombie with RZ extra songs haha.
B10: Rob Zombie definitely…….you know John5!
EJ: I love how raw White Zombie was but love the level of musicianship the Rob Zombie band has, so its kind of a mix for me
If you had one question to ask Rob Zombie personally, what would it be?
MH: Who was your original inspiration musically and do you find any new artists re-inspiring you?
B10:  How do you stay inspired on what you do?
EJ: What's his favourite RZ movie?
SM: Mr Zombie are you sick of playing this song?
ROB ZOMBIE'S HELLBILLY BIRTHDAY
Badlands Bar, Perth
Saturday January 16th 2021
Tickets available through OZTIX
Event page