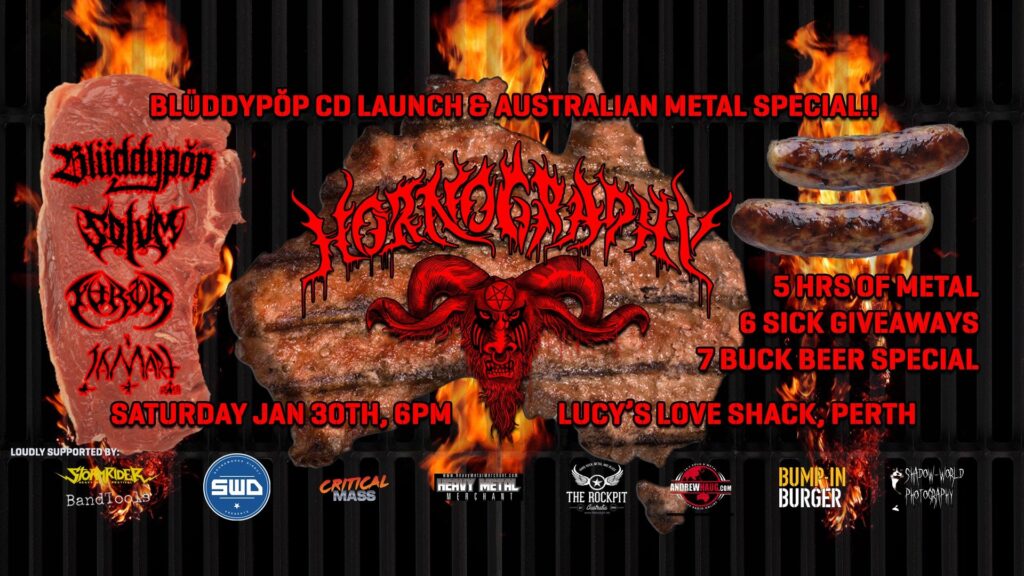 Perth's monthly metal event HORNOGRAPHY is here again for it's first show of 2021!
Only a few days after Australia Day, what a great excuse to celebrate Aussie metal in all it's heavy forms! Our great land has produced killer metal bands for decades old and new, from power metal to death metal, the bands are unique, talented and give us no shortage of classic Aussie tunes to blast between the bands all night!
WA has been spoilt with local metal events during this pandemic and HORNOGRAPHY is no exception, with all of the return shows being absolute rippers. So get down early and don't miss this chance to rock out with Perth punters and muso's for another killer night out.
BLÜDDYPŎP
These dirty grindy old men from BLÜDDYPŎP have been spoiling Perth punters with ripping sets of heavy goodness for the last few years. They now have a brand new split rearing it's ugly head for this show, sharing the disc with local one man degenerate BILE CANNON. With songs telling tales of UFO's, viruses, baked beans, grandma and antivaxxers, this show will be as wonderful as breathing in a lungful of Glen20 post grog bog.

SOLUM
Local blackened death act SOLUM have been back destroying Perth stages of late and will be helping make the first Hornography of 2021 an absolute killer. Hold on for dear life as they perform grim allegories pervaded of sex, death, depression, frustration and anger.
THE FUROR
One of the sickest extreme acts ever to come out of Perth in THE FUROR is now back as a one-piece drumming destruction and terrifying screams. Local legend Louis Rando is taking the reigns himself to deliver an unmissable assault for us metalheads to soak up!
JAMART
Treating Perth gig goers of late comes JAMART, a unique show encompassing musicians jamming out heavy tunes with passion. The sound reaches your mind, goes through a universe of change, and translates into a recognisable feed which your inner self can interpret.
SHADOW WORLD PHOTOGRAPHY
Resident hero MISTY SHADOW will be snapping killer photos of the bands and the crowd, so get your ugly mug captured in local metal history.
GIVEAWAYS (WITH AN ALL AUSSIE FLAVOUR)
Psycroptic 'The Watcher Of All' Vinyl
Werewolves 'Dead Are Screaming' CD
Blood Duster T-shirt
9 Foot Super Soldier 'Party Violence' Vinyl
Sanzu T-Shirt + Kimura Stubby Holder
Double pass to Impending Extinction – Population Control's last gig Feb 26th
OTHER STUFF
Loyalty Cards still accepted!
Beer Specials – $7 cans
HORNOGRAPHY AUSTRALIAN METAL SPECIAL & BLÜDDYPŎP CD LAUNCH!
SATURDAY 30TH JANUARY 2021 – LUCY'S LOVE SHACK, PERTH
5 HOURS OF METAL / 6 GIVEAWAYS / $7 DRINKS
BLÜDDYPŎP/ SOLUM / THE FUROR / JAMART
WWW.FACEBOOK.COM/HORNOGRAPHYMETALCLUB
WWW.HORNOGRAPHY-PERTH.COM