Homer was a group from San Antonio that would last from 1968 until about 1973. In Houston they would record three singles and an LP for URA Production (Universal Recording Artists).
The first press on the group that I can find comes from August 8, 1968 the Crystal City Sentinel ran a profile of the group by Margaret Anderson in her column, The Teen Scene:
… "Homer" has a really unique sound and the guys said that they plan to bring blues into Texas and prove that rock and roll isn't "rinky-dinky", but is something we can musically appreciate. The group seems to be striving for individuality among the many groups of today, rather than being just another band. All of the members of the group have been together for only two months and are all from different original groups.

The leader of the group is Galen Niles. He toured with the "Outcasts" … all through the East Coast, sings lead, and teaches music. The drummer is Pat Cosgroove [sic – actually it was Gary Crapster, Pat played guitar I believe], who won 1st place in International Drum Solo Contests. He has played in many major citys of the United States…

Other members are Frank Coy, Chet Hines, and Gary Crapster, who is also a music teacher. Kids in Crystal City look forward to having them back again for a dance in the near future.
At this early point in 1968, members were:

Frank Coy – vocals
Galen Niles – lead guitar
Pat Cosgrove – guitar
Chet Himes – bass
Gary Crapster – drums
Galen Niles has a stellar history in San Antonio music. He played on both the Pandas "Walk" / "Girl from New York City" on Swingtime and the Outcasts "1523 Blair" / "Smokestack Lightning" before joining Homer. He also played the solo on the Mind's Eye "Help I'm Lost" (Steve Perrone – Luis Cabaza) on Jox (but not on the flip, which was taken from a single under their earlier incarnation as the Argyles).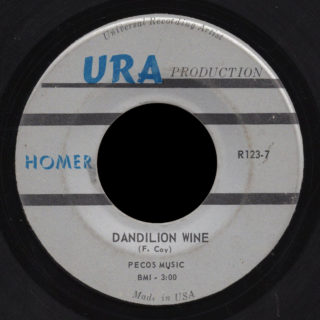 Frank Coy wrote the A-side of their first single, "Dandilion Wine", (note spelling – not "Dandelion") backed with a radical reworking of "I Never Cared for You", which I would never have guessed was a Willie Nelson song if I hadn't seen the credit on the label. It even uses "Hall of the Mountain King" in the break.
Their next single had two originals by Galen Niles, "On the Wall" / "Texas Lights", published by Illiad Music.
Their third single had another Galen Niles composition, "Sunrise", with a repeat of "Dandilion Wine" on the flip.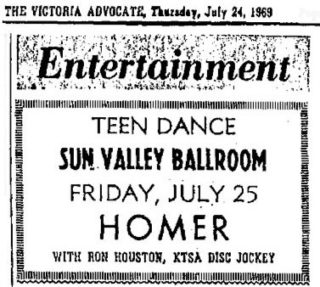 In September, 1969, Homer were one of the bands represented for booking by Fun People, Inc. at 4807 West Ave in San Antonio, along with the Laughing Kind, the Bubble Puppy, the Playboys of Edinburg, the Sweet Smoke, and Lavender Hill Express.
By the time of their album's release in 1972, with eight originals by the band, the lineup was:
Phil Bepko – vocals
Frank Coy – vocals
Galen Niles – lead guitar
Howard Gloor – lead guitar and steel guitar
Chet Himes – bass
Gene Coleman – drums
Frank Coy, Galen Niles and Chet Himes seemed to be in all incarnations of the group. I've also seen Rob Randolph and Van Wilks named as members. Robin Overall was a member for a few weeks, but wound up forming Heironymous with Gene Coleman and Phil Bepko, ending Homer's run.
Chet Himes went into audio engineering, he passed away in August 2020.
Some info from mikesbandarchive.com (now defunct).