EBM legends Front 242 have announced their rescheduled Black To Square One US Tour dates in celebration of the band's 40 years of existence.
"Front 242 will hit the road again
With determination and the desire to
Reconnect with their audience
Keeping the sound and the energy alive,
This tour will be the one
​no one expected but always hoped for."

Formed in 1981 near Leuven in Aarschot, Belgium, Front 242, a group fronted by vocalist Jean-Luc De Meyer, have become known for being synonymous with Industrial EBM, which the Calendar date of February 24th even being referred to as international EBM day in the band's honor.
The Black to Square One tour has also been rescheduled in Europe, with dates listed on the itinerary beginning as early as February. One of two shows just recently announced in London at the Academy in Islington has already sold out.
Two-stops are scheduled for the ninth incarnation of the Cold Waves Industrial-Music festival, with one at The Metro in Chicago on September 25th, and the other at The Mayan Theater in Los Angeles on September 30th.
Check out the US tour dates below.
Front 242 tour dates
Sept. 15:

 Elsewhere, Brooklyn, NY
Sept. 17: TBD, Philadelphia, PA
Sept. 19: The Orpheum, Tampa, FL
Sept. 22: Oriental Theater, Denver, CO
Sept. 24: Fine Line, Minneapolis, MN
Sept. 25: Metro (Cold Waves Festival), Chicago, IL
Sept. 29: Club Red, Mesa, AZ
Sept. 30: The Mayan Theater (Cold Waves Festival), Los Angeles, CA
Oct. 2: San Francisco, CA
Oct. 3: Hawthorne Theater, Portland, OR
Oct. 5: Neumos, Seattle, WA
Oct. 6: Metro Music Hall, Salt Lake City, UT
Oct. 8: Canton Hall, Dallas, TX
Oct. 9: Numbers, Housten, TX
Oct. 10: Sam's, San Antonio, TX
Oct. 12: Baltimore, MD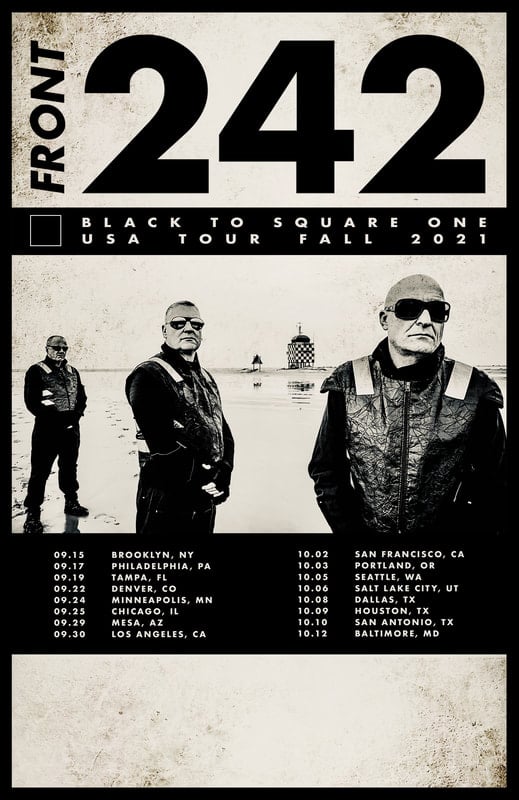 The post Front 242 40th Anniversary "Black To Square One" US Tour Dates Announced for 2021 appeared first on Post-Punk.com.