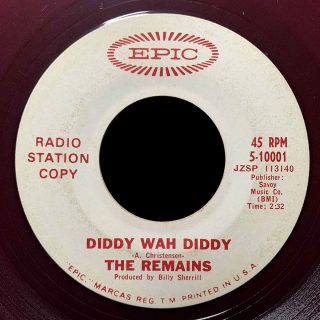 A list of red vinyl, promotional 45 rpm singles on the Epic label from 1962-1966.
Followed by other colored vinyl: blue, green, yellow.
Unlike colored vinyl on Columbia (see previous post), only about half of these have the same song on both sides.

Any additions or corrections would be appreciated.
Red vinyl:
5-9509 – Bobby Vinton ‎- "Roses Are Red (My Love)" / "You and I "
5-9561- Bobby Vinton ‎- "Trouble Is My Middle Name" / "Let's Kiss and Make Up"
5-9632 – Bobby Vinton ‎- "O Holy Night" / "The Christmas Song" (Canada only)
JZSP 76370 (other releases on 5-9640) – Linda Brannon – "Don't Cross Over (to My Side of the Street)" / JZSP 76387 (other releases on 5-9643) – Kerri Downs – "4,003,221 Tears from Now"
5-9705 – Bobby Vinton ‎- "Clinging Vine"
5-9730 – Bobby Vinton ‎- "Mr. Lonely"
5-9741 – Bobby Vinton ‎- "Dearest Santa" / "Mr. Lonely"
5-9863 – Dave Clark Five ‎- "Over and Over"
5-9869 – Bobby Vinton – "Satin Pillows"
5-9877 – Joe Sherman and the Arena Brass – "Feeling Good"
5-10001 – The Remains – "Diddy Wah Diddy"
5-10025 – David Houston – "Almost Persuaded"
5-10045 – Donovan ‎- "Sunshine Superman" / "The Trip"
5-10110 – Keith Relf ‎- "Shapes in My Mind"
5-10134 – Tammy Wynette ‎- "Your Good Girl's Gonna Go Bad"
5-10180 – The Hollies – "Carrie-Anne" / 5-10184 – The Tremeloes ‎- "Silence Is Golden"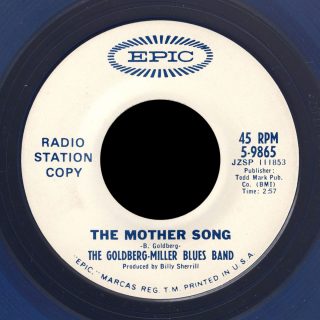 Blue vinyl:
5-9593 – Bobby Vinton ‎– "Blue on Blue" / "Those Little Things "
9-9865 – The Goldberg-Miller Blues Band – "The Mother Song" / "More Soul, Than Soulful"
Green vinyl:
5-9631 – Bobby Vinton ‎- "White Christmas" / "Silver Bells" (Canada only)
Yellow vinyl:
JZSP 79537 (b-side released on 5-9821) – Damita Jo – "Love Is Here to Stay" / "Nobody Knows You When You're Down and Out" (possibly green vinyl too)
5-9885 – Nancy Ames ‎- "Friends and Lovers Forever" / "Dear Hearts and Gentle People "
JZSP 113610 (other releases on 5-10032) – Jane Morgan ‎- "1-2-3" / "Kiss Away"
5-10061 – Damita Jo ‎- "If You Go Away"
5-10162 – The Marmalade ‎- "Can't Stop Now"