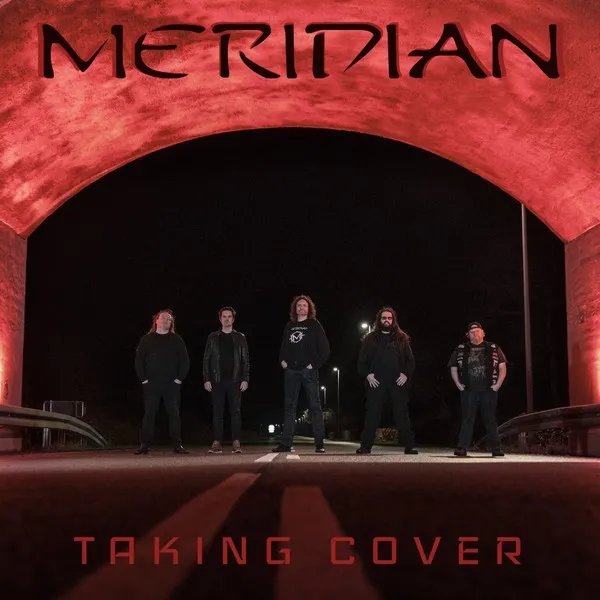 The pandemic has obviously put the cat amongst the musical pigeons this year and whilst some have created new projects or new music others whilst tapping their feet waiting to tour have kept the juices flowing n other ways. Now whilst a covers record is a banker and a nice addition to collections for fans of bigger bands I've often wondered about the motivation for, shall we say, 'smaller' bands putting out a covers record.
I'm not knocking the quality of such releases in general just wondering what the impetus to buy is? I'll be honest I have vaguely heard of Denmark's 'Meridian' but not really had too much of a listen and nice as these covers are I'm not sure that as a fan I wouldn't have preferred something original?
It appears in this case " the band has that much fun they need to share." Is it any good? Well I guess it depends on how you view the songs themselves, Rock bands are covering a lot of Pop songs these days and generally I'm not a fan at all, I mean if I want Pop I'll listen to it. So while the Pop Rockers of 'AHA' and ' and 'Skagarack' work well (particularly the latter) they were already pretty decent songs.

Randy's 'Shadows Are Falling' is what I'd hoped for more of – a track by a vintage and relatively unknown early 80's Danish band that deserves checking out.
It's the rest of the tracks that might bring up conflicting feelings – firstly the rockers Gary Moore's 'Out in the Fields' is just one of those tracks many think it's great as it is and shouldn't be touched, I did think that way once but this is actually a lovely version. Similarly Van Halen's 'Why Can't This Be Love' – many bands do a VH cover but few cover the Hagar era and again this one hits the spot.
The only track I have an issue with is the closer 'Easy Lover' – originally an awful song here its rendered almost (but not quite) palatable and that's the best I can say sadly. Some songs you just weren't meant to be reminded of…
As covers records go I must admit an EP falls short unless you're a fan of the band, nothing to do with the quality as these guys not only sound like they had fun making it, just that 'covers' records are all about the songs and if this had a few more on the rating would be higher, interestingly if they'd left 'Phil' in the studio they'd also have rated higher!
7/10
Track List
1. Hungry For A Game (Skagarack) | The Sun Always Shines On TV (AHA) | Shadows Are Falling (Randy) | Out In The Fields (Gary Moore) | Why Can't This Be Love? (Van Halen) | Easy Lover (Phil Collins)