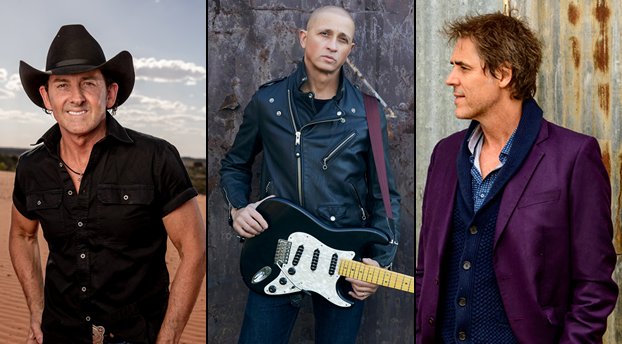 Diesel, Tim Freedman and Lee Kernaghan will say goodbye to 2020 in a series of New Year's Eve celebrations as part of the new fine food and live music experience, 'Social Sessions'.
Across three separate shows in Brisbane, the Gold and Sunshine Coasts, the Social Sessions will treat music lovers to a unique chorus of local food, drink and music to nourish the soul with special guests and Aussie music icons.
Attendees will be greeted by a chef-created multi-course meal, cheese platters and premium beer and wine throughout. The menu, created by renowned Queensland chefs and includes a choice of locally-inspired selections including vegetarian and vegan options.

At each location the culinary delights will be set to an intimate performance from one of three Australian music legends.
On the Sunshine Coast at Buderim Tavern, the Social Sessions will host legendary The Whitlams frontman Tim Freedman whose 27 year career has delivered four Top 20 ARIA charting albums and the love song of a nation, No Aphrodisiac.
On the Gold Coast at the Lonestar Tavern, attendees will be treated to a selection of the sounds from prolific guitarist and singer-songwriter Diesel. Across his career, Diesel has won six ARIA awards for Aussie classics like Tip Of My Tongue, Cry In Shame, Come To Me and Man Alive.
In Brisbane at the Hamilton Hotel, the Social Sessions will host Australian country music icon Lee Kernaghan. Earning a massive 37 Gold Guitar awards since the release of his double platinum debut album 'The Outback Club', Kernaghan will perform to the public in a one man show for the very first time, taking you on a musical journey through the highs, the lows and the hits of what has been a remarkable career.
The Social Sessions will bring some of Australia's finest talent to Queensland audiences in 2020, in a rare intimate setting not to be missed. Tickets to the Social Sessions are limited due to the COVID-safe restrictions, so be sure not to miss out.
Early Bird tickets will be available from Friday, November 20 at 9AM.
Tickets for Lee Kernaghan at the Hamilton Hotel in Brisbane are available at https://bit.ly/3nwYkND.
Tickets for Tim Freedman at the Buderim Tavern on the Sunshine Coast are available at https://bit.ly/3pCcVZR.
Tickets for Diesel at the Lonestar Tavern on the Gold Coast are available at https://bit.ly/35DRUpG.