Delta Recording Center and studio, Fort Worth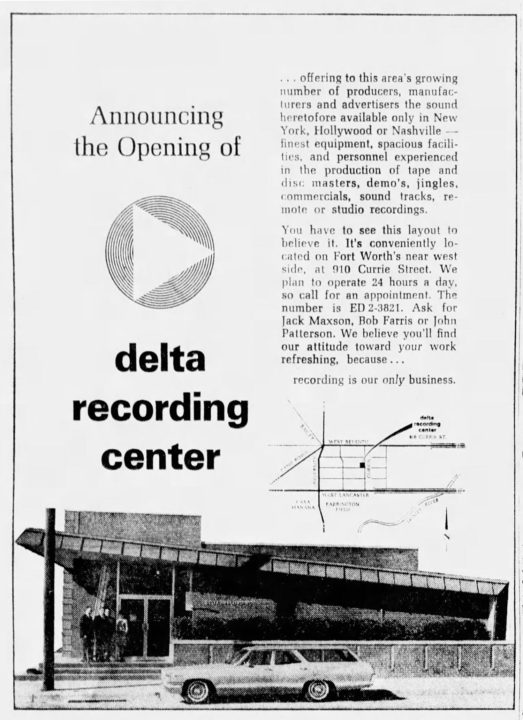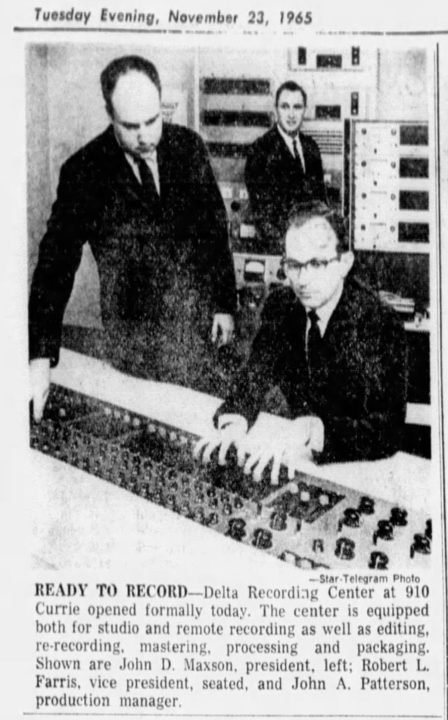 Delta Recording Center opened in November 1965 at 910 Currie. It was one of a handful of Fort Worth recording studios in the mid-'60s, including Clifford Herring, Sound City, and Bluebonnet Recording Studios.
Garage rock was only a small part of their business, which would have included much gospel, country and other types of music.
I'm sure there were many other rock singles cut at Delta, but these seem to be definite:
Charay Records C-17 – The Elite – "One Potato" / "Two Potato"
Charay Records C-31 – The Elite – "My Confusion" / "I'll Come to You"
Ector Records 101 – The Jades – "I'm Alright" / "Till I Die" (Prod. & Eng. by Jesse Smith)
Sound Track ST-2000 – The Reasons Why – "Don't Be That Way" / "Melinda"
John D. Maxson from Dallas was owner and engineer, Robert L. Farris, vice president, and John A. Patterson, production manager. It is often referred to as Delta Studio or Delta Recording Studio instead of Delta Recording Center.
Maxson was also part owner of Spot Productions, Inc, at 2831 Bledsoe, which produced TV and radio jingles, breaks, and programming.
Johnny Patterson, guitarist with Bob Wills' Texas Playboys and other groups, bought the studio in 1969.
By 1973 it was running ads that boasted:
"Ampex and Scully mono, two, four and EIGHT TRACK recorders. When you record at Delta you receive a custom service … from mastering and processing, to labels, album covers, cassettes and cartridges.
In February, 1974 the Star-Telegram announced:
Lawton Williams is the new manager of Delta Recording Center, owned by Rick Snow and Jim Shadle. Johnny Patterson, formerly with the Bob Wills band is chief engineer and directs the house band.
Demos / acetates from Delta Recording:
The Tracks- "Rain in My Eyes" (?) / "Don't Cut My Hair"
Louis Howard – "You Can Do as You Please" / "Comin' Home to You"
Louis had a 45 on Impact Records I-4074 with the Red Hearts, "You're Too Much" / "I've Got the Feeling".