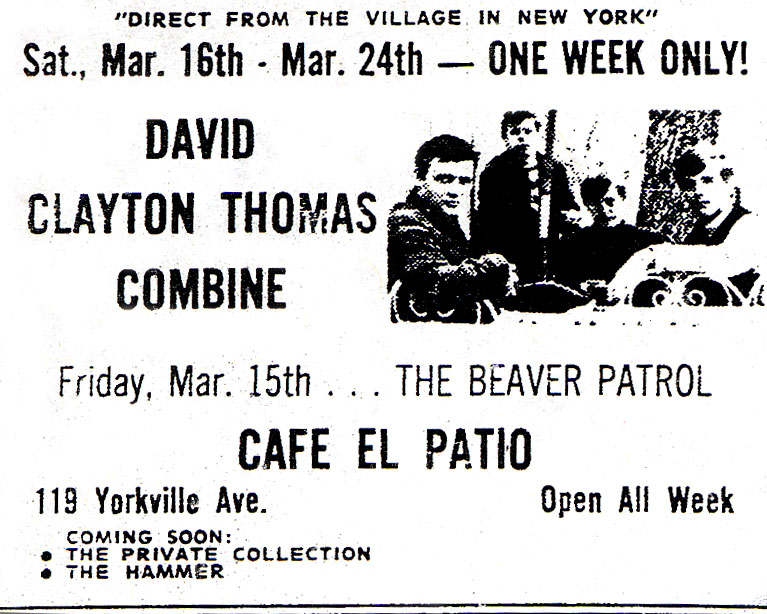 David Clayton-Thomas (Vocals)
Jack Mowbray (Guitar)
Peter Hodgson (Bass)

Pat Patterson (Drums) then
Pat Little (Drums)
David Clayton-Thomas formed this band in Toronto in February 1968 with former Bossmen guitarist Jack Mowbray, who had been playing in Italy for six months backing pop singer Nicola di Barri.
He also brought in former Jon-Lee Group (aka Jon & Lee and The Checkmates) bass player Peter Hodgson for his new band and drummer Pat Patterson who was quickly replaced by ex-Luke & The Apostles and Edward Bear drummer Pat Little.
The group recorded the original versions of "Spinning Wheel" and "Father Dear Father" for Arc Records, which were pressed for a single but it's not clear if any copies were released.
In June, Clayton-Thomas was asked to be Al Kooper's replacement in Blood, Sweat & Tears and the band split up. Hodgson moved out to LA and joined Jackson Browne's band (recording an unreleased album) and later Rhinoceros.
Little and Mowbray joined another ex-Bossmen, Tony Collacott in The Georgian People, which soon changed name to Chimo!
Advertised gigs
16-24 March 1968 – El Patio, Toronto (After Four section of Toronto Telegram)
Thanks to Pat Little and Peter Hodgson for help with the entry
Copyright © Nick Warburton. All Rights Reserved. No part of this article may be reproduced or transmitted in any from or by any means, without prior permission from the author