Columbia red vinyl promo 45s – list of singles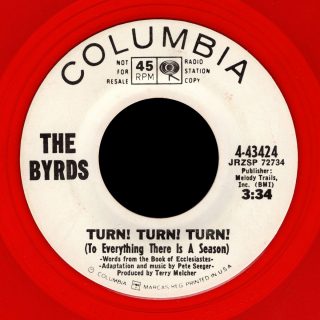 A list of red vinyl, promotional 45 rpm singles on the Columbia label from 1962-1966.
Followed by other colored vinyl: purple, blue, green, yellow, orange.
Almost all of these have the same song on both sides, but there are a few exceptions (two by Tony Bennett and promo-only singles by Steve Lawrence and Robert Horton).
For a list of colored vinyl on Epic, see the following post.
Any additions or corrections would be appreciated.
Red vinyl:
4-42582 – Johnny Mathis – "Gina"
4-42592 – The New Christy Minstrels – "This Land Is Your Land"
4-42593 – Carl Butler – "Don't Let Me Cross Over"
4-42601 – Steve Lawrence – "Go Away Little Girl"
4-42606 – Lester Flatt, Earl Scruggs – "The Ballad of Jed Clampett"
4-42661 – Eydie Gormé – "Blame it on the Bossa Nova"
JZSP 58841 (other versions use 4-42662) – Dion – "Ruby Baby"
4-42666 – Johnny Mathis – "What Will My Mary Say"
4-42699 – Steve Lawrence – "Don't Be Afraid Little Darlin'"
4-42674 – Andy Williams – "Can't Get Used to Losing You"
4-42776 – Dion – "This Little Girl"
4-42779 – Tony Bennett – "The Good Life" / "Spring in Manhattan"
4-42788 – Johnny Cash – "Ring of Fire"
4-42791 – Patti Page – "Say Wonderful Things"
4-42815 – Steve & Eydie – "I Want to Stay Here"
4-42827 – Ray Price – "Make The World Go Away"
4-42852 – Dion Di Muci – "Donna the Prima Donna"
4-42865 – Steve Lawrence – "Walking Proud"
4-42880 – Johnny Cash – "The Matador"
4-42888 – The Brothers Four – "The John B. Sails" (Canada only)
4-42950 – Andy Williams – "A Fool Never Learns"
4-42964 – Johnny Cash – "Understand Your Man"
4-42996 – Tony Bennett – "When Joanna Loved Me"
4-43035 – Rip Chords – "Three Window Coupe"
4-43037 – Anita Bryant – "The World of Lonely People"
4-43045 – Rene & Rene – "Angelito"
4-43067 – Linda Hall – "Hugo"
4-43082 – Eydie Gormé – "I Want You to Meet My Baby"
4-43113 – Aretha Franklin – "Runnin' Out of Fools"
4-43120 – Billy Walker – "Cross the Brazos at Waco"
4-43128 – Andy Williams – "On the Street Where You Live"
4-43131 – Robert Goulet – "My Love, Forgive Me (Amore, Scusami)"
4-43141 – Tony Bennett – "Who Can I Turn To" / "If I Ruled the World"
4-43145 – Johnny Cash – "It Ain't Me, Babe"
4-43171 – Mongo Santamaria – "El Pussy Cat"
4-43242 – Bob Dylan – "Subterranean Homesick Blues"
4-43271 – The Byrds – "Mr. Tambourine Man"
4-43277 – Chad and Jeremy – "Before and After"
4-43301 – Robert Goulet – "Summer Sounds"
4-43305 – Billy Joe Royal – "Down in the Boondocks"
4-43315 – Statler Brothers – "Flowers on the Wall"
4-43332 – The Byrds – "All I Really Want to Do"
JZSP 110939 / JZSP 110940 (other versions use 4-43346) Bob Dylan – "Like a Rolling Stone"
4-43351 – The Liverpool Set – "Must I Tell You (I Love You)" (Canada only)
4-43375 – Paul Revere & the Raiders – "Steppin' Out"
4-43389 – Bob Dylan – "Positively 4th Street"
4-43390 – Billy Joe Royal – "I Knew You When"
4-43396 – Simon & Garfunkel – "The Sounds of Silence"
4-43424 – The Byrds – "Turn! Turn! Turn! (To Everything There Is a Season)"
4-43437 – Pozo-Seco Singers – "Time"
4-43461 – Paul Revere & the Raiders – "Just Like Me"
4-43465 – Billy Joe Royal – "I've Got to Be Somebody"
4-43469 – Barbra Streisand – "Second Hand Rose"
4-43556 – Paul Revere & the Raiders – "Kicks"
4-43589 – The Cyrkle – "Red Rubber Ball"
4-43592 – Bob Dylan – "Rainy Day Women #12 & 35"
4-43595 – Susan Christie – "I Love Onions"
4-43617 – Simon & Garfunkel – "I Am a Rock"
4-43626 – Ray Conniff and the Singers – "Somewhere, My Love"
4-43648 – Tim Rose – "Hey Joe (You Shot Your Woman Down)"
4-43660 – Eydie Gormé – "If He Walked into My Life"
4-43673 – Johnny Cash – "Everybody Loves a Nut"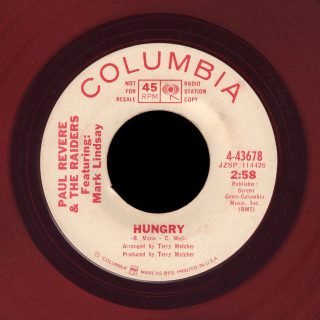 4-43678 – Paul Revere & the Raiders – "Hungry"
4-43728 – Simon & Garfunkel – "The Dangling Conversation"
4-43729 – The Cyrkle – "Turn-Down Day"
4-43774 – Jerry Vale – "Dommage, Dommage (Too Bad, Too Bad)"
4-43784 – Pozo-Seco Singers – "I Can Make it With You"
4-43792 – Bob Dylan – "Just Like a Woman"
4-43794 – Patti Page – "Almost Persuaded"
4-43907 – Paul Revere & the Raiders – "Good Thing"
—
JZSP 78856 / JZSP 78857 (no stock or other promo copies)- Steve Lawrence – "Bluesette / People"
————
Other 1960s colored vinyl Columbia 45s:
Purple vinyl:
4-42952 – Steve Lawrence – "Room Without Windows"
4-42965 – Barbra Streisand – "People"
4-43225 – Eydie Gormé – "Do I Hear a Waltz?"
Blue vinyl:
4-42810 – Dion – "Be Careful of Stones that You Throw"
4-42812 – Rip Chords – "Gone"
4-42924 – Lefty Frizzell – "Saginaw, Michigan"
4-42967 – Ray Conniff and his Orchestra And Chorus – "Honeycomb" / "Blue Moon"
4-43138 – Randy Sparks – "Julie Knows"
4-43248 – Barbra Streisand – "Why Did I Choose You"
Green vinyl:
4-42932 – Steve & Eydie – "I Can't Stop Talking About You"
4-42805 – The New Christy Minstrels – "Green, Green"
4-43000 – The New Christy Minstrels – "Today"
4-43167 – Mel Torme – "Ev'ry Day's a Holiday" / "One Little Snowflake"
4-43448 – Ray Conniff and the Singers – "The Real Meaning of Christmas"
Yellow vinyl:
4-42784 – Andy Williams – "Hopeless"
4-42921 – Rip Chords – Hey Little Cobra"
4-43015 – Andy Williams – Wrong For Each Other"
4-43215 – The New Christy Minstrels – Chim, Chim, Cheree"
4-43257 – Andy Williams – "'…. And Roses and Roses'" / "Red Roses For A Blue Lady"
4-43431 – Tony Bennett – "Love Theme From 'The Sandpiper' (The Shadow Of Your Smile)"
Orange vinyl:
4-43954 – Tony Bennett – "What Makes It Happen"
JZSP 78864 / JZSP 78865 – Robert Horton – "The Very Thought of You" / "Hey There"
[b]Black vinyl promos with same song on both sides:[/b]
4-42928 – Guitar Ramblers – "Surf Beat"
4-42971 – Ray Price – "That's All that Matters"
4-43302 – Eydie Gorme – "Where Are You Now"
4-43666 – Black Sheep – "It's My Mind"
4-43903 – Gene Clark – "Echoes"
The last single-sided colored vinyl release I have found is 4-43907 – Paul Revere & the Raiders – "Good Thing"