The Essentials came from Schagticoke, New York, and cut two singles on their own Kandy label in 1969 and 1970. Members were:
Jason Wheeler – lead guitar
Steve Wheeler – rhythm guitar
Jeff Wheeler – bass guitar
Fred "Squeekey" Stay – drums
Jeff Wheeler recalled to Max Waller:
Our ages were 13, 15, 17 and 17 at the time. We played Friday and Saturday nights and threw in a wedding now and then with the old standards on a Saturday or Sunday afternoon. Even went to Atlantic City and Raleigh, NC. cuz we won a few Battle Of The Bands – the Tea Berry song contest too (we didn't win that tho). We made 2 45s in 1968. Never made a million but we sold 1000 records for $1 apiece after spending $500 to do it! It was fun.
The Essentials recorded at Vibra-Sound Studio in Schenectady for both their singles. The first was Kandy 101 from 1969. "Oklahoma Blues" has some falsetto vocals about a minute in, but really gets going after the guitar break, with a funky rhythm and chanting. Fred Stay and Steve Wheeler wrote "Oklahoma Blues". Steve Wheeler wrote "Baby You Get to Me", which I haven't heard yet.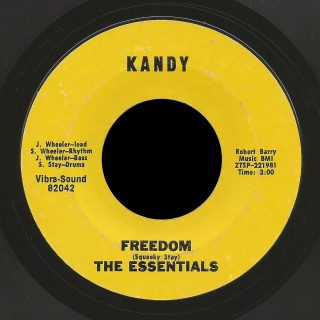 Their second 45, on Kandy 82042 from 1970, had two originals by Squeeky Stay. "Sunshine Baby" is light pop. I prefer "Freedom", which starts out with wah-wah guitar over drumming and doesn't let up for three minutes. It's a styrene 45 and hard to find in fine shape.
Robert Barry Music published all four songs.
Squeeky Stay and Mark Galeo made another single recorded at Vibra-Sound, "Slippin' Away" / "Mrs. Jones" on Jinhea 100 that I haven't heard.
Max Waller added, "in 2002 Jeff resided in Poestenskill, NY; Steve was in New Jersey; Jason was reported to be in Texas; and Squeeky Stay had stayed in Schaghticoke."
Thank you to Max Waller for help with this article.
Anyone have a photo of the Essentials?