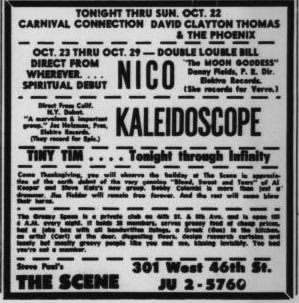 David Clayton-Thomas (Guitar, Vocals)
Michael Fonfara (Keyboards)
Larry Leishman (Guitar)
Peter Hodgson (Bass)
Jeff Cutler (Drums)
When singers John Finley and Lee Jackson left The Jon-Lee Group (aka Jon & Lee and The Checkmates) in mid-September 1967, Toronto singer David Clayton-Thomas picked up their backing band, renamed it The Phoenix and moved to New York.
After a month's rehearsals, the group debuted at the Bitter End and then briefly played at the East Scene in October before working as the house-band at Steve Paul's The Scene.
The band's career, however, was cut short during early November  when Clayton-Thomas was deported for being an illegal alien.
Leishman also returned to Toronto at this point and played with several groups, including The Power Project and Bobby Kris & The Imperials before joining The Duke Edwards Cycle in late 1968.
Hodgson meanwhile was offered a place in Project Supergroup (later Rhinoceros) in December and flew out to Los Angeles to audition.
After being passed over for the group in early 1968, he briefly rejoined David Clayton-Thomas in his group, David Clayton-Thomas Combine. When that split in mid-1968, Hodgson moved back to the US and became a member of the Paxton Ranch Band, playing on Jackson Browne's early recordings (aka Baby Browning).
Cutler stayed in New York and worked with an embryonic version of Hot Tuna and then did a stint drumming and managing The Crazy World of Arthur Brown during the band's summer '68 North American tour. He later worked as a manager for The Holy Modal Rounders.
When Clayton-Thomas had previously worked in New York in March 1967, he had shared a flat with former Bob Dylan bass player Harvey Brooks, who was in the process of putting The Electric Flag together.
Apparently Brooks had offered Thomas the original vocal slot in the group, but he declined.
Fonfara however, did accept an invitation from the Flag's drummer Buddy Miles to replace Barry Goldberg when the latter got busted in November 1967.
Fonfara duly appeared on the group's debut album, before becoming a member of Project Supergroup the following month, which soon changed name to Rhinoceros.
Hodgson and Leishman both rejoined Fonfara in Rhinoceros in 1969.
David Clayton-Thomas joined Blood, Sweat & Tears in June 1968.
Advertised gigs
19-22 October 1967 – Steve Paul's The Scene, New York with The Carnival Connection
Copyright © Nick Warburton. All Rights Reserved. No part of this article may be reproduced or transmitted in any from or by any means, without prior permission from the author