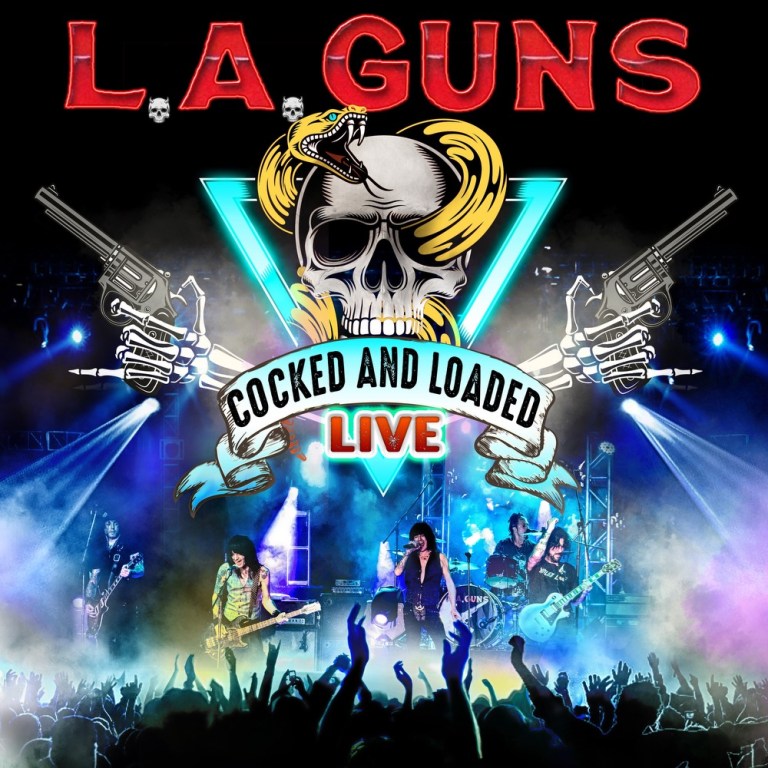 The pandemic of course has hit bands hard and no more so than those who make their living from relentless touring. Back on November 28th last year L.A. Guns (the Phil and Tracii version) took to the stage in Las Vegas to rip and tear through the classic second L.A. Guns record 'Cocked & Loaded' on the 31st Anniversary. As those that listened in will know the set was streamed live globally and this is what you get here – a live CD of that set featuring two of the classic-era line up of the band. There's no extras, no other incentive to add this to your collection, not even the Eddie Trunk interview that preceded the stream. In short just a straight to CD live set.
As live albums go of course it's got some pretty good material to run through so you can't complain with songs like 'Rip and Tear', 'Never Enough', 'The Ballad of Jayne', 'I Wanna Be Your Man' and 'Malaria' all on here and all released as singles back in the day. The band also sounds great bearing in mind the months of inactivity that preceded it. So if you're looking for a live version of that great album look no further…
For me though there's a few niggles here such as the omission of the albums short and sweet opener 'Letting Go' – why? It's a minute long song that I love to hear every time I play the record and one which I was even hoping they might expend here!
More annoyingly perhaps for some there's the shoe-horning in of recent song 'Speed' (from 2017's 'Missing Peace' album) between 'Give a Little' and '17 Crash' where the 'I'm Addicted' guitar solo was on the original record. That raises a few questions – firstly it makes you wonder if they're already writing off latest outing 'The Devil You Know' released in 2019? I'm mean 'Speed' is a decent song (and certainly 'of the era' sonically) but who wouldn't rather have another of the songs from the 'Cocked and Loaded' era in there? Secondly why isn't that two minute solo isn't in here? Sure its pretty throwaway but it's part of the album. Ironically of course in these days of streaming they'd both generate income!
For me in the end a record has to do what it says on the can and for me this is L.A. Guns – 'Almost all of Cocked and Loaded Live' (or as an even more pedantic fan pointed out it should actually be called 'Cocked & Loaded Live'.)
If you're a fan like me though you'll no doubt want this but probably like me you'll wish they'd just done a little bit more to reward you. I mean surely the band would have made more selling downloads of the show at the time? Or releasing this on video maybe?
A new studio album is due in Autumn.
7/10 
TRACKLIST: 1  Slap In The Face | 2  Rip And Tear | 3  Sleazy Come Easy Go | 4  Never Enough | 5  Malaria | 6  The Ballad Of Jayne | 7  Magdalaine | 8  Give A Little | 9  Speed | 10  17 Crash | 11  Showdown (Riot On Sunset) | 12  Wheels Of Fire | 13  I Wanna Be Your Man
lagunsmusic.com
facebook.com/L.A.GunsOfficial
twitter.com/laguns
instagram.com/laguns
The post ALBUM REVIEW: L.A. Guns – Cocked and Loaded Live appeared first on The Rockpit.