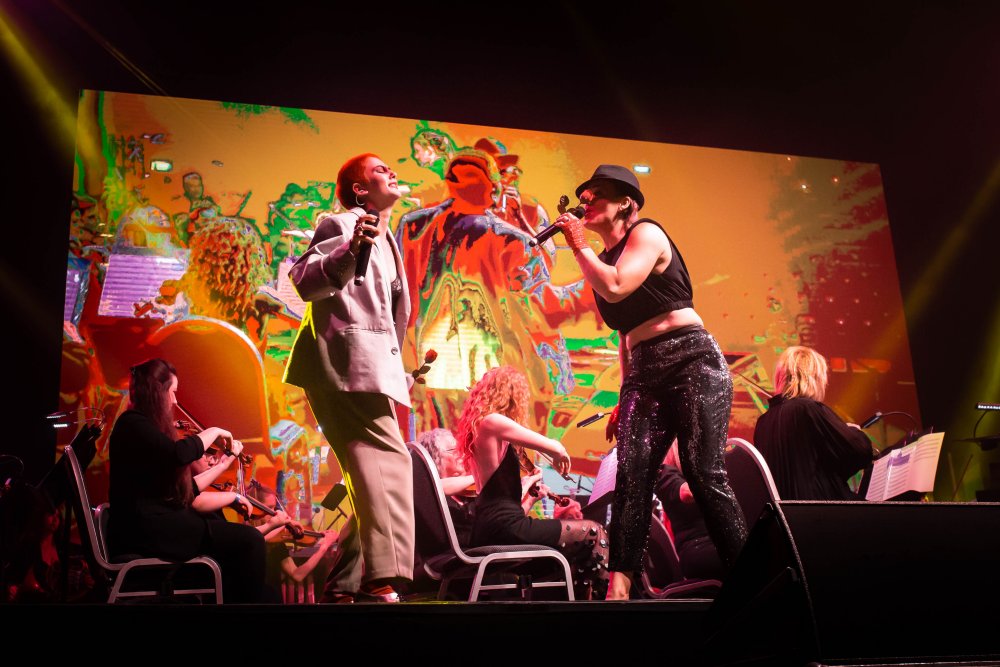 Orchestrating music from differing eras & genres has become an exciting & interesting way for audiences to hear songs that may not have grabbed their interest at the time the artists in question were releasing music at their peak.  Australian rock legends The Angels have done it with great success on their 'Symphony of Angels' shows, New Order's Pete Hook orchestrated Joy Division's work including a sell-out show at London's Royal Albert Hall, but it's been the recent performances of the Perth Symphony Orchestra they have really raised some eyebrows.  Their exceptional work with the music of The Doors and more recently David Bowie, highlighted the incredible talent we have here in Western Australia. 
So, I was excited to see & hear their latest offering, performing the iconic music of The Eurythmics with some wonderful vocal talent to accompany them.  Back in the eighties and early nineties Annie Lennox & Dave Stewart could do no wrong, as they delivered hit after hit with Lennox frequently collecting accolades for her unique vocals.
The evening started as it meant to go on… with a bang, as INNEKA started the night off with a fast-paced set more in tune with a Ministry of Sound festival.  The all-female quartet danced around the stage in their eye-catching outfits, while surrounded by an impressive lighting set-up that would play envy to many an international event.  Fresh from their recent appearance on Telethon, INNEKA warmed the audience up nicely in anticipation for the main part of the night.  INNEKA are Sasha McCulloch on cello, Cheralyn Simpson on viola, and Jasmine Skinner & Madeleine Antoine on first and second violin.
It was time to charge our glasses and retake our seats as the fifty-strong Perth Symphony Orchestra led by Jen Winley making her first-time appearance as PSO conductor took their places, tuned up and kick started the night with 'Love is a Stranger' as all three of our vocal guests took to the stage adorning blonde wigs.  Freddie May, Sabrina Davies & Ali Bodycoat then took us on a musical journey through the different stages of The Eurythmics and Lennox with their own mark firmly stamped on the varying songs.  The audience were encouraged to get up & dance, take photos & film to the hearts content, a rarity these days at live events.
First to take to the stage was Irish non-binary Fremantle-based vocalist Freddie Mai with their buzz-cut bright orange hair akin to the early Eurythmics album covers from the eighties.  There aren't many more iconic songs than 'Sweet Dreams (Are Made of This)' and after a nervous start Mai soon got into the swing of things as they took on the duos early years with songs mostly taken from the third album 'Touch', which was released way back in 1983.   'Right By Your Side', 'Who's That Girl' & 'Here Comes The Rain' were taken on very much with Mai's emotive and passionate style as they strutted and strode across the stage in an almost anarchic manner, before disposing of their overcoat to reveal a whimsy black bra and baggy trousers.  The energy in the room began to lift as the orchestra lead us into 'There Must Be an Angel' with Mai joined by Sabrina Davies, to tumultuous applause to give the song an extra boost.
This signaled an end of Freddie's stint (for now) as the confidant Davies took centre stage and immediately lifted the audience with her charisma & obvious excitement, clearly a popular Perth favorite by the reaction & reception she received.  For those not familiar with Sabrina Davies' work, she is usually performing songs from the back catalogue of global superstars like Pink & Lady Gaga as well as being a singer/songwriter in her own right.  Tonight Sabrina delved into 1985's 'Be Yourself Tonight', an album which included guest appearances from the likes of Stevie Wonder, Aretha Franklin & Elvis Costello, such was the quality of the music as well as tracks from the follow-up 'Revenge'.  'Would I Lie to You' immediately had the room rocking and, on their feet, before Sabrina allowed us to briefly catch our breath with a wonderfully rearranged version of 'It's Alright Baby's Coming Back'.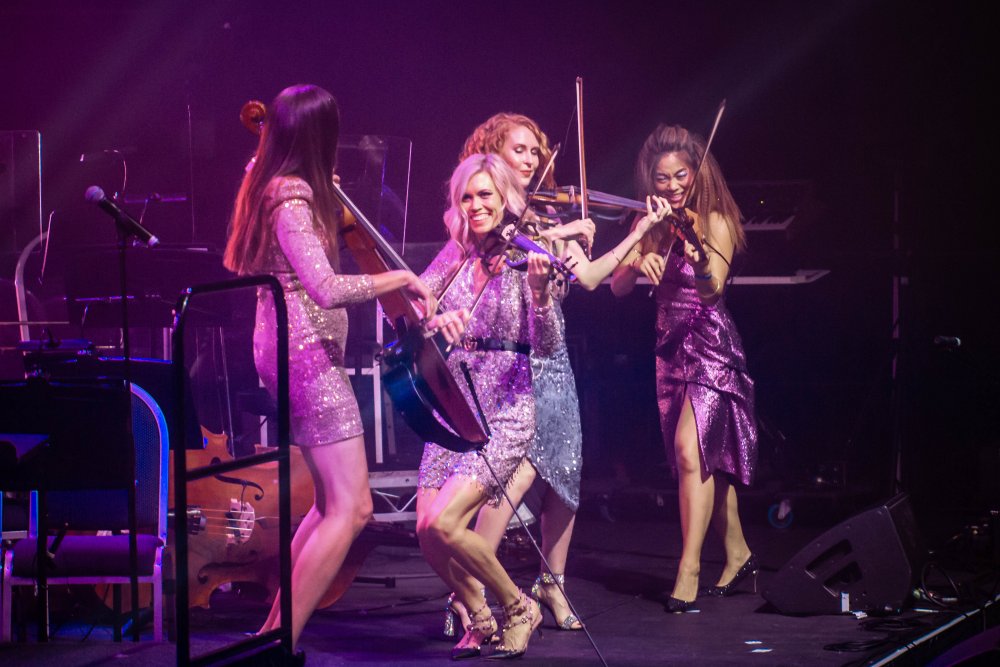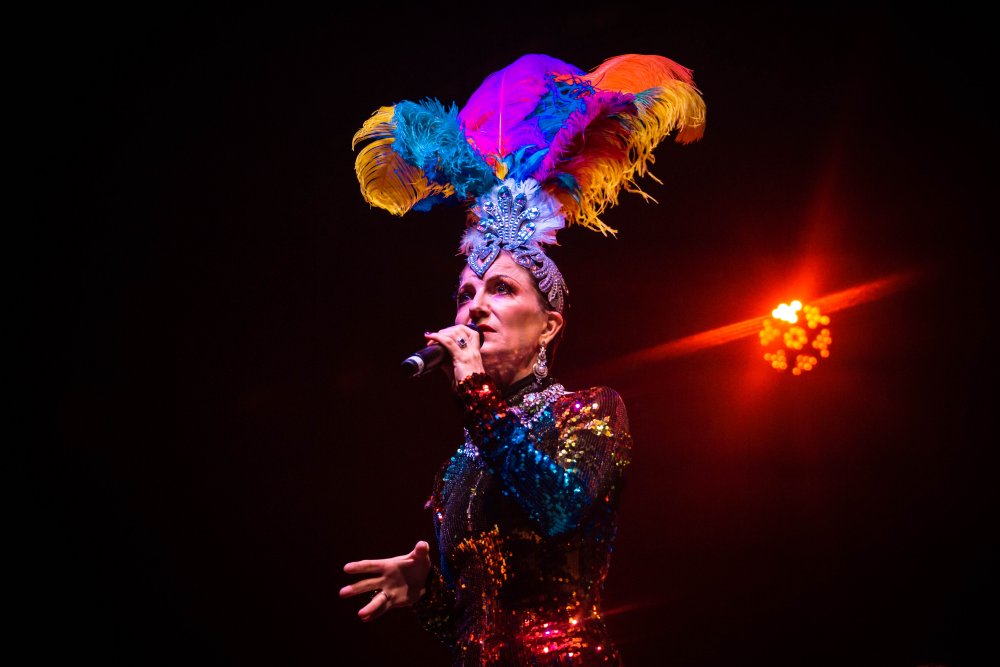 After a brief intermission (time to recharge our drinks again) Freddie Mai rejoined proceedings for 'Thorn in My Side' before Davies told us she was to be taken out of her comfort zone with a ballad, the stunning 'Miracle of Love', which she delivered faultlessly.  Sabrina definitely saved the best till last, as 'When Tomorrow Comes' threatened to tear the roof off HBF Stadium.
As the crowd sat back down and the orchestra regrouped, I wondered just how Ali Bodycoat could possibly top that.  Well, I soon found out as the experienced jazz vocalist took us through Lennox's solo works with exceptional professional delivery.  'Little Bird' was followed by 'Why' with Bodycoat adorned in a vibrant Lennox-style feather head dress and multicoloured sequined body suit.  'Walking on Broken Glass' and the Oscar winning 'Into the West' from the movie Lord of The Rings closed the set leaving the exhilarated audience wanting more.  And more we got, and the three vocalists returned to deliver a wonderful finale of 'Missionary Man' & 'Sisters Are Doing It for Themselves', which again allowed many to get up and dance in their aisles.  As the buzzing throng left the stadium still chattering about the nights events I was left wondering what PSO would be looking to take on next – tonight was a hard act to follow but I'm sure they will follow it with gusto & continued success.
A huge congratulations needs to be passed on to the composers & arrangers who we were introduced to during the proceedings.  Musical genius's in Ash Greig, Rebecca Smith, Bourby Webster & Corby Murphy worked incredibly hard on these songs to great effect.  One more brief pat on the back was to the venue staff – tonight HBF rolled out the SafeWA QR Code app two days ahead of schedule and I was dreading the thought of long queues, grouchy patrons and faulty technology.  But no, the queues were almost nonexistent, patron's patient & staff ever helpful and accommodating.  Well done HBF Stadium.
Set List:
Freddie Mai, Sabrina Davies, Ali Bodycoat: Love is a Stranger
Freddie Mai: Sweet Dreams, Right By Your Side, Who's That Girl, Here Comes The Rain, There Must Be An Angel (Duet with Sabrina Davies)
Sabrina Davies: Would I Lie To You, It's Alright Baby's Coming Back, Thorn in My Side (Duet with Freddie Mai), Miracle of Love, When Tomorrow Comes
Ali Bodycoat: Little Bird, Why, Walking on Broken Glass, Into The West

Encore
(Freddie Mai, Sabrina Davies, Ali Bodycoat): Missionary Man, Sisters Are Doing It For Themselves
PHOTO GALLERY
Photos by Electric Shot Media