Regarded as pioneers of electronic music, Orchestral Manoeuvres in the Dark are coming to North America! The post-punk and synth legends announced plans to celebrate their 40th anniversary with an ambitious Souvenir 2022 tour, playing 24 shows throughout the US and Canada in support of the release of their career-spanning Souvenir box set.
OMD hits the road in Orlando on 22 April, making additional stops along the east coast, dipping through the Heartland and wrapping things up 26 May on the west coast in Los Angeles. Canadian fans, you're in luck: the band will also play Toronto and Vancouver.
Andy McCluskey and Paul Humphreys will also bestow their graces upon us with a webcast called You, Me & OMD, airing on 19 June.
OMD's website has more details on the global Livestream, as well as ticket info on the North American tour. All proceeds from the Livestream will be split among members of the band's touring crew, who have been unemployed since February 2020, because of the pandemic.
Here are the dates for the 2022 Souvenir Tour.
April 22: Plaza Live, Orlando, FL
April 23: Jannus Live, St. Petersburg, FL
April 24: Buckhead Theatre, Atlanta, GA
April 26: Lincoln Theatre, Washington D.C.
April 27: Keswick Theatre, Glenside, PA
April 29: Brooklyn Steel, Brooklyn, NY
April 30: Brooklyn Steel, Brooklyn, NY
May 1: House Of Blues, Boston, MA
May 3: History, Toronto, ON
May 4: Royal Oak Music Theatre, Royal Oak, MI
May 6: Riviera Theatre, Chicago, IL
May 7: The Fillmore, Minneapolis, MN
May 8: The Truman, Kansas City, MO
May 10: TBD, Dallas, TX
May 11: Bayou Music Center, Houston, TX
May 12: ACL Live @ The Moody Theater, Austin, TX
May 15: Paramount Theatre, Denver, CO
May 16: Union Events Center, Salt Lake City, UT
May 20: Malkin Bowl, Vancouver, BC
May 21:Moore Theater, Seattle, WA
May 22: Roseland Theater, Portland, OR
May 24: Fox Theater, Oakland, CA
May 25: Magnolia, El Cajon, CA
May 26: Greek Theatre, Los Angeles, CA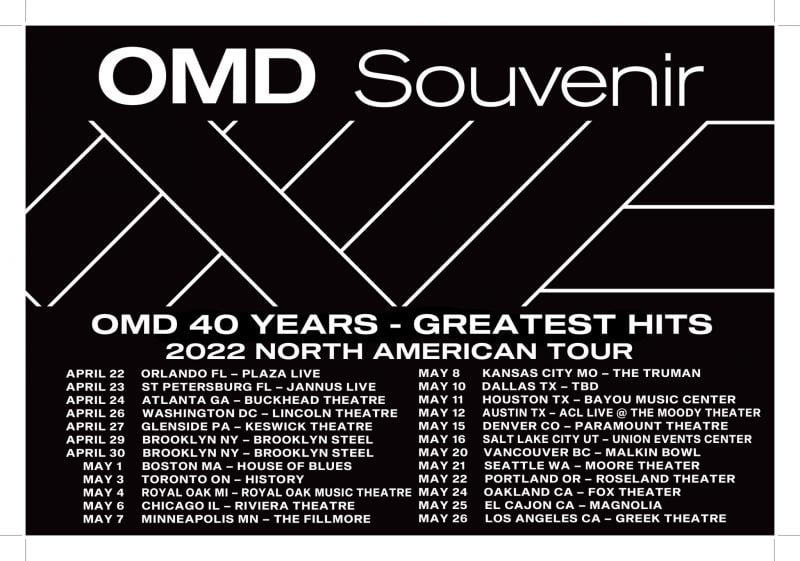 Follow Orchestral Manoeuvres In The Dark:
The post Orchestral Manoeuvres In The Dark Announce Greatest Hits North American Tour appeared first on Post-Punk.com.