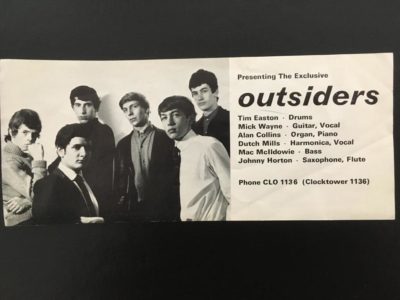 Dutch Mills (harmonica/vocals)
Mick Wayne (lead guitar/vocals)
Alan Collins (organ)
John Horton (sax/flute)
Mac Mclldowie (bass)
Tim Easton (drums)
Formed sometime in 1962/1963 in the Tolworth area in Surrey, The Outsiders included guitarist Mick Wayne, who subsequently played with The Hullabaloos, The Bunch of Fives (with Viv Prince) and The Tickle. Wayne formed Junior's Eyes in early 1968 and later appeared on David Bowie's "Space Oddity". Collins and Wayne had met at Kingston School of Art.
Mick Brill joined the group in April 1964 after he left The Classics, taking over from McIlldowie. Horton left the same month to join The Original Topics.
Dutch Mills (real name: Nigel Reevely Mills) was close friends with Eric Clapton and had started out with The Dustbowl Refugees.
He adds that Jimmy Page was always around and convinced him to join Bedford band The Authentics sometime in 1964 with whom he recorded a cover of Jackie DeShannon's "I Don't Wanna Be Without You", which was shelved. The Authentics were regulars at the Marquee.
Mills moved to Canada in 1966/1967 and worked with folk singer Vicky Taylor and later Jesse Winchester and Willie Dunn before moving back to the UK in 1990.
With Mills gone, The Outsiders recorded a lone 45 for Decca Records – "Keep on Doing It" c/w "Songs We Sang Last Summer", which was released on 20 August 1965. Both sides were written by session player Jimmy Page with Mick Wayne. Page also produced the sessions for the single.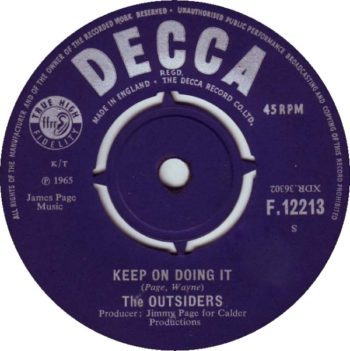 Brill says The Outsiders started doing sessions for Immediate Records in 1965, which is where he and Collins met singer Doug Gibbons, a singer from Shepherd's Bush. Gibbons subsequently changed his name to Thane Russal.
Interestingly, Doug Gibbons and The Outsiders were billed to play at the Top Twenty in Bridgwater, Somerset on 5 July 1965.
To clear up one confusion, Mick Wayne was from the Kingston upon Thames area not Hull as is often falsely reported. Brill says that when Wayne joined The Hullabaloos he had to dye his hair blond.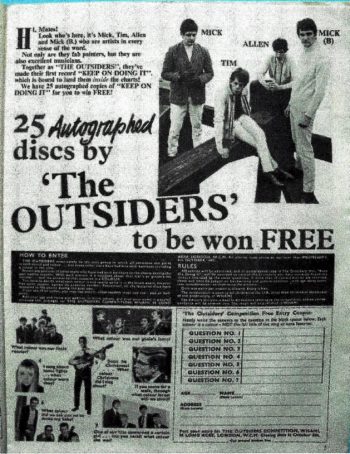 Together with new drummer Pete Huish and new guitarist Bob Johnson, Thane Russal, Mick Brill and Alan Collins recorded "Security" as Thane Russall & Three.
Brill adds that when the single was released, it was rumoured that Jimmy Page had played on the recording to try and drum up some interest in the single's release.
However, he explains that it was Bob Johnson. The solo on the recording was achieved by Huish hitting the neck of Johnson's guitar with a drumstick.
Johnson, who joined in 1966 after Wayne had moved on to The Hullabaloos, departed when Thane Russal & Three landed a contract to travel to Italy in June 1966 and later joined Steeleye Span.
The remaining members decamped to Rome. You can read about the band's career in Italy here at this excellent site.
A massive thank you to Mick Brill and Alan Collins for providing background notes and band photo. Thanks also to Dutch Mills for further information.
Thanks to David Else for helping with some of the research and providing additional material.