ALBUM REVIEW – The Treatment – Waiting For Good Luck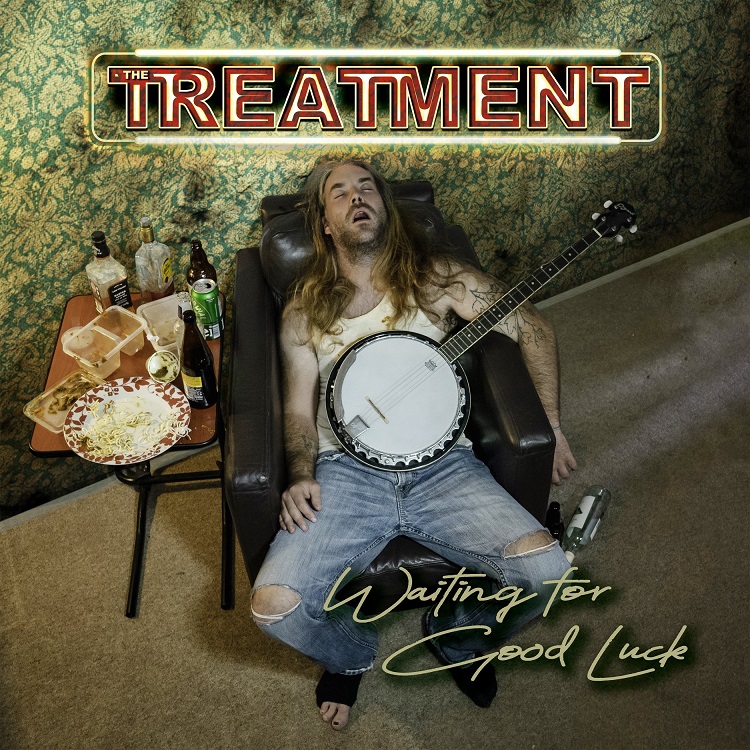 Tracklist: Rat Race | Take It Or Leave It | Lightning In A Bottle | Vampress | Eyes On You | No Way Home | Devil In The Detail | Tough Kid | Hold Fire | Barman | Let's Make Money | Wrong Way
Line-up: Tom Rampton – Vocals | Dhani Mansworth – Drums | Tagore Grey – Guitars | Tao Grey – Guitar and Bass Guitar
April 9th sees the release of The Treatment's 5th album since the glorious 2011 debut 'This Might Hurt' and first since 2019's 'Power Crazy' and it's a storming way to raise the finger to covid! For a band that was meant to spend pretty much all of 2020 on the road it will come as a welcome consolation for some who didn't get to see them live, and for the rest of us even more reason to get out and see them when restrictions are finally lifted.
The album sees the band firing on all cylinders and was written differently to past material – with the band locked together in a 'bubble' it was recorded pretty much as live as possible and the new approach has paid great dividends according to Tag and Dhani who I spoke to this week. So if you're a fan of big riffs and big choruses you'll love this one, and it sounds great too, produced by Dhani's dad and the band's manager  Laurie Mansworth (Airrace) and mixed by none other than Kevin Shirley (Iron Maiden, Led Zeppelin, Black Country Communion, Aerosmith, The Angels). It's also the second album to feature Tom Rampton on vocals and the first one with the new bass player Andy Milburn.
Most of course will have heard the old school Hard Rocking opener 'Rat Race' which harnesses the grit of AC/DC and the harmonies of early Def Leppard; well hot on the heels of that comes the even more melodic classic rocker 'Take It Or Leave It' and the Aerosmith groove of 'Lightning In A Bottle'. It's a great way to start and album – three tracks in this is already shaping up to be a helluva rock and roll party!
If you thought that was good it's the pair that comes next that I love most here – first the adrenaline-fueled night stalker ditty 'Vampress' which rocks out with the best of them before the bluesy swing of 'Eyes On You' they're as good a pair of songs as any these guys have put out to date – and that's big praise!
'No Way Home' adds almost a vintage Quo vibe, its a great mid tempo boogie that really sets off  Rampton's vocals whilst 'Devil In The Detail' brings some fire and one of the best choruses here to the table as well as a little touch of 80's Alice Cooper; before 'Tough Kid' ups those wonderful melodies again and adds a twist of smoky blues. Honestly you'll love this –  these guys have produced some great stuff in the past but they've never sounded consistently this good!
The final four keep up the quality – with 'Hold Fire' leading the charge to get you headbanging with a nice dose of good time hard rock and roll, and the wonderful honky-tonk barroom blues of 'Barman' that you could imagine The Faces putting out – its great fun and shows a real versatility. It really is cool stuff. The good news is that the final two are just as good – first the brooding and gritty riff based 'Let's Make Money' before closer 'Wrong Way' stops you in your tracks – its a wonderful melodic rocker with an absolutely huge sound that ends proceedings on a real high.
If you love driving hard rock with a touch of whisky in the vocals and plenty of AC/DC in the attitude and a genuine ear for a great rock tune, then this will be one of the best you'll hear all year. Maybe even The Treatments best so far!
8.5 / 10
https://www.facebook.com/TheTreatmentOfficial
https://www.instagram.com/thetreatmentofficial/