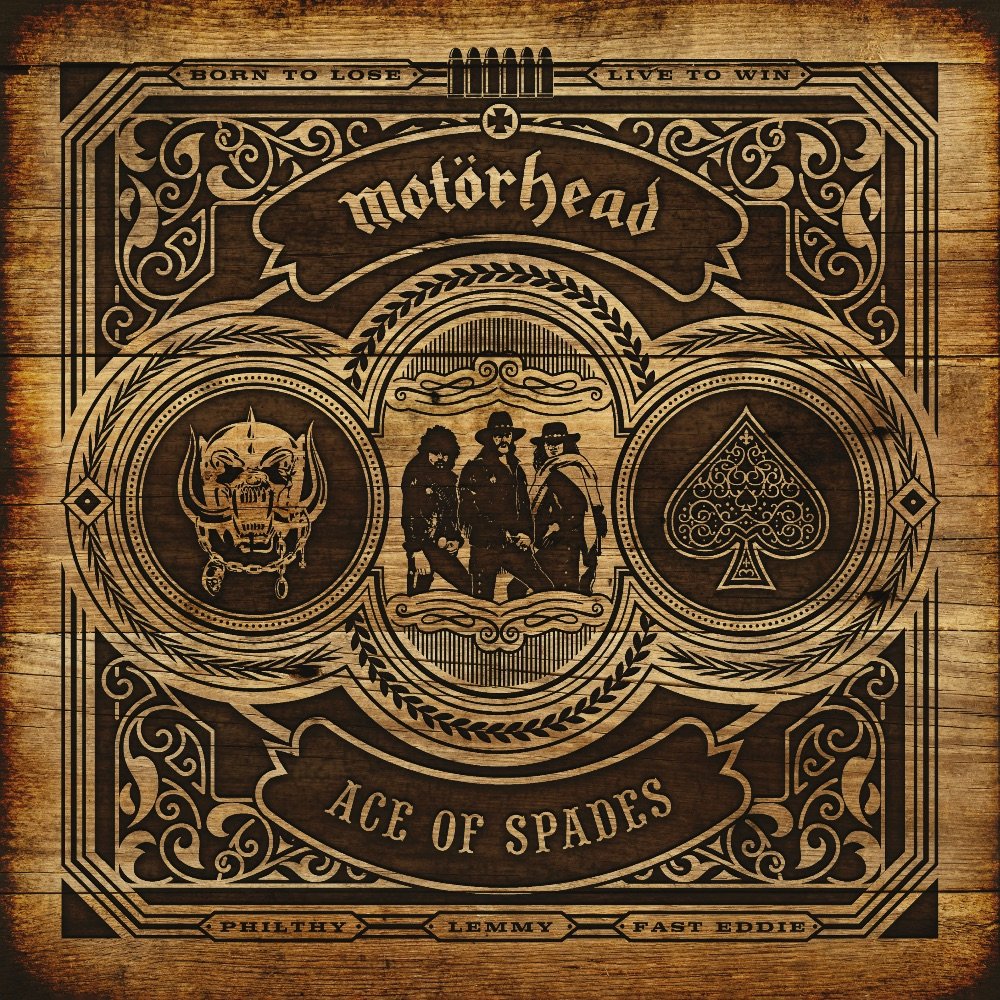 When I was a kid we used to listen to a lot of Rock music just before that age when you could legally frequent even the most relaxed of hostelries. We'd crank up the volume to everything from T-Rex and Queen to ZZ Top and Van Halen, but Motörhead was always a constant this being 1984 and No Remorse was released (which I bought in the false leather sleeve on vinyl and cassette!) in those days fueled by homebrew beer and wine and the occasional bottle purloined from absent-minded parents.
Motörhead of course in those days was as heavy as it got which of course in the perspective of 2020 seems rather ridiculous, but I often wonder if they hadn't cranked it up if Metal would ever have gone on the extreme trajectory it did starting with Thrash and the upping the ante to reach the unlistenable.
We went to gigs in the school bus in the early days and I remember catching the tail end of the 'Iron Fist' tour and the 'Another Perfect Day' Tour a year later but by 'Orgasmatron' in 1986 I was making my own way to Rock City gigs though still at school. I met Lemmy two or three times in those days each time at the back of Rock City in Nottingham and he always stopped for a chat and to sign whatever you'd brought him! Ironically years later whenever I visited L.A. (It must have been a dozen times) I always stopped by the Rainbow but he was always away on tour! Though I did beat his score on the quiz machine on the way in to a trip round the Festivals one year and found three weeks later when I got back the scores wiped and Lemmy's name at the top again!

One of my biggest sonic disappointments was always that I was a couple of years too young to have seen the 'Bomber' and 'Ace of Spades' tours live in the flesh because the albums they rested upon were truly groundbreaking.
This is a great package, probably one of the best you could imagine, collecting together as it does the original album, a series of alternative takes, the entire St Valentine's Day massacre EP with Girlschool (even the Girlschool version of 'Bomber' that was omitted from the 1996 re-release). It also adds the two fine contemporary live recordings from Belfast and Orleans (That I'd only ever heard as bootlegs). It doesn't stop there though, even adding the 'Dirty Love' release that was originally credited to Eddie Clarke, and put out on the on Receiver Records album back in 1989. That release contained various outtakes from the 'Ace of Spades' sessions on it and included demos of the tracks 'Hump on your Back', 'Waltz of the Vampire', 'Bastard' and 'Godzilla Akimbo' that were never mastered at the time. Originally these 4 tracks were credited to Eddie Clarke even through all three members of Motörhead play on them. The final disc of this mammoth six disc collection also adds a series of Instrumental Demos.
So it's all here! Starting with the full album on the first disc. 'Ace of Spades' is of course an iconic album which reached number 4 in the UK album charts and saw Motörhead at the peak of their UK popularity. It was also the first Motörhead record to get a US release (Strangely pushing the title track to Side B of the record as well as other tinkering) and it all came on the back of a solid 36 minutes and 42 seconds of Dirty Hard Rock.
There are of course so many stories associated with the release that are covered beautifully on the Classic Albums series but one of the most iconic has to be what happened after the full live show from 1981 in Belfast which makes up disc two where Taylor ended up with a broken neck forcing him to wear a neck-brace and stopping the band in their tracks. That of course brings us nicely to the collaboration with Girlschool for the 'St. Valentine's Day Massacre EP' a great release in itself but one born out of unfortunate circumstances.
The Belfast gig in itself is wonderful as is the almost identical setlist from Orleans which is sadly split over two discs – three and four, the fourth disc adding an alternate take on 'Ace of Spades' and the already mentioned 'Dirty Love'. If you want to hear a band in all their live glory this is pretty much as raw and real as it gets though for someone who saw them a few years later nothing close to being in that room and having that bass bludgeon you!
For those that have heard all of this before the fifth disc adds a heap of alternate versions as well as the first two of the Eddie Clarke tracks 'Hump on Your Back' and 'Waltz of the Vampire' (the other two start disc six). But its those strange cuts in the track listing that are the only minor niggles I can find here! Of course as you'd expect there are a number of variations of the release and the extras in the deluxe box set (listed below) are incredible memories in themselves – the 'Ace On Your Screens DVD' offering a compilation of rare TV appearances from 1980-81, a live concert from 1981 and a 5.1 audio mix of the original album.
Not enough? Well then that box set also includes such mementoes as  'The Ace Of Spades story' – a 40 page book featuring previously unpublished interviews and never before seen photos and memorabilia; an 'Ace Up Your Sleeve' tour programme; a Motörhead Rock Commando comic, and a set of 5 poker dice that can be played on the game board inside the box set lid! It all of course comes in "a classic Wild West dynamite box".
Seriously if you love Motörhead this is a collection you need this. If you're new to the band then start at Disc one and hold on to your seat. But most of all PLAY IT LOUD!
10/10
This deluxe box set includes:
• Ace Of Spades (half-speed mastered and created from the original master tapes)
• Two double-live albums of previously unheard concerts from the Ace Up Your Sleeve tour.
• A Fistful Of Instrumentals : A 10" EP of previously unreleased, instrumental tracks from 1980.
• The Good, The Broke & The Ugly. A double album of B-sides, outtakes and rare tracks.
• Ace On Your Screens: A DVD compilation of rare TV appearances from 1980-81, a live concert from 1981 and a 5.1 audio mix of the original album.
• The Ace Of Spades story. A 40 page book telling the story of Ace Of Spades through previously unpublished interviews with the people that were there. Includes never before seen photos and memorabilia.
• The Ace Up Your Sleeve tour programme
• The Motörhead Rock Commando comic.
• A set of 5 poker dice that can be played on the game board inside the box set lid.
• All encased in a classic Wild West dynamite box.