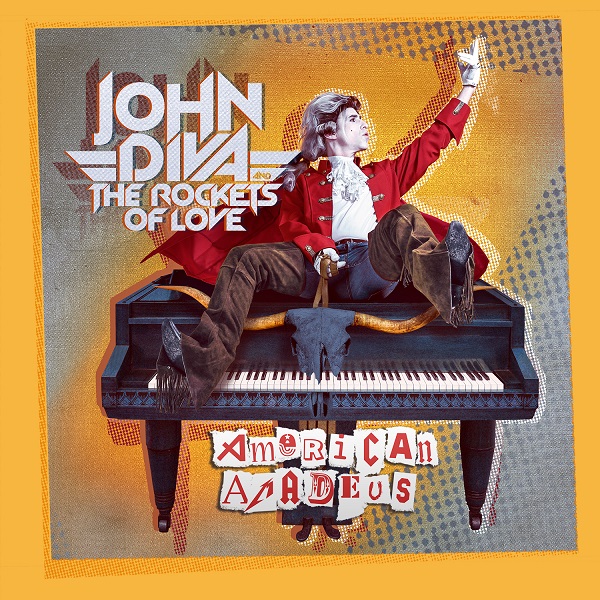 Man I loved these guys when the debut album came out a couple of years ago and of course you do always fear that they'll change something next time around or things won't quite me the same… Wrong! This is another slab of 80's hard rock brilliance with no shame!
For those not in the know, the bio attached to this record states (with edits): Of course, John Diva & The Rockets Of Love could have taken the easy way out. Their 2019 debut album Mama Said Rock Is Dead instantly put the band on the map internationally practically overnight – in huge blinking neon signs. What, therefore, could have been more natural than them adhering to the exact same 80ties glam rock inspired recipe for success for their second album American Amadeus, when it had worked like a charm for their first one? But no, as lead singer John Diva points out. "That was never even an option for us. On the contrary: the challenge lies in growing, testing boundaries and inventing yourself over and over again on an artistic level. Stagnation means regression, so with American Amadeus we are definitely going one step further."
Now whilst I admire what was said there the real truth of the matter is that whist it may be a tad more sophisticated this reality is more of the same and for that reason I could not be happier. The preposterously-tilted 'Voodoo, Sex and Vampire' for example sort of sums it up – fast paced 80's rock that is so much fun and an absolute joy to listen to! And if you loved that opener then the suitably overblown 'American Amadeus' comes as a nice slick funky surprise before the stomp and 80's crawling groove of 'Soldier of Love' and the solid gold rocket ride of first single 'Bling Bling Marilyn'.

There's two guests too this time around who add to the quality of self-penned material here – Hannes Braun (Kissin' Dynamite) co-wrote 'Bling Bling Marilyn and contributed valuable ideas to no less than 3 more songs, whilst Michael Voss (Mad Max, Michael Schenker) assisted with composing the smooth melodic rocker 'Champagne On Mars' and the the vintage grandeur of the irresistible sing-along 'This Is Rock 'n' Roll' (and also played banjo slide solo on 'Voodoo Sex & Vampires'.)
Elsewhere you'll love the likes of the ridiculously fun 'Weekend For A Lifetime' and the epic ballad 'Karmageddon' or maybe even the sleazier 'Wasted (In Babylon)'. There's honestly not a track that doesn't deserve mention, and the closing flourish of the feel-good stripped back jangle of 'Movin' Back To Paradise', the Electric Boys meets Billy Squier goodtime groove of 'Drip Drip Baby' and final word from '2 Hearts' the second ballad are all going to keep you rocking, and remind you that these guys have many strings to their bow.
It was always going to be tough to match the quality of that 2019 debut, but they've only gone and done it! Enjoy the party!
9/10
Tracklisting:
01. Voodoo, Sex & Vampires 3:57
02. American Amadeus 4:00
03. Soldier Of Love 4:04
04. Bling Bling Marilyn 3:49
05. Champagne On Mars 2:52
06. Weekend For A Lifetime 3:47
07. Karmageddon 4:54
08. Wasted (In Babylon) 4:03
09. Movin' Back To Paradise 3:58
10. Drip Drip Baby 3:51
11. This Is Rock 'n' Roll 3:27
12. 2 Hearts 3:55
Vinyl Bonus Tracks:
13. Star Of Rock 3:35 (bonus track)
14. Blonde! Black! Red! Brunette! 3:43 (bonus track)
15. American Amadeus (Orchestra Version) 3:53 (bonus track)
Line-Up:
John Diva – vocals
Snake Rocket – guitars
J.J. Love – guitars
Remmie Martin – bass
Lee Stingray jr. – drums