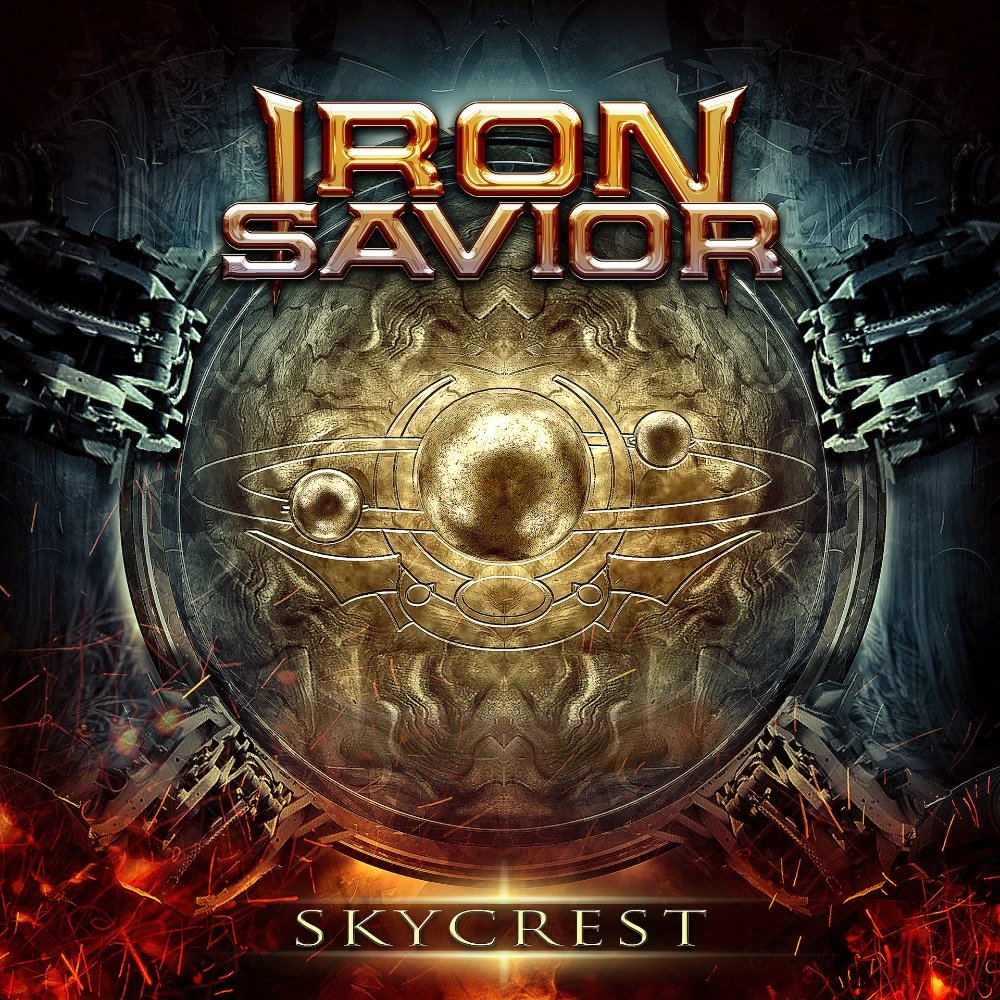 Interesting name! Of course, it originates from the british legendary NWOBHM dudes, but not the music. The music Iron Savior have been doing is unique, tempting to listen to.
In 1996, a new space of breathing among speed and heavy fans opened up, when the virtuoso of Helloween, Hansen formed the group, along with the only remaining original member, Sielck…..
And it is Sielck who nowadays comes to us with a different vibe, a modern album, out on December 4th!

Why is it worthy listening to? Not only cos' the Hamburg pack is back to rock the fanatic community, "sleeping" since corona started, but also cos' of the triumphant opening track; a beautiful instrumental that will make you wanna enjoy the other upcoming songs, even if you haven't heard of Iron Savior before!
"Land of the savior, land of the free" come right after, as the metal sounds of it make you enter in their world of lyrics, dealing with divine themes and inviting you to keep on being astonished by those drums of Klose, who is complemented very nicely when you listen to the sweet and recognizable guitar solo that tells you what you're enjoyin'; germal metal,  by Kustner, a 20 year old member now, competing but not really competing with what Hansen did in the first albums.
We enter deep in the album, as the co-founder who also produced it, sings at his peak, leaving no place for negativity, like we do for other famous singers whose ability faded through the years…..it takes a lot to be a high note performer, comsidering that we ain't in the beginnings anymore.
Anyway, enough with the words, let's jump in their time !
Jump hard, to headbang with the rhythm of sped up songs that require a devition that won't go in vain, as "Our time has come" is a war cry, not only describing  the kind of wars humanity is involved in, but starting with those personal ones, those silent wars that sometimes are lost and you are almost giving up, until you press "play" and Iron Savior's 2020 album will make you forget this year, your lows and head towards where they are louder than anywhere else; concerts!
"Hell" topic songs usually have a specific intro and this one ain't different, only more modern, with variations in the structure since the first verses, not very common in metal. The chorus will make you wanna see it also as a romance in the "I'm breaking Hell…for you" words, giving another meaning to those who don't pay attention to the bigger space in the songwriting talent of a leader…and Sielck is a leader!
Bass is heavy, very heavy, that's why you can hear the solo again, clearly, as you feel like you're in the 90's again, only you're a fan with a much wider collection of Iron Savior albums!
Among you crazy metalheads who want brutality in both sound and lyrics, you want a soul-eating song…..well, there it is, in the middle of what you're about to experience and wish the speakers were a lot more, to exxxplode even more as he screams "Soooouleateeer"!
A metalhead's journey is filled with surprises that not everytime are pleasant, in a world of technology and commercial stupidity that makes you think if heavy is on its last miles of the long road of glory ! But if it's glory, then you connect the dots of their "Heavy Metal Never Dies" 2011 anthem, with the futuristic intro of "Welcome to the new world" song, which will be very dear among you, also for the experimental side of it, in harmony with the heaviness that lots of times doesn't accept "games" in composition.
Epic choruses will accompany you as the words "Forever Young" are crucial to the existence of any metalhead, since decades ago and decades, many decades after…..
The beauty of the warrior is not the war but how he enters it….and going to war through the metal of Iron Savior, is the best way, hands down.
You will hear the howls in "Silver Bullet", good enough to make you love a long song, wanting to play it again and start howling, as your brain rests only when the rhythm changes a bit, slowing down in the bridge, to get you energized and ready again, to feel ur own hero!
Hero that raises the flag of metal, when you hear an unclear Bon Scott in the lyrics, with Lemmy's spirit present, to rock you even harder !
They don't know us at all- Sielck says, a true statement, for everyone of the metalheads who felt alone while at war with everyone who can't understand what it means to go truly nuts as the solo is only the intro for ur body's response to the wild drums!
It ain't the end , even though we're headed towards the end of an album that is a continuation of what they started, being sure the fans would be there….and here we are, headbanging, waiting to see Iron Savior live, at one of the most famous German metal events, where a call to the wilderness of the soul is spred across the Earth!
But even the live performances have ballads, lovers can't run away from Love, as the depth of the night makes one tremble, with the girl far, as the boy wants the lost caresses of the one who now is only in the song…..but the chorus of "Ease your pain" is loud enough for any girl who ever loved, to listen and come back, through the state of "forevermore"!
The lighters at a concert might run out of flame, but tears of the guitar solo don't stop until one skin touches the other…..someday…..Forevermore!
N' you gotta be fearless, to face Love and any kinda obstacle that comes in the way ! That's why Beethoven wrote the "Ode", as another kind is composed by Iron Savior, the ones who won't let you rest, will make your blood boil, in the fire of a non-ending metal album that leads to another, that leads to the long chain of the rhythm that pleases your very soul!
Soul-burner! "Skycrest"! You'll love every bit of it!
TRACKLIST
The Guardian
Skycrest
Our Time Has Come
Hellbreaker, 5. Souleater
Welcome To The New World
There Can Be Only One
Silver Bullet
Raise The Flag (Bonus
End Of The Rainbow
Ease Your Pain
Ode To The Brave