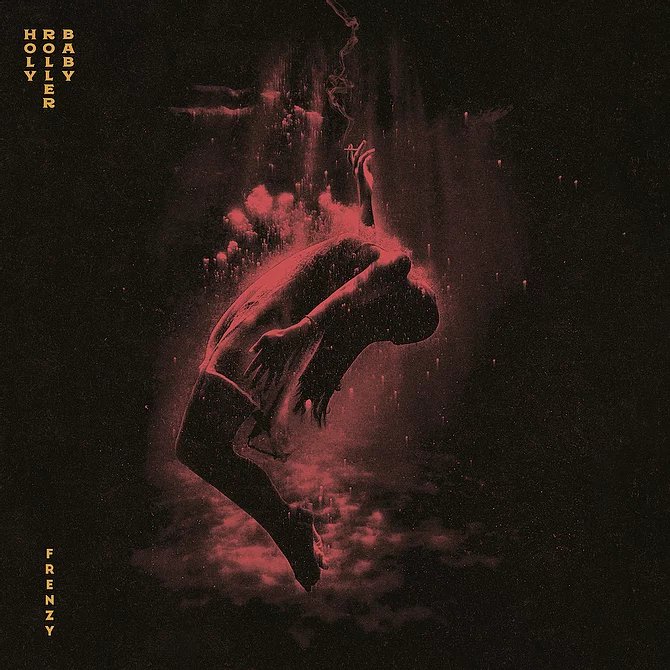 In a year that has held so many lows for so many reasons, I have found there to have been some incredible highlights that have helped me get through these difficult times.  Music has always had the wonderful ability to take us out of the moment and transport us into our own little world with the power to distract, aid & heal.  The debut album from Texas-based Holy Roller Baby has proved to be one of those albums.  'Frenzy' was released on October 9 and has rarely been out of my player since I received it three weeks prior to the release date such is its power to please.  The brainchild of singer/songwriter Jared Mullins, 'Frenzy' is an album full of catchy riffs, blues-rock vibes & fuzzy distorted twin guitars, all delivered with a funky & memorable 70's vibe to leave you feeling warm & fulfilled inside.
Beginning with the six minute fifty-one second heavy blues-rock double track opener 'Leper Blues/Spread Your Love' you are immediately faced with one of the catchiest riffs on this eleven-song collection (twelve if you count the double tracker).  Mid-song we head into a Black Sabbath-esque twist, as it blends into the equally impressive 'Spread Your Love'.  You could be led to believe Mullins & co have played their trump card, such is the strength of this album starter but one after the other the songs continue to deliver at an alarming rate.
'Drag the Lake' is a fast-paced rocker before the funky soul driven 'Your Body Will Sing' takes us in a slightly different direction.  'Blue Devil Inn' & 'Run Through the Valley' continue to impress with a more blues-rock based feeling, before we chill things down with a two-minute instrumental to allow us to draw breathe during 'Paper Tigers'.  Use those two minutes wisely because 'Eve' fires us straight back into it with another catchy rock n' roll riff laden beauty, one of the many highlights of 'Frenzy'.  'Guillotine' is a foot taping gem, a track which is once again laced with warm fuzzy guitars and Mullins' strong & complimentary vocals.  'Id Vicious' is another solid album inclusion before 'Ravings at Your Window' delivers yet another diamond in this treasure chest of an album.  Holy Roller Baby give us time to reflect as the album draws to an end with 'Mantra', a bluesy, slow but powerful closer with screaming guitars & powerful drum work reminiscent of those 70's rock greats like Bonham & Ward.

'Frenzy' was produced by Ian Davenport (Demob Happy, Band of Skulls, Radiohead, Supergrass) & recorded at Courtyard Studios in Oxfordshire, England which is owned by Radiohead's management company. Many of the songs were played 'live' at the time of recording to capture that energy & feel we get to experience at a show.  If you love this type of sound, then look no further than 'Frenzy'.  It will tick all those boxes and more.  We tend to look back at impressive debut albums and for me 'Frenzy' sits up there.  Holy Roller Baby have set their bar extremely high and this can only excite me more as I await to see what more they offer, but for now I will continue to enjoy the impressive 'Frenzy'.
9.5/10
TRACKLIST
Leper Blues / Spread Your Love Around
Drag The Lake
Your Body Will Sing
Blue Devil Inn
Run Through The Valley
Paper Tigers
Eve
Guillotine
Id Vicious
Ravings At The Window
Mantra