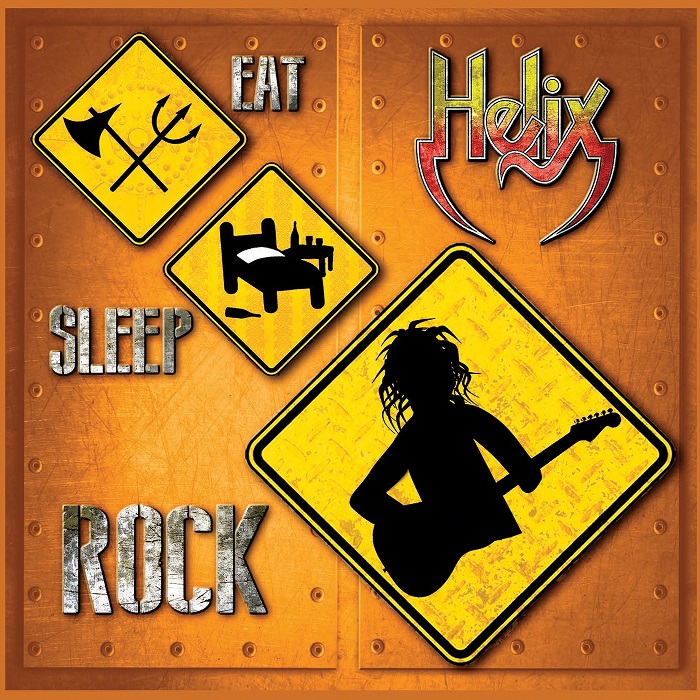 After the rather quirky 'The Story of Helix' – the spoken word, um history of the band set to music that opens this collection (and name checks the first time I saw them supporting Kiss back in the 80's amongst other highlights) we get to the meat of the album – the songs.
With the exception of that opening and new track – the foot to the floor rocker 'Eat Sleep Rock' which follows that history this is a 'best of' compilation of the bands favorite songs recorded since leaving Capitol/E.M.I. in 1990. However having said that there are a few more 'rarities' including tracks only available on single before – 'The Tequila Song' and 'The Devil Is Having A Party Tonight' along with topical cash-in '(Gene Simmons Says) Rock Is Dead' – which has already appeared on two previous 'Best of' collections 2016's 'Rock It Science' and 2018's 'Icon.'
The tracks, hand-picked by the ever-present frontman Brian Vollmer remind you that even when a band shrinks into the background internationally they can still sound pretty damn solid. Tracks like 'Shock City' and the heavy and Bluesy ' Even Jesus (Wasn't Loved In His Hometown)' that has me thinking of The Doobies (!) are just great songs and the rest aren't bad too.

Highlights for me include the wonderful 'Tequila Song' and closer 'The Devil Is Having A Party Tonight' which just might be the best song here. Check 'em out because on the basis of this effort Helix sound like they have plenty more to say.
8/10
Track List: 01. The Story of Helix | 02. Eat Sleep Rock | 03. Shock City Psycho Rock | 04. Wrecking Ball | 05. I'm A Live Frankenstein | 06. Even Jesus (Wasn't Loved In His Home Town) | 07. Cyberspace Girl | 08. When The Bitters Got The Better Of You | 09. The Tequila Song| 10. (Gene Simmons Says) Rock Is Dead | 11. The Devil Is Having A Party Tonight